Ugly Americans
Season 2
Ugly Americans
Season 2
First Air Date: June 30, 2011

| | | |
| --- | --- | --- |
| First Aired on | : | 2011 |
| Episodes | : | 17 episodes |
Episodes
2x17 Fools for Love (April 25, 2012)
---
Mark chooses April Fool's Day to ask Callie to take their relationship to the next level, but his romantic gesture is threatened when Callie's vengeful ex-boyfriend returns to win her back; Leonard tries to redeem a winning lottery ticket.
---
2x16 The Dork Knight (April 18, 2012)
---
After being bitten by a rabid Bat-Boy, Mark becomes a masked crimefighter; Mark wages war against New York's criminals and their catlike leader with the help of his loyal sidekick, Koala Man.
---
2x15 The Stalking Dead (April 11, 2012)
---
When the country's biggest pop star (Lady Hoo-Ha) turns into a zombie, millions of her devoted fans follow suit; Mark befriends one of the new zombies and Randall is forced to deal with his jealousy issues.
---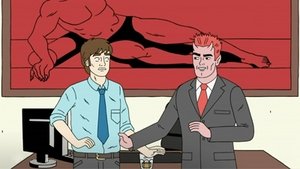 2x14 Mark Loves Dick (April 04, 2012)
---
Mark becomes conflicted about his relationship with Callie. He does his best to be understanding, but their love is soon put to the test when they are asked to embark on a dangerous mission to the fabled underwater city of Atlantis.
---
2x13 The Roast of Twayne the Boneraper (March 28, 2012)
---
In honor of Twayne's 10-year anniversary of running the D.O.I., Callie and the crew throw him a Roast. But when Mark's attempt at edgy humor goes too far, Twayne quits, leaving Mark in charge. Before his first day as boss is up, Mark makes a management mistake so catastrophic that it almost destroys New York City.
---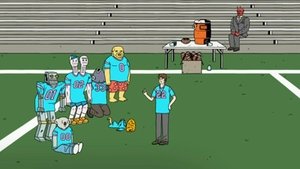 2x12 Any Given Workday (March 21, 2012)
---
With the big company intramural football game around the corner, everyone starts getting nervous about the lineup -- Mark is a wonderful team player, but a terrible actual player. When Randall demonstrates the power of his recently replaced arm, he is given a job at the D.O.I. as the team's ringer.
---
2x11 Journey to the Center of Twayne (March 14, 2012)
---
An ant-sized arsonist named Jerry flees Mark's custody, escaping up Twayne's nostril. A miniaturized Leonard, Grimes and Mark must track Jerry through Twayne's body to bring him to justice.
---
2x10 Mummy Dearest (September 01, 2011)
---
Randall feels neglected; Grimes mummy returns.
---
2x09 Lilly and the Beast (August 25, 2011)
---
Callie reveals to Mark that she's been sleeping with other guys, while a girlfriend from Marks past returns with a dark secret.
---
2x08 Little Ship of Horrors (August 18, 2011)
---
Twayne throws a company party aboard a cruise ship; Randall gets sick from dangerous pollen.
---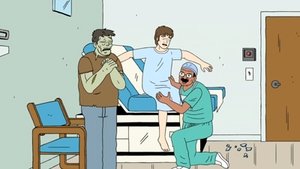 2x07 Wail Street (August 11, 2011)
---
Randall's idea to sell Mark's soul on the Soul Exchange draws interest from Callie and her father. Meanwhile, Grimes thinks he's found the next great pop-music sensation.
---
2x06 Attack of Mark's Clone (August 04, 2011)
---
Callie hopes that making a clone of Mark will guarantee the Department of Integration's win in a bowling tournament, but the plan backfires when the duplicate tries to frame her for murder.
---
2x05 The Ring of Powers (July 28, 2011)
---
After Mark finds a ring in Leonard's desk, he inadvertently activates the wizard's engagement from a bygone era, when dragons roamed Earth.
---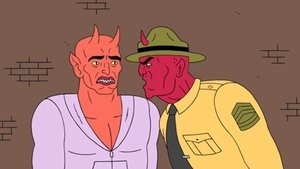 2x04 G. I. Twayne (July 21, 2011)
---
Mark inadvertently learns of a plot to end humanity when he's drafted into Satan's Dark Army with Twayne.
---
2x03 Ride Me to Hell (July 14, 2011)
---
The end of his favorite TV series, "Dishonorable Discharge" sends Grimes off the deep end. Mark has to help him get to the bottom of his inexplicable attachment to the show, uncovering a deep seated memory along the way.
---
2x02 Callie and Her Sister (July 07, 2011)
---
Callie's parents get back together and have a new baby. But when their marriage falls apart again, Callie must play guardian to this younger, hotter spawn of the devil.
---
2x01 Wet Hot Demonic Summer (June 30, 2011)
---
Callie and Twayne build a summer camp as part of their plot to infiltrate a secret wizard compound where Leonard is training his apprentice.
---