The League
Season 2
The League
Season 2
First Air Date: September 16, 2010

| | | |
| --- | --- | --- |
| First Aired on | : | 2010 |
| Episodes | : | 13 episodes |
Episodes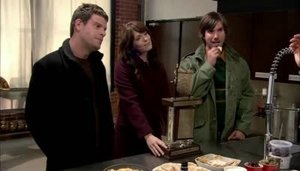 2x13 The Sacko Bowl (December 09, 2010)
---
At season's end, Jenny and Ruxin are vying for the Shiva while Andre and Taco duel it out for the Sacko. Kevin learns to read lips by watching porn. Pete buys a Crown Vic and is mistaken for a cop.
---
2x12 Kegel the Elf (December 09, 2010)
---
It's Christmas and more importantly it's the playoffs, so tension runs high. While Ruxin's revenge gift to Kevin goes terribly awry, Ellie suddenly acting up at school causes Jenny to worry that all this attention to fantasy football is making her a bad mom. Meanwhile Taco's eggs turn one year old.
---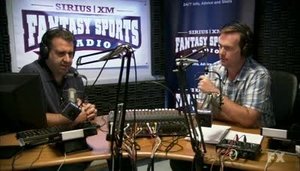 2x11 Ramona Neopolitano (December 02, 2010)
---
During the last week before the playoffs, Andre's special diet makes him exceptionally emotional about his matchup. Kevin gets in a fight with fantasy football gurus John Hansen and Adam Caplan, and Ruxin begs the guys to cover for him when he lies to Sofia.
---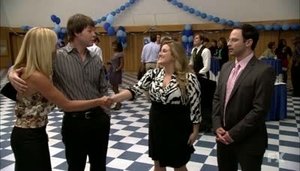 2x10 High School Reunion (November 18, 2010)
---
It's high-school reunion time, and Andre is looking forward to basking in his success while Ruxin wants to show off Sofia. Meanwhile, Pete needs a name for the new Last Place Trophy and everyone learns the history of the Shiva blast.
---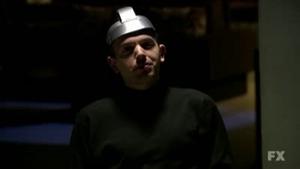 2x09 Expert Witness (November 11, 2010)
---
Andre prepares for his turn as an expert witness in Ruxin's big case, but thinks Pete is trying to steal his thunder. Ruxin tries to ferret out collusion between Kevin and Jenny. Taco needs a nude portrait to impress the courtroom artist.
---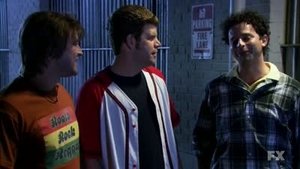 2x08 The Tie (November 04, 2010)
---
Andre and Ruxin refuse to accept a tie, adding to Kevin's current frustrations as league commissioner. Pete has a connection for great Bears tickets, but the gang warns him about what he may have to provide in return. Taco discovers Western medicine.
---
2x07 Ghost Monkey (October 28, 2010)
---
Kevin convinces everyone to come to the suburbs for Halloween. Meanwhile, Pete has given Ruxin the privilege of selecting his opponent's team for their upcoming match. Taco feels responsible for events relating to a petting-zoo monkey.
---
2x06 The Anniversary Party (October 21, 2010)
---
Ruxin throws Sofia an anniversary party on the same day as Jenny's birthday. Meegan returns with a 'plus one.'
---
2x05 The Marathon (October 14, 2010)
---
Pete spares Andre no grief after announcing plans to run a marathon. Kevin and Jenny seek balance between conflicting roles as both spouses and league adversaries. Ruxin offends a colleague, but Taco's new venture as a notary may be the solution.
---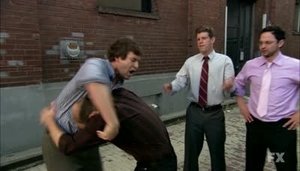 2x04 The Kluneberg (October 07, 2010)
---
Jenny and the guys catch up with their old friend Russell, and the guys all try to get Rafi out of the league by pretending that it's being ended. Meanwhile, Taco finds a toilet seat in a dumpster, and Andre buys an "interesting" expensive painting.
---
2x03 The White Knuckler (September 30, 2010)
---
Andre brings in a new partner to expand his medical practice. Ruxin uses a sick kid to meet NFL star Josh Cribbs and Pete deals with the complications of dating Kevin's ex-girlfriend.
---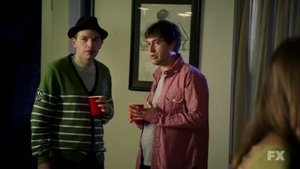 2x02 Bro-Lo El Cunado (September 23, 2010)
---
The married guys atone for Vegas with an adult weekend for Kevin and Jenny and 'Terrific Lady Day' for Ruxin and Sofia. Raffi continues to plague the league with his abrasive personality and creepy mannerisms.
---
2x01 Vegas Draft (September 16, 2010)
---
Andre plans an extravagant trip to Vegas for the league's 2010 fantasy draft, but the group credits Pete to mess with Andre. The gang must choose between Jenny and Ruxin's creepy brother-in-law, Raffi, when a spot on the league opens up during the trip.
---