Coupling
Season 1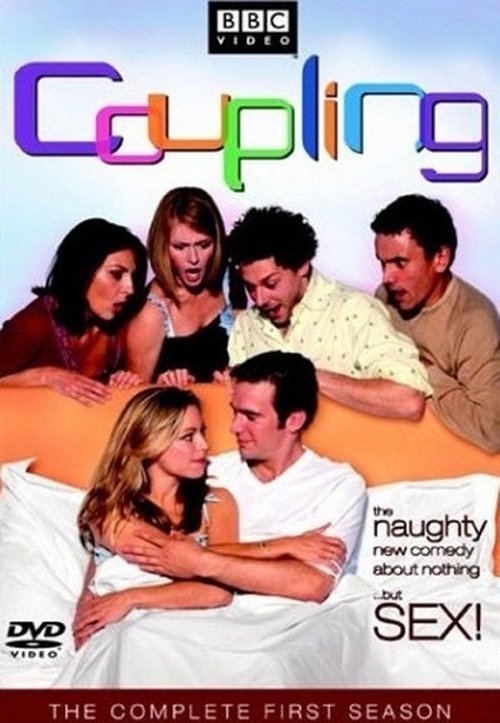 Coupling
Season 1
First Air Date: May 12, 2000

| | | |
| --- | --- | --- |
| First Aired on | : | 2000 |
| Episodes | : | 6 episodes |
Episodes
1x06 The Cupboard of Patrick's Love (June 16, 2000)
---
Patrick has a cupboard of video tapes of his former girlfriends, not to mention Britt Ekland in The Wicker Man. Jeff is excited, but Steve is appalled, when he realizes that Susan must be amongst them. Susan is also horrified when she realizes this in the company of the other girls. Later on, she arrives at Patrick's, and is outraged at what she finds going on there.
---
1x05 The Girl with Two Breasts (June 09, 2000)
---
Jeff and co. can't take their eyes of a beautiful stranger in their local bar. And the girl can't take her eyes off Jeff. Jeff goes over to talk to her, only to discover that she doesn't speak a word of English, which to Jeff of course is quite a relief. Her interpreter, Alice, tells Jeff she's Israeli, then whisks her away. The next day the girl is back and Jeff attempts to chat her up. With neither speaking a word of the other's language, it is an utter disaster.
---
1x04 Inferno (June 02, 2000)
---
Steve is plunged into total panic when he suspects that Susan has found one of his porn videos. To fill the embarrassing silence, he tells her he loves her, but Susan is well-aware that he was merely panicking. Susan invites all the friends over for a dinner party. Jane brings her therapist, Jill, who everyone assumes is there as Jane's date. In front of everyone, Susan insists that Steve justify his passion for the offending porn film, Lesbian Spank Inferno.
---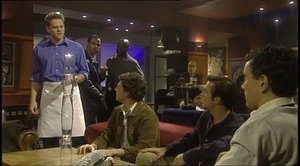 1x03 Sex, Death & Nudity (May 26, 2000)
---
Jeff explains to the guys about 'The Giggle Loop': the danger that the more you try to suppress laughter in important silences, the harder you want to laugh. Jane's aunt has died, and she wants Steve to come to the funeral, pretending to be her boyfriend still. Susan invites herself, and so Patrick must come as her 'boyfriend', and all six end up going.
---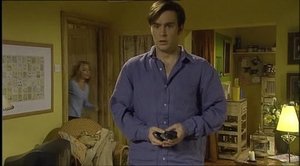 1x02 Size Matters (May 19, 2000)
---
Susan invites Steve for a date at home, and offers to cook. Jeff warns him about 'The Sock Gap', and Patrick alerts him to her collection of remote controls. Somehow everyone's conversation seems to revolve around Patrick's size, and Jeff is asked by several people to accompany him to the toilet to check.
---
1x01 Flushed (May 12, 2000)
---
Jeff reckons Steve is still in 'The Zone' with Jane: the time after the breakup when there can still be sex, but he wants to date Susan instead. When he has a meal in a restaurant with Jane, Susan walks in.
---