Coach
Season 3
Coach
Season 3
First Air Date: September 25, 1990

| | | |
| --- | --- | --- |
| First Aired on | : | 1990 |
| Episodes | : | 22 episodes |
Episodes
3x22 Diamonds Are a Dentist's Best Friend (April 09, 1991)
---
Cash-poor Hayden buys Christine's engagement ring from a cut-rate jeweler/dentist.
---
3x21 A Father and Son Reunion (April 02, 1991)
---
Hayden reunites Luther and his long-lost father.
---
3x20 Hayden Fox for Universal Jocks (March 26, 1991)
---
When Hayden discovers Christine's salary dwarfs his own, he decides to make extra cash as a spokesperson for an athletic supporter company.
---
3x19 Hurley-Burleigh (March 12, 1991)
---
On his first trip to Las Vegas, athletic director Howard wants to sow some wild oats.
---
3x18 2 BRs, MTN VW (February 26, 1991)
---
Whiny, well-meaning Stuart nearly drives Hayden to murder on a ski trip with Christine and Kelly.
---
3x17 Leonard Kraleman: All-American (February 19, 1991)
---
Hayden tries to discourage a scrawny, unpopular student who wants to try out for the football team, and Christine schools him in the art of gaining popularity.
---
3x16 The Marion Kind (2) (February 12, 1991)
---
When Luther's old friend steals his girlfriend again, Hayden and Peter try to spare Luther's feelings by hiding the fact.
---
3x15 The Marion Kind (1) (February 05, 1991)
---
Christine persuades Luther to have lunch with the reconciling best friend who stole his girl 37 years ago.
---
3x14 Puppy Love (January 22, 1991)
---
Hayden concocts a wild tale to keep a promised $10 million donation from going to the basketball department instead.
---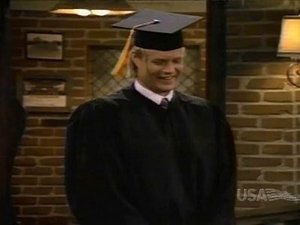 3x13 Dauber Graduates (January 08, 1991)
---
When Dauber finally graduates after eight years, Hayden promotes him to full-time coach, and their relationship changes.
---
3x12 Christmas Brains (December 18, 1990)
---
Grinch Hayden's ex-wife unexpectedly shows up at his holiday party with a gift idea that will make all his Christmases merry: she helps him decide to reunite with Christine.
---
3x11 When Hayden Met Christine (December 11, 1990)
---
Dateless for a charity ball, Hayden flashes back four years to when he first met Christine, at the same affair.
---
3x10 Men Don't Heal (December 04, 1990)
---
Irritable over his breakup with Christine, Hayden attends a self-help group.
---
3x09 Cabin Fever (November 27, 1990)
---
Christine wants all her belongings out of Hayden's house, and Luther might move in next door.
---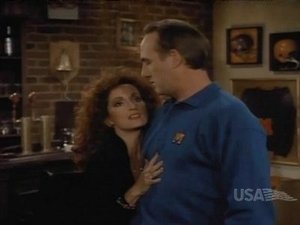 3x08 The Iceman Goeth (November 13, 1990)
---
Even at a victory party, and with Elaine trying to seduce him, Hayden remains depressed over his breakup with Christine.
---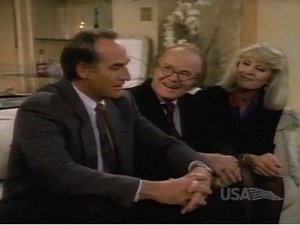 3x07 The Break-Up (November 06, 1990)
---
Hayden forsakes football with the guys to meet Christine's antique-dealer friend.
---
3x06 Hayden and Luther's Excellent Adventure (October 30, 1990)
---
Hayden and Luther get stranded out of town the night Hayden is to escort Christine to an awards banquet in her honor.
---
3x05 Hayden's in the Kitchen with Dinah (October 23, 1990)
---
Hayden promises to stay with a bedridden Christine, rather than attend a long-awaited team victory celebration.
---
3x04 Is This Your First Time on the Riverboat, Miss Watkins? (October 16, 1990)
---
Hayden reluctantly allows archrival Watkins to sit in on his poker night.
---
3x03 The Day That Moses Came to Town (October 09, 1990)
---
Hayden gets jealous when the university president woos a basketball coach from Boston with promises of grandiose perks.
---
3x02 Magnificent Abscession (October 02, 1990)
---
When Hayden has to miss a game because of a bad tooth, Luther must coach via phone instructions from him.
---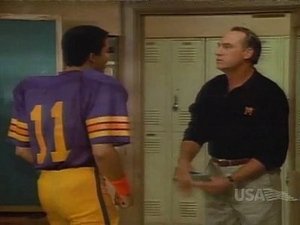 3x01 That Shouldn't Happen (September 25, 1990)
---
Hayden, ecstatic about his team being ranked top-20 for the first time, meets Christine's mother, then is shattered when his star player Bo is hurt and put on the injured list.
---