The Venture Bros.
Season 3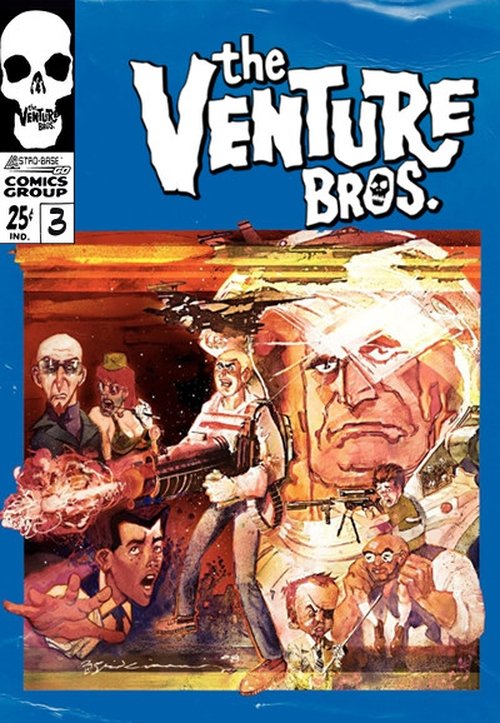 The Venture Bros.
Season 3
First Air Date: June 01, 2008

| | | |
| --- | --- | --- |
| First Aired on | : | 2008 |
| Episodes | : | 13 episodes |
Episodes
3x13 The Family That Slays Together, Stays Together (2) (August 24, 2008)
---
Continuing after the prior episode, General Traceter (alluded to in Season 1 during Brock's License exam in Mid-Life Chrysalis) heads a OSI assault team to go after Samson and the Venture Family after the original three assassins fail to do their job. Using ingenuity to save the Venture Family once more, Brock Samson hatched a plan to force OSI and Monarch's Henchmen to fight each other instead of pursuing the family. In the aftermath of the fight, OSI gains victory after one of Monarch's Flight Suits malfunctions and ends up shooting his own minions in friendly fire. After revealing himself being on neither side of the fight, Brock makes a shocking announcement to Thaddeus and General Traceter that would affect the rest of their lives.
---
3x12 The Family That Slays Together, Stays Together (1) (August 17, 2008)
---
The OSI has put a termination contract on Brock's head, and three top assassins plan to collect. Meanwhile, the Monarch and Sgt. Hatred battle to see who will be Dr. Venture's arch.
---
3x11 ORB (August 10, 2008)
---
Billy Quizboy has spent thirty years trying to decipher a series of cryptic clues hidden in Rusty Venture Cartoon Show episodes. Finally the solution to the mystery is at hand, but the answer forces Brock to discover what his true orders are.
---
3x10 The Lepidopterists (August 03, 2008)
---
The Monarch leads an attack on his new arch-nemesis, Dr. Jonas Venture Jr., at his base on Spider Skull Island.
---
3x09 Now Museum, Now You Don't (July 27, 2008)
---
Dr. Jonas Venture Jr. builds a museum in honor of his "father," and invites all of Jonas Sr.'s old friends and enemies to the grand opening.
---
3x08 Tears of a Sea Cow (July 20, 2008)
---
The Monarch gets word that Dr. Venture and Brock are at a science conference, and decides to launch an attack on the Venture compound.
---
3x07 What Goes Down, Must Come Up (July 13, 2008)
---
Brock and Dr. Venture stumble into a hidden state-of-the-art fallout shelter beneath the Venture compound, while Hank and Dean call in Dr. Orpheus to summon the Order of the Triad and help them out.
---
3x06 Dr. Quymn, Medicine Woman (July 06, 2008)
---
Team Venture meets Team Quymn, led by Dr. Tara Quymn, Dr. Venture's childhood sweetheart. Her two twin daughters and manly bodyguard seem oddly familiar, but the two teams must join forces to battle a dreaded were-o-dile: half man, half crocodile.
---
3x05 The Buddy System (June 29, 2008)
---
Dr. Venture decides to raise money by running a Day Camp for Boy Adventurers. Things don't go quite as planned when a giant ape gets loose, Action Johnny loses it, Sgt. Hatred arrives for an unscheduled bush burning, Hank gets a new friend who pushes Brock's buttons, and the Monarch sends the Moppets in to spy.
---
3x04 Home Is Where The Hate Is (June 22, 2008)
---
With the Monarch busy settling into his new home with his wife, a new villain arises to arch Dr. Venture.
---
3x03 The Invisible Hand of Fate (June 15, 2008)
---
Billy Quizboy recovers the memories of his former life as a failed TV Quizboy, the loss of his hand and eye in a dogfight, his recruitment into the OSI, and his first mission as a spy.
---
3x02 The Doctor Is Sin (June 08, 2008)
---
Dr. Venture and his family put on a scripted tour for General Manhowers, who doesn't seemed too impressed with Dr. Venture's inventions. Having financial trouble, Dr. Venture thinks about having to sell the compound, but Dr. Henry Killinger (along with his Murder Bag) arrives to offer his services as a "Freelance Business Consultant and Executive Motivational Coach" to help him.
---
3x01 Shadowman 9: In the Cradle of Destiny (June 01, 2008)
---
The Guild of Calamitous Intent separately interrogate the Monarch and Dr. Girlfriend to determine the depth of the Phantom Limb's betrayal... and determine if the Monarch will be executed for arching without Guild permission.
---