The Venture Bros.
Season 2
The Venture Bros.
Season 2
First Air Date: June 25, 2006

| | | |
| --- | --- | --- |
| First Aired on | : | 2006 |
| Episodes | : | 13 episodes |
Episodes
2x13 Showdown at Cremation Creek (Part II) (October 15, 2006)
---
As Phantom Limb makes his stunning power play, only Brock can rally The Monarch's forces to mount a defense. The fate of almost everyone in the Venture universe hangs in the balance as The Sovereign reveals his true identity and guys and stuff explode all over the place.
---
2x12 Showdown at Cremation Creek (Part I) (October 08, 2006)
---
Dr. Girlfriend finally accepts the Monarch's wedding proposal... if he calls off his grudge with Dr. Venture. He agrees, but things take a turn for the worse when his henchmen mistakenly capture Team Venture, while the Phantom Limb vows not to take his break-up lightly.
---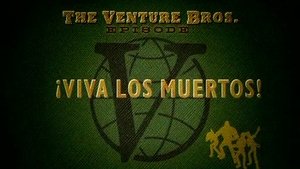 2x11 ¡Viva los Muertos! (October 01, 2006)
---
When Dr. Venture finally succeeds in attaining the holy grail of superscience - the revivification of a human corpse for fun and profit - a washed up gang of wandering former teen sleuths is convinced that the Venture Compound is haunted. Their investigation uncovers something far creepier. Meanwhile, Orpheus shepherds Brock through a crisis of conscience with the help of a New Age shaman and a bizarre tea party.
---
2x10 I Know Why the Caged Bird Kills (September 24, 2006)
---
The Monarch continues to rebuild his villainous empire with the aid of his shadowy new Number 2, Dr. Henry Killinger, but Henchman 21 is suspicious of the deadly foreigner's unctuous charms. Meanwhile, as Dr. Orpheus attempts to exorcise a Japanese demon from Dr. Venture, a mysterious woman from Doc's past resurfaces. And she'd kill to find out where Hank and Dean are.
---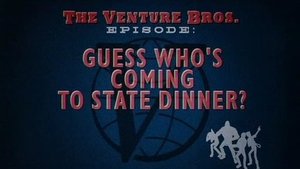 2x09 Guess Who's Coming to State Dinner? (September 10, 2006)
---
When the Gargantua-1 Space Station breaks orbit and crashes into a wanted terrorist, Colonel Bud Manstrong becomes a national hero. But did it really happen or is Bud's mother, the indomitable Mrs. Manstrong, behind an insidious plot to assassinate the President? The mysterious blinking band aid on Bud's head might be the key to a mystery only the ghost of Abraham Lincoln and Team Venture can solve.
---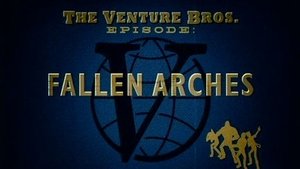 2x08 Fallen Arches (September 03, 2006)
---
When the Guild of Calamitous Intent finally approves Dr. Orpheus for his very own arch nemesis he calls upon old friends The Alchemist and Jefferson Twilight to resurrect their former super-team, The Order of the Triad. While they audition supervillain candidates at the Venture Compound, a jealous Doc isn't about to let Orpheus steal the show. Let loose the Walking Eye!
---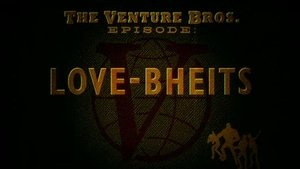 2x07 Love-Bheits (August 20, 2006)
---
Baron Ünderbheit captures Team Venture when the X-1 crash lands in Ünderland while en route from a superscience costume party. Rather than execute them immediately, he inflicts an unspeakable torture upon them: they're forced to attend his wedding. Only the shadowy, disorganized Ünderground resistance group can help them escape.
---
2x06 Victor. Echo. November. (August 13, 2006)
---
The Phantom Limb and Dr. Girlfriend agree to a civil double date with The Monarch and some girl he met on the internet in order to discuss The Monarch's official re-entry into the Guild of Calamitous Intent. Doc and Brock become the unwitting pawns in a low-grade pissing contest when Phantom Limb's sics the Guild's commandos on the Venture compound to prove his dominance. Can Brock hold off an army? Can Doc escape death and finish watching the worst porno ever?
---
2x05 20 Years to Midnight (August 06, 2006)
---
In the middle of spring cleaning, Brock's discovery of a lost videotape from Jonas Venture Sr. sets Team Venture off on a global scavenger hunt for the hidden pieces of a fantastic and potentially deadly machine. But to save humanity from a terrible fate, they'll have to overcome death, drug addiction, Jonny Quest and Professor Impossible - all under the watchful eye of the mysterious Grand Galactic Inquisitor.
---
2x04 Escape to the House of Mummies Part II (July 16, 2006)
---
Team Venture find themselves trapped in the clutches of a bloodthirsty Egyptian cult and their time machine. Doc narrowly escapes and teams up with Master Billy Quizboy and Pete White, but promptly forgets to mount a rescue. So it's up to Brock and a pantheon of history's greatest men to find another way out.
---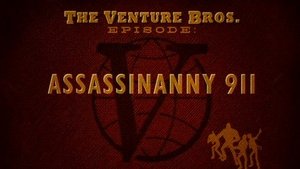 2x03 Assassinanny 911 (July 09, 2006)
---
When Brock is reactivated by the Office of Secret Intelligence to track down a rogue agent, he subcontracts his ex-girlfriend, the malevolently mercenary Molotov Cocktease, to protect the Venture Compound from enemies within and without. Love is in the air! Or is it...murder?
---
2x02 Hate Floats (July 02, 2006)
---
Aided by Henchman 21, 24, and a ragtag band of roughneck new recruits, the Monarch attempts to rebuild his villainous empire and rekindle his relationship with Dr. Girlfriend. A showdown at the local shopping mall forces his hand, and he struggles to choose between revenge and reconciliation amidst a sea of violence. Meanwhile a wounded Brock falls into the clutches of The Phantom Limb, Hank drives Brock's car, and Dr. Venture gets an eye full.
---
2x01 Powerless in the Face of Death (June 25, 2006)
---
The premiere episode finds Team Venture and friends struggling to pick up the pieces of their shattered lives and move on in the wake of Hank and Dean's violent and untimely deaths. While Doc searches for his soul in the far corners of the globe, Dr. Orpheus wallows in guilt, and a mullet-less Brock repairs his beloved Charger, The Monarch plots a daring prison break with the help of his fellow supervillainous inmates.
---