The Venture Bros.
Specials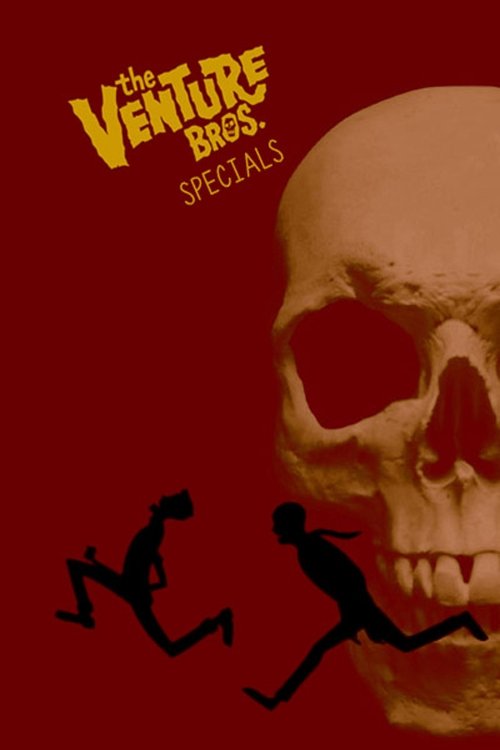 The Venture Bros.
Specials
First Air Date: February 16, 2003

| | | |
| --- | --- | --- |
| First Aired on | : | 2003 |
| Episodes | : | 7 episodes |
Episodes
0x07 Hostile Makeover Epilogue (January 01, 0001)
---
---
0x06 All This and Gargantua 2 Special Epilogue (January 01, 0001)
---
---
0x05 All This and Gargantua-2 (January 19, 2015)
---
Space. The final frontier, where no one can hear you scream, revenge is only served cold, and the drinks are comped in the casino. Join the Ventures–and pretty much everyone they've ever crossed paths with–as they rocket to the Gargantua-2 space station for an epic, hour-long adventure that will change the Ventureverse as we know it forever.
---
0x04 A Very Venture Halloween (October 28, 2012)
---
Only Team Venture knows how to put the very real, life-threatening element of danger back into Halloween.
---
0x03 Ladle To The Grave: The Story of Shallow Gravy (August 28, 2011)
---
See the Venture Family as you've never seen them before: in a 15-minute documentary-style animated special. Follow the meteoric rise, the equally meteoric fall, and the decidedly un-meteor-like second coming of the most important band Hank Venture, Dermott Fitctel and H.E.L.P.eR. robot have ever been in: Shallow Gravy. If you're hungry for rock, then open wide, because here comes a ladle of heavy metal fire and metaphoric meat drippings.
---
0x02 A Very Venture Christmas (December 19, 2004)
---
Dr. Venture is a bit behind on his shopping, but he's excited about hosting his annual Christmas Eve shindig. Brock turns out to have some sentimental Yuletide traditions. Dean and Hank, who still believe in Santa Claus, accidentally unlock a magical demon who threatens to ruin Dr. Venture's annual Christmas party and murder all his guests. Dr. Billy Quizboy and Mr. White hit on Triana, Dr. Orpheus' underage daughter. Meanwhile, The Monarch plans the ultimate gift for Dr. Girlfriend--the destruction of the entire Venture Compound.
---
0x01 The Terrible Secret of Turtle Bay (February 16, 2003)
---
The Venture family travels to New York City, where Dr. Venture is presenting his newest invention to the United Nations. They are pursued by a ninja intent on acquiring the device, and by Dr. Venture's archenemy The Monarch.
---