Girlfriends
Season 5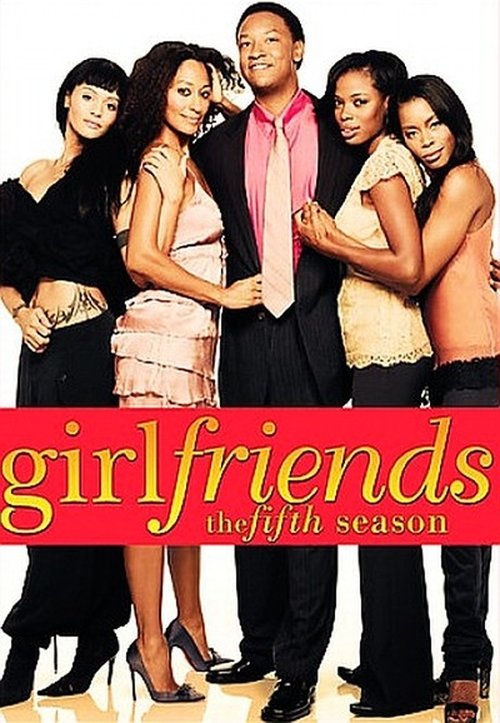 Girlfriends
Season 5
First Air Date: September 20, 2004

| | | |
| --- | --- | --- |
| First Aired on | : | 2004 |
| Episodes | : | 22 episodes |
Episodes
5x22 ...With a Twist (May 23, 2005)
---
Following Darnell's drunken love declaration, Maya enlists the help of Joan and William as she plans to break up his wedding. However, she soon has second thoughts. Joan tries to talk some sense into Darnell in the bathroom. Meanwhile, Toni gives birth to a baby girl before she is able to get in touch with Todd or the girls. Following the surprisingly easy delivery, Toni begins to wonder whether she really needs Todd in her life. Unable to hold back her feelings any longer, Lynn lashes out at Finn and quits the band.
---
5x21 Wedding on the Rocks (May 16, 2005)
---
After Darnell reveals that he has failed to get a band for his wedding (which is just two days away), Maya recommends that he hire Lynn's band. However, Lena is not impressed after hearing the group perform, and lashes out at Darnell. He turns around and blames Maya for the fight, accusing her of trying to sabotage the wedding. Darnell shows up at Maya's apartment drunk after the bachelor party and says that he loves her. Meanwhile, Lynn continues to battle her feelings of jealousy regarding Finn. William begins to complain about the restaurant, prompting Joan to suggest that he is actually dealing with issues about their break-up. After going into false labor, Toni vows to live life to its fullest in the short time left before she gives birth.
---
5x20 The Bridges of Fresno County (May 09, 2005)
---
Toni is surprisingly excited about a visit from her mother, as she hopes to be pampered before having her baby. However, she soon learns that her mother actually came to town because she recently received a letter from an ""old friend""--and is considering having an affair with him. Meanwhile, William and Joan panic when J-Spot has trouble bringing in customers. They hope to correct this by giving the place an air of exclusivity.
---
5x19 Finn-ished (May 02, 2005)
---
After sleeping with bandmate Finn, Lynn believes that she can deal with an open relationship, but becomes extremely jealous whenever she sees him with other women. Meanwhile, Joan forces William to attend Toni's baby shower, although he believes such events should only be for women. He gives Toni an heirloom cradle that he expects to get back in the future for his own kids, only to learn that Toni has given it away to her cleaning lady (before firing her).
---
5x18 Kids Say the Darndest Things (April 25, 2005)
---
Jabari becomes extremely sullen and disrespectful, and begins talking back to his parents. After he runs away from Joan's house while she is watching him, Maya and Darnell finally learn the source of Jabari's anger: he is upset over Darnell's engagement because he wants his parents to reunite. Maya and Darnell struggle over what to do about their son's despair. Meanwhile, Lynn and Toni refuse to believe that William's depression stems from his car's inability to pass a smog test. They insist that he is actually upset about the break-up with Joan, and pressure him to share his feelings.
---
5x17 Good News, Bad News (March 28, 2005)
---
Following a fight with his father, Lynn's brother Matthew shows up and asks to stay with her while he pursues his music career. She tries to help him when he freezes during an audition, but winds up being offered the job as lead singer instead of him. Meanwhile, Toni is extremely reluctant to give up her massive closet to make room for the baby; and William is confused by a thank-you gift from Maya.
---
5x16 See J-Spot Run (February 28, 2005)
---
Joan struggles to take care of last-minute details for the opening of her restaurant, including trying to secure a celebrity to make an appearance. Things grow more complicated after her publicist quits. Although she claims to be fine, Joan also grows upset over seeing William with another woman--especially when she discovers that their relationship is not what she believed it to be. She worries that she has lost William's friendship forever. Meanwhile, Maya, Toni and Lynn fear that they haven't been supportive of Joan. They go to great lengths to try to convince actress/comedienne Mo'Nique to attend the opening of J-Spot.
---
5x15 The Way We Were (February 21, 2005)
---
Maya has her first book signing, and her friends and family come to the store to offer their support. Joan, Lynn and Toni also read excerpts from Oh, Hell Yes. Maya is surprised and pleased when Darnell stops by to get a copy of the book signed. Although her friends believe she is overreacting, Maya insists that Darnell wants her back and determines that she must make a move on him. Meanwhile, Joan cannot handle being around William in the aftermath of their break-up.
---
5x14 Great Sexpectations (February 14, 2005)
---
As Valentine's Day arrives, William is very excited because he and Joan have been dating for three months and can now sleep together. Although William is anxious to get to it right away, Joan insists on planning a romantic evening so that she can finally have a good Valentine's Day. William agrees to go along with her wishes. However, their efforts to consummate their relationship prove so uncomfortable that they reluctantly come to the realization that they are better off as friends. Meanwhile, Toni, Maya and Lynn go out to dinner together for Valentine's Day and reveal their deepest, darkest secrets.
---
5x13 All in a Panic (February 07, 2005)
---
Toni reluctantly signs her divorce papers, and accepts a date from a persistent ex-flame after he kisses her. Maya, certain that Toni isn't over Todd, asks Todd to intervene in the hopes that they can give their marriage another try. Meanwhile, Joan hires a chef who turns out to be an ex-girlfriend of William's. Joan is upset until William tells her that the sex wasn't that good. William is forced to reveal that Lynn was the best sex he ever had--but Lynn doesn't feel the same.
---
5x12 P.D.A. - D.O.A. (January 03, 2005)
---
Maya and Toni question William and Joan's relationship because of their refusal to show affection in front of others. The couple gives holding hands in public a try, but soon runs into Joan's ex Brock. William is perturbed when Joan fails to tell Brock that they are dating, and suspects that she still has feelings for him. Maya and Toni back up this theory, and Joan is forced to admit this is true. Joan later gets into an argument with Brock and reaffirms her relationship with William. Meanwhile, the mother of Lynn's ex-boyfriend Lenny goes all out to try to reunite him with Lynn.
---
5x11 All the Creatures Were Stirring (December 13, 2004)
---
William surprises Joan with a romantic Christmas getaway in Puerto Rico, but they wind up stuck at a seedy motel after a blizzard strands them in Cincinnati during a layover. Meanwhile, Lynn, Maya and Toni take advantage of Joan's absence to enjoy the holiday at her house without all of her strict Christmas rules and other demanding behavior.
---
5x10 Porn to Write (November 29, 2004)
---
With her bills piling up, Maya is forced to consider a job writing for a porn publisher (which already employs Lynn). She turns down the position due to moral objections and resumes selling her book on the street. When she has little success--due in part to bootleg sales--Maya decides to give up on her dream and go back to working as a legal secretary. This does not work out, and she winds up accepting the job at the porn publisher. Fortunately, she is soon able to quit after her writing aspirations get a boost from a surprising source. Meanwhile, William and Joan quarrel after he goes home for Thanksgiving without her; and Toni vows to not talk too much about her pregnancy.
---
5x09 Who's Your Daddy? (November 22, 2004)
---
Lynn is excited about a visit from her birth father, Ken, and his wife. Her adoptive father fears that he is losing his daughter and flies into town at the same time. Lynn grows frustrated because Ken doesn't spend any time with her, as his wife has planned the entire trip and is only interested in seeing celebrities. Meanwhile, Joan and William try to plan their first date, with limited success. Toni dodges Todd's divorce lawyer, who is trying to serve her with divorce papers.
---
5x08 When Hearts Attack (2) (November 15, 2004)
---
Joan believes that she has had a heart attack, although the doctor insists that the episode was only an arrythmia. Joan's mother explains that she did not sleep with William; she had gone to his house to talk, and was in a robe because she needed to shower before her flight. (William had called Joan, but Lynn erased the message because she was expecting a call about a kangaroo.) Although the misunderstanding is cleared up, Joan begins to have second thoughts about William...and then has second thoughts about her second thoughts. Meanwhile, Maya goes on Lynn's public access television show with the belief that she is going to promote her book, only to be ambushed.
---
5x07 The Mother of All Episodes (1) (November 08, 2004)
---
Joan's mother makes a surprise visit and constantly criticizes her, particularly anything regarding her decision to open the restaurant. Joan grows fed up with her lack of support and tells her off, prompting Carol to leave. Joan also grows tired of fighting with William about the restaurant. She decides to buy him out to preserve their friendship, but he refuses to accept the check. They discuss his previous love confession, and William angers Joan by saying that he was ""desperate."" A ranting Joan winds up admitting that she tried to go to his New York hotel room to confess her feelings. They kiss and admit their love for each other, but Joan collapses when her mother emerges in a bathrobe. Meanwhile, Maya is concerned when she discovers that Jabari has been watching pay-per-view porn.
---
5x06 Too Big for Her Britches (October 25, 2004)
---
After learning that her agent has secured her a three-book deal, Maya becomes even more negligent in her duties as William's assistant. He finally ends up firing her. Maya then learns that her publishing company is being bought out and her deal is not going to happen. William refuses to re-hire her because he cannot bear to let go of her incredibly efficient replacement. Maya turns to Joan for help, but isn't too happy about becoming her assistant again. Meanwhile, Toni frets about her weight and her friends' seeming indifference to her concerns; and Lynn joins the ranks of the paparazzi.
---
5x05 Maybe Baby (October 18, 2004)
---
Toni repeatedly tries to seduce Todd when he returns to L.A. for her three-month check-up. He instead tells her that he has consulted a lawyer and wants a divorce. Joan suggests that she re-consider her priorities and face the fact that she may be a single mother. Toni instead begins to question whether she wants to have the baby at all. Meanwhile, Joan learns that William is seeing more than one woman and does her best to try to sabotage the situation. William accuses her of jealousy.
---
5x04 The J-Spot (October 11, 2004)
---
Joan decides to open her own restaurant. William is offended when Joan fails to share the news with him, as he instead hears it from two junior partners at the firm. Joan responds by taking William to task for reuniting with Monica so soon after declaring his love for Joan. They get into a heated argument and decide to end their friendship. Joan finds the perfect space for her restaurant, but doesn't have the money to lease it immediately. Toni suggests that she get an investor, then tries to arrange a truce (for business purposes only) between Joan and the one person she knows who can supply enough capital for the restaurant: William. Meanwhile, Joan and Maya grow concerned by Lynn's behavior after she begins performing on the streets while painted up as a robot.
---
5x03 A Mile in Her Loubous (October 04, 2004)
---
Maya's cousin Ronnie is offended after she hires an agent. Upset that Maya refuses to acknowledge his role in her success, Ronnie demands ten percent of her $25,000 advance for writing the book. Joan has an awkward run-in with William and Monica at the cafe. She mistakenly believes that William is bringing Monica to Maya's birthday party, and tries to retaliate by bringing her own date, a boring shoe salesman. Meanwhile, Toni battles constant morning sickness.
---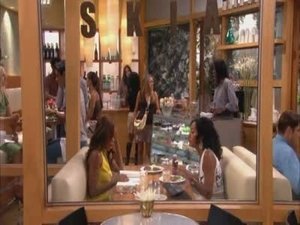 5x02 The Rabbit Died (September 27, 2004)
---
Toni's friends refuse to believe that she is pregnant, as they are certain it is all part of a ploy to win back Todd. Even after Toni shows them an ultrasound and experiences morning sickness, they still believe that she is lying and insist on tagging along to her doctor's appointment. After her pregnancy is confirmed, an apologetic Todd comes home to help care for her, but remains unsure about their relationship. Meanwhile, William grows fed up with Maya's poor performance at the office and places her on probation after her antics with client Rev. Al Sharpton (including giving him a copy of her book) prompt Sharpton to give William a lecture.
---
5x01 L.A. Bound (September 20, 2004)
---
Joan tries to confess her feelings for William, but knocks on the wrong door and winds up on the run from a crazed lesbian who thinks that Joan stole her girlfriend. Joan is repeatedly thwarted in her efforts to try to share her feelings with William, and gives up after he ignores her to have a tryst with Monica in the airplane's bathroom. Lynn returns to her birth father's house and admits that she is his daughter. Todd refuses to believe that Toni is pregnant unless she takes another test. She refuses, and orders him to be on the plane back to Los Angeles the next day. When he does not show up, she tries to hold up the plane to make everyone wait for him.
---