Girlfriends
Season 4
Girlfriends
Season 4
First Air Date: September 15, 2003

| | | |
| --- | --- | --- |
| First Aired on | : | 2003 |
| Episodes | : | 24 episodes |
Episodes
4x24 New York Unbound (May 24, 2004)
---
Maya learns that the publisher wants to sanitize her book to make it more accessible to white readers. She convinces her editor to stand up for her vision and get the original version of the book released. She succeeds, and Maya receives $25,000. After William shows up at her house to confront her, Joan flees for New York with Toni. Toni sees Todd with his colleague, Natalie, and again assumes he is cheating on her. She makes a scene on the set as she begs him not to leave her. Joan is surprised to run into William, who has come to New York to give legal advice to Maya. Joan tries to tell William that she isn't interested in him romantically. He says that this is okay, and that things between them will soon return to normal. William runs into Monica, his evil, golddigging ex-girlfriend. Lynn visits her birth mother, Sandy, for information on her biological father. She learns that Sandy wanted to marry Lynn's father, but Sandy's parents paid the man to go away. They claim it
---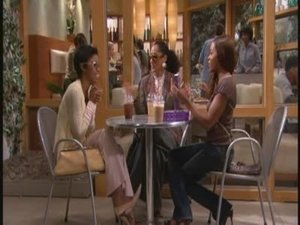 4x23 New York Bound (May 24, 2004)
---
Maya self-publishes her book, Oh, Hell Yes, and sells it on the streets, where it is a tremendous success. Ronnie tells her that a major publisher wants to offer her a five-figure deal to release the book. Toni repeatedly tries to call Todd in New York, but he refuses to return her messages. She continues to act as though nothing is wrong in front of her friends, even when they express concern about her well-being. Lynn gets a new boyfriend, Lenny. Her friends note their physical resemblance and all the things they have in common (including allergies) and offer the opinion that they might be brother and sister. Lynn talks with Lenny's parents, who assure her that this is not the case. She breaks up with him because she is still freaked out at the idea that he could have been her brother, and decides to search for her birth father. William decides not to confess his feelings for Joan, and pursues an attractive woman he meets at the bar. However, he runs into Joan when she stops
---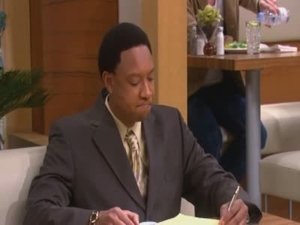 4x22 Love Thy Neighbor (May 17, 2004)
---
Maya's neighbor, Jalen, tells her that he would like to begin dating. She turns him down because she feels that she has to much going on in her life for a relationship. Lynn expresses an interest in Jalen and asks Maya's permission to date him. Maya gives her approval, but then confesses to Joan that she only did this because she is sure that Jalen will reject Lynn. Much to her surprise, Lynn and Jalen being seeing each other. A jealous Maya continually makes up excuses to barge in and try to break up their date. She eventually admits that she is interested in Jalen. She and Lynn ask him to choose between them, but Maya fears the repercussions on their friendship. They decide that neither of them will date Jalen. Todd tells Toni that he has been offered a job interview in New York. He is very upset when she tells him to go for it without even asking him for any details. He gets the job as a plastic surgeon on a reality show, and tells Toni that he doesn't want her to come wi
---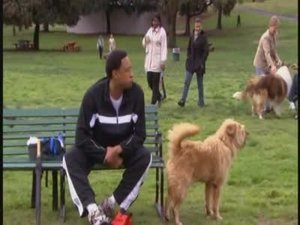 4x21 Just the Three of Us (May 10, 2004)
---
Toni has an apparent breakthrough in therapy. When Dr. Miller asks with whom she would want to be stranded on a deserted island, she picks Joan and realizes from her explanation that it is because she loves her. She is excited to realize that she is capable of love. However, Todd is miffed when she explains this to him. He doesn't like the idea that she didn't know about love before, and sees her decision to choose Joan over him as another example of her tendency to not take his feelings into consideration. William tells Toni that she was wrong to talk about her session with Todd, and recommends that she do something to show how much she appreciates him. She plans to surprise him with a picnic lunch, but sees him dining with an attractive colleague and assumes they are having an affair. Although he insists that she is mistaken, Toni is worried, and the tension between them escalates. Maya completes her manuscript and asks Lynn to read it and give feedback. She asks her not to
---
4x20 A Partnerless Partner (May 03, 2004)
---
William is made a senior partner in the law firm. He is thrilled about this, as is Maya, who will now get a substantial raise. He brings a beautiful date to the party honoring his promotion. Joan comments that he now has everything he wants, but William still feels as though something is missing. He talks with Swedelson at a strip club. Swedelson says that William should not pursue a relationship with Joan and instead advises him to go after Sharon, who had earlier seemed to be sending William signals. However, William discovers that Sharon is involved with the building's security guard. He goes to Joan's house and tries to share his feelings with her, but backs down after she talks about thinking of him as her ""big brother."" Meanwhile, Toni, Maya and Lynn enjoy the benefits of an especially friendly masseuse.
---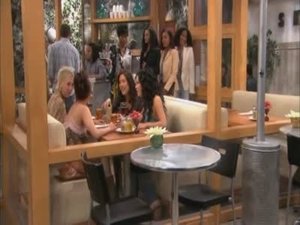 4x19 He Loves Her, He Loves Me Not (April 26, 2004)
---
Joan feels bad about the way the girls have treated William's past girlfriends and decides to go out of her way to make Donna feel welcome. She hosts a dinner to give them a chance to get to know her. Donna is unnerved by the closeness between Joan and William, particularly when they take it upon themselves to help her organize a Cinco de Mayo party for the convalescent home where she works and get really excited about it. Donna confronts William during the ride home and offers the opinion that he is in love with Joan. He insists that this is not true and tries to provide reassurance. He then angers Joan by backing out of plans to do a song and dance together at the Cinco de Mayo party. Donna observes William's reaction to Joan's ridiculous performance and again opines that he loves her. William tells her about the psychic, but Donna believes that her purpose might actually have been to force William to face his true feelings for Joan. Meanwhile, the girls are furious when they
---
4x18 Wieners and Losers (April 12, 2004)
---
The newly unemployed Joan cannot stand the idea of just sitting back and relaxing, and drives her friends crazy by constantly cooking and knitting for them. She goes to the mall, and winds up taking a job at Wienercycle. Her friends tell her that this is a very stupid idea and convince her to quit. She tries to do this, but is inspired by the teenage shift manager's take-charge attitude and decides to stay and help her. Joan tries to defend her bizarre actions as the result of her work ethic, but experiences a wake-up call when she learns that the manager isn't really as gung-ho about her job as she had appeared to be. Meanwhile, William annoys Toni, Lynn and Maya by flaunting his new $6000 pen. Toni gets revenge by swiping the pen, and the girls enjoy watching William behave like a madman as he tries to find it.
---
4x17 Love, Peace and Hair Grease (March 29, 2004)
---
Joan grows increasingly bored with her job. William notes that she doesn't hold the passion for the law that is required to truly succeed in their profession. She feels rejuvenated as she helps re-decorate Lynn's apartment. As Lynn returns some items she ""borrowed"" from her friends, Joan is furious to discover that Lynn forgot to send in Joan's application to the Fashion Institute many years ago. Joan had believed that she had been rejected, and had decided to go to law school because she didn't think she could make it as a designer. She lashes out at Lynn and blames her for changing the course of her life. Joan confides in Sharon about her dissatisfaction at work, and Sharon quickly takes her gripes to Swedelson. Joan assumes that she is about to be fired and tries desperately to get her job back. Much to her surprise, she receives a promotion. However, she realizes that her new success hasn't changed her feelings about her job, and decides to quit. Meanwhile, Maya receives
---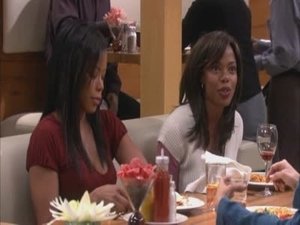 4x16 On the Couch (March 01, 2004)
---
Toni continues to see her therapist, Dr. Miller. Rather than following the doctor's advice and writing a letter to her mother detailing her grievances against her, Toni instead brings her mother to her sessions. Veretta stays with Toni and Todd and monopolizes the house. Todd tries to tolerate her rude and thoughtless behavior, but insists that she stop smoking in the house. Veretta refuses, and says that she doesn't have to listen to Todd because her daughter paid for the house. They get into a heated confrontation, and wind up ordering Toni to choose between them. Meanwhile, William worries that the fact that he and Donna have such different backgrounds (she cleans bed pans for a living and insists on travelling by bus) will impede their chances of having a future together. He vows to try his best to keep the relationship going, because he considers Donna to be special. Joan obsesses over whether to resume sessions with her own therapist after Lynn and Maya make several deris
---
4x15 Good Catch or Bad Hop? (February 23, 2004)
---
Maya and her friends enjoy perks such as limo rides and entry to exclusive clubs, courtesy of her baseball player beau, Alex. She is reluctant to refer to him as her boyfriend, and bristles when he repeatedly makes up excuses to avoid spending time with her. She also objects when he surprises her with expensive new furniture. Alex convinces her to allow him to shower her with gifts, as he enjoys doing this and doesn't think of her as a groupie. However, when the girls show up at a party, Alex refuses to allow them to come inside. Toni forces Maya to face the fact that Alex only wants her as arm candy, to see when he sees fit while he continues to play the field. William continually bothers Alex for autographed memorabilia, while his friend Dan (who suddenly appears after learning that William knows a baseball star) can't seem to get the idea that Lynn isn't interested in him. Lynn, meanwhile, works on a documentary about single mothers. She pays them for their time by babysitti
---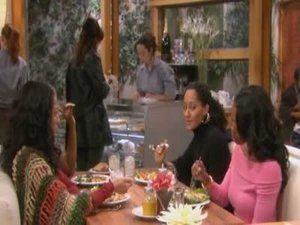 4x14 Leggo My Ego (February 16, 2004)
---
Joan's procrastination puts her job in jeopardy when she doesn't act quickly enough toward securing donations for a charity auction, which she has agreed to arrange for her boss. She turns to Toni to use her connections to the area's finer merchants to bring in an item that can help Joan meet the auction's $60,000 goal. However, Toni forgets to help Joan because she is obsessed with tracking down her ""best friend,"" supermodel Beverly Johnson (with whom she has never actually had any contact). Joan launches into a verbal tirade about Toni, which she overhears. Toni accuses her friends of being ""jealous, ugly bitches"" and continues on her quest to meet Beverly Johnson. She eventually meets Beverly, who is perplexed by her claims that they are soulmates and mistakes Toni for a schizophrenic. Toni reluctantly sees a therapist, where she initially raves about her life, but soon breaks down and admits that she fears no one would miss her if she died. Meanwhile, William seeks revenge a
---
4x13 Comedy of Eros (February 09, 2004)
---
Toni refuses to believe Joan's claims that she isn't upset about spending Valentine's Day alone, and insists on constantly trying to cheer her up. She follows Joan to the movies and annoys everyone by talking loudly and giving away plot points. Joan gets up and moves to another seat, and runs into her old friend Davis. They go out to dinner and have a nice time together, but Joan realizes that she isn't ready to get into another relationship. Toni tells Todd that they shouldn't exchange Valentine's gifts because of their limited finances, but then reveals that she recently spent $2800 on boots. Todd is hurt when Toni then buys Joan a gift, but Toni actually realizes this and takes steps to correct her mistake. William tries desperately to make a connection with Donna, the woman at the bus stop, but she wants nothing to do with him. He makes the ill-advised move of sending Lynn to talk to her, which only ends up frightening Donna further. However, he later pleads his case and co
---
4x12 Prophet and Loss (January 12, 2004)
---
A stranger stops Joan on the street and tells her, ""You made the right decision."" He claims to be a psychic, and manages to convince Joan that he is for real. She takes his words as a sign that she was right to break up with Brock. However, she soon re-considers after she runs into Brock on the street. She observes him playing with his young niece and concludes that she might be satisfied having children in her life without being a mother for a while. However, a visit to her gynecologist gives her pause when she is forced to face the fact that her child-bearing years are limited (because many older women face complications in their pregnancies). Meanwhile, a dream prompts William to confront Lynn about annulling their marriage. He accompanies the skeptical Maya when she tries to confront the psychic. After the man tells him that ""she's right in front of you,"" he mistakenly believes that he is destined to be with Lynn. The psychic later directs him toward a woman waiting for a
---
4x11 Merry Ex-mas (December 15, 2003)
---
Maya invites Darnell's girlfriend, Lena, to her Christmas party in an effort to be civil. However, she grows jealous and gets Jalen to pose as her boyfriend. She is also furious when Lena gets Jabari a Game Cube (he wasn't supposed to get one because of his poor performance in school), and accuses the couple of not communicating with one another. Maya later catches Lena with a man at the bar, and winds up in the strange position of trying to help her with her relationship. Meanwhile, Joan gets really carried away while organizing a caroling outing for her friends.
---
4x10 Don't You Want Me Baby? (November 24, 2003)
---
Toni is furious to discover that Todd failed to deliver a message from a remorseful Greg before the wedding. Claiming that she needs closure but actually hoping to rub her happiness in Greg's face, she insists that she needs to meet with him. Todd fears that Toni still has feelings for Greg and threatens to leave her if she sees him. Toni declares that Todd needs to trust her; she ignores his ultimatum and meets with Greg anyway. Meanwhile, Joan is devastated when William's nephew/son cries every time she holds him, as she sees it a a sign that she wouldn't be a good mother. After Jabari tells Maya and Lynn that his classmates think they are lesbians, Maya angers Lynn by saying that she wouldn't even be her type.
---
4x09 Between Brock and a Hard Place (November 17, 2003)
---
Joan's enthusiasm about her new engagement is tempered when she learns that Brock doesn't want to have children, but she decides to relax and just focus on the immediate future. However, the issue continues to gnaw at her. Brock explains that, although his behavior may seem selfish, he believes it is wrong for someone to have children that they don't truly want. Joan tries desperately to change his mind; but he insists that they could be around kids by playing an active role in the lives of the children of family and friends. Joan ponders this for a while, but ultimately decides that she wants to have children of her own. Brock insists that they can have kids, but Joan fears that he would grow to resent her. They have a tearful break-up. William, determined to beat Joan to the altar, proposes to Lynn. He promises to support her financially and let her live at his place. Lynn learns that Joan and Brock have split, but keeps it to herself until after she has married William. Me
---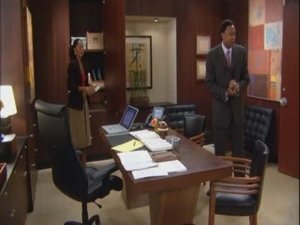 4x08 Viva Las Vegas (November 10, 2003)
---
After Brock invites Joan to join her for a weekend in Las Vegas, she is convinced that he plans to pop the question. She brags about this constantly to her friends, but isn't so sure that she is really ready for marriage. She drives Brock crazy as she constantly makes him turn back to Los Angeles and then toward Vegas again, and even after he says that he is anxious to marry her, she continues to battle cold feet. Meanwhile, William carries around a baby doll to try to prove to his sister that he can handle the responsibilities of caring for a child.
---
4x07 And Baby Makes Four (November 03, 2003)
---
William convinces Joan to host a baby shower for his sister, Linda; and her partner, Kira. Kira's water breaks during the event. William wants to take her to the hospital, but they insist on having a midwife conduct a home delivery, which ends up taking place at Joan's house. Joan constantly worries that the water from the birthing pool will seep out and ruin her floors. Lynn drives everyone crazy as she suggests possible baby names and reads off their meanings. William fears that parenthood (and being a lesbian) is all just a phase for Linda, and they get into an argument. Linda threatens to keep William away from his nephew/son, so he says that he will not sign the papers relinquishing his parental rights. William's friends try to convince him to change his mind. He eventually apologizes and admits that the reality of having to sign away his rights had just hit him. He and Joan agree to have a baby together if neither is married or has a child in ten years. They soon come t
---
4x06 Inherit the Lynn (October 20, 2003)
---
Maya learns that tuition has increased substantially, and she doesn't have enough money to cover it. William tries to give her the money by pretending she has received it from the firm's continuing education plan, but she turns him down. Lynn housesits for Joan so that her DSL can be installed while she is away with Brock. Lynn claims that she is going to work on a grant proposal for another documentary, but gets nothing done. Joan refuses to let her stay at the house, and Toni and William also reject her. Maya agrees to let Lynn move in for a month if she pays rent. Lynn proceeds to lie around and do absolutely nothing. Maya pays her tuition, but learns that her credits do not transfer and she must start over again as a freshman. She is unbelievably frustrated and breaks down in tears. Lynn annoys Maya by complaining about her own plight and claiming to be depressed. William tells Lynn what Maya is experiencing and convinces her to be more sensitive, and also to take action
---
4x05 Hopelessly Devoted to Two (October 13, 2003)
---
Joan finds herself in a bind when she is forced to agree to a dinner with both Ellis and Brock. She does not know how to handle the situation, although she insists that she is going to stay with Ellis. Joan winds up sharing a passionate kiss with Brock. Ellis nearly catches them in the act, and her friends witness the whole scene from the laundry room. Joan finally confesses her actions on the night of the play to Ellis. He is initially furious, but later visits her and lets her off the hook. They admit that they cared about each other, but were never really in love. Joan dashes off to give Brock a call. Meanwhile, William tries to cut a deal with Maya to get her to actually do her job, but she continues to outwit him.
---
4x04 You Ain't Gotta Go Home but...You Know the Rest (October 06, 2003)
---
Toni's brother Antoine comes to town for a weekend rendezvous with Maya, but soon spooks her by declaring his love and announcing that he will not return to Boston. When she rejects him, he locks himself in the bathroom and refuses to leave. Meanwhile, William orders Lynn to leave his house, but continually sabotages her efforts to find a roommate. Toni agrees to help Joan clean out her house, but insists that Joan's love life is what actually needs to be purged.
---
4x03 Snoop, There It Is (September 29, 2003)
---
After nine months of celibacy, Lynn becomes fed up and grows suspicious of Sivad. She contacts his ex-girlfriend in the hopes of gaining some insight into his behavior. Meanwhile, despite her debt, Toni is determined to acquire a $17,000 bag. Joan and William try in vain to convince her to moderate her behavior and live within a budget.
---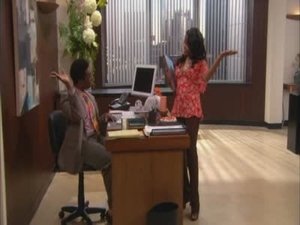 4x02 If It's Broke, Fix It (September 22, 2003)
---
Toni refuses to speak to Todd because she is up in arms about his debt and feels betrayed by the fact that he failed to disclose this information sooner. While at the spa with Joan, Toni's ring is apparently repossessed by a woman on behalf of Harry Winston. A furious Toni plans to divorce Todd, but seems to soften as she discusses the situation with William. However, she still tries to throw Todd out of the house. After she explains that her greatest fear is becoming poor again, Todd says that he is afraid of losing her, and points out that he accumulated his debt trying to court her. Toni learns that Todd did not buy her ring at Harry Winston; the woman simply stole it after overhearing her conversation about debt. Todd gets Toni to agree to work on the marriage, and they reach a compromise about the insurance settlement for the stolen ring. Meanwhile, Joan confides in her new assistant, Peaches. She says that Ellis is away in New Zealand working on his movie, but she has dec
---
4x01 Some Enchanted Evening (September 15, 2003)
---
Joan enjoys relative peace in her relationship with Ellis. However, she establishes a strong connection with a stranger whom she meets when they duck into the same doorway during a rainstorm. She is later surprised to find that the man is Ellis's agent, Brock. Brock meets with Joan outside a play when Ellis is called away to a meeting. They begin kissing, and end up back at Brock's place, where they declare their love for each other. Brock feels it is wrong to sleep together while she is still Ellis's girlfriend, so Joan promises to break things off. However, Ellis surprises her by finally telling her that he loves her. Sivad pressures Lynn to move out of William's house. He initially doesn't want to live with Lynn, but soon changes his mind. Toni grows annoyed with all of Todd's habits. After he reveals that he is deep in debt, she leaves him and shows up at Joan's house. William continually tries to get Maya to actually do her job, but she spends all of her time reading se
---