Girlfriends
Season 3
Girlfriends
Season 3
First Air Date: September 23, 2002

| | | |
| --- | --- | --- |
| First Aired on | : | 2002 |
| Episodes | : | 25 episodes |
Episodes
3x25 Wedding (2) (May 19, 2003)
---
Joan tries desperately to get Toni to forgive her and allow her to be a bridesmaid. However, it remains to be seen if there will even be a wedding, as Todd walks out on Toni because of her selfishness. Meanwhile, Lynn objects to Sivad's decision to write a poem for the wedding.
---
3x24 Wedding (1) (May 19, 2003)
---
Joan promises to support Toni as the wedding approaches, but repeatedly neglects her in order to deal with her latest drama involving Ellis, who has failed to tell her that the mother of his child has been cast as his love interest in his movie. As a result, Toni tells Joan that she is not welcome at the wedding. Meanwhile, Sivad feels threatened by Lynn's past with William and orders her to move out of William's house; and Mrs. Childs fiercely tries to keep Maya away from Toni's med student brother, Antoine.
---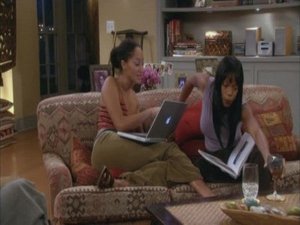 3x23 The Fast Track & the Furious (May 12, 2003)
---
Lynn persuades Toni to accompany her to Virginia, where she seeks Sandy's help before a presentation aimed at receiving a grant for her AIDS documentary. During the visit, Lynn meets her grandmother and learns a shocking secret about Sandy's health. After discovering how much money William is now earning, Maya tries to become his assistant in the hopes of improving her salary and returning to school. However, William will only sign off on the arrangement if Joan gives her approval.
---
3x22 Blood Is Thicker Than Liquor (a.k.a. Blood Is Thicker Than Water) (May 05, 2003)
---
Toni's family comes to town, and Toni worries that her mother will embarrass her in front of Todd's parents by voicing her objections to their Jewish background. Mrs. Childs becomes dejected about the bickering between Toni and her older sister, Sherri--whom Toni refuses to include in the bridal party--and falls off the wagon. Meanwhile, William worries that he will lose one of his few male friends when the man begins dating Maya.
---
3x21 Too Much Sharin' (April 28, 2003)
---
William and Sharon decide to continue their relationship, even after he re-joins the firm. Joan discovers that the two are together, and inadvertently blabs about it to Sharon in a moment of anger. Sharon breaks up with William, who shuts out Joan. Joan tries to rectify the situation, only to make things worse. Maya is desperate to find out what is going on when Joan fails to share the gossip with her. Meanwhile, Toni asks Lynn for tips for her wedding night.
---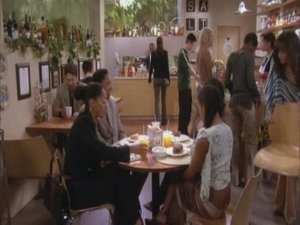 3x20 Where Everyone Knows My Name (April 21, 2003)
---
Maya makes her friends feel guilty about leaving her alone as they spend time with their significant others. She convinces them to accompany her to a hangout in her old neighborhood, where she runs into Darnell. She is disturbed to learn that he has failed to tell her that he has gotten a small business loan to open a car repair business, and by the fact that he has a new girlfriend. Meanwhile, William plans to return to the law firm, but first tries to complete a list of things he wants to do before he dies--including becoming a Soul Train dancer.
---
3x19 The Pact (March 17, 2003)
---
Lynn and Maya confront Joan about her jealousy and overall bad attitude regarding Toni's wedding. Joan is upset when Toni announces that Reesie Jackson, her college roommate, is coming to town to be a bridesmaid. Joan had forced Toni and Lynn to swear never to speak to Reesie again after she stole Joan's boyfriend, Brian. She is livid when she learns that Toni and Lynn have not only stayed in touch with Reesie, but are the godmothers of her two children. Joan gives Reesie the cold shoulder. She rants that Reesie stole her chance at a perfect life with a husband and kids. Reesie reveals that she has contracted AIDS from Brian. He had unprotected sex with men, refusing to take along condoms because he was in denial about the fact that he is gay. The girls try too hard to comfort Reesie, and freak out a little when she cuts herself while chopping vegetables. She assures them that they cannot contract HIV this way, but Joan initially remains a little skeptical. Toni picks out her
---
3x18 Runaway Bridesmaid (February 24, 2003)
---
Joan becomes jealous over Toni's engagement, and takes out all her frustration on Ellis, whom she begins blaming for all of her problems. She also resumes training for the Los Angeles Marathon just weeks before the event in an attempt to take her mind off Toni. Intimidated by Toni's expensive registry, William, Lynn and Maya pool their resources to come up with a wedding gift.
---
3x17 A Stiff Good Man Is Easy to Find (February 24, 2003)
---
Toni and Todd's relationship is thrown into flux after she inadvertently mentions marriage. When Toni goes into hiding, Todd seeks the assistance of her friends, who convince him that Toni loves him and help him confront his own feelings for her. Meanwhile, William finds himself extremely attracted to Sharon, leading to an odd face-off with Monica.
---
3x16 Sex, Lies and Books (February 17, 2003)
---
Maya becomes depressed and lonely after moving into a new apartment, despite the presence of a handsome and friendly neighbor. Toni and Todd take her on a double date with a friend of his, with disastrous results. William takes Monica on a romantic Italian vacation, where he plans to break the news that he has quit his job. Sharon invites Joan to her book club, then proceeds to humiliate her.
---
3x15 Happy Valentine's Day...Baby? (February 10, 2003)
---
Ellis goes all out to give Joan a magical Valentine's Day, but the couple's future is put in jeopardy when he learns that his ex-girlfriend is about to have their child. Toni finds her Valentine's Day card from Todd offensive, and fears that he is only dating her because she is black. William cannot bring himself to tell Monica that he quit the law firm.
---
3x14 Single Mama Drama (February 03, 2003)
---
Maya befriends a fellow single mother, a janitor at the law firm's building. They quickly make a connection, but Joan finds the woman's attitude irritating; and fears that her example could negatively impact Maya's relationship with Darnell. Meanwhile, William pretends to work at Lynn's office because he misses the camaraderie of a workplace; and Lynn tries to scam her co-workers out of money by pretending it's her birthday.
---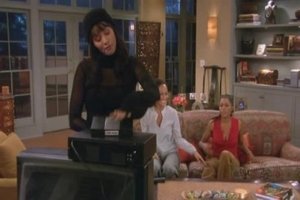 3x13 Howdy Partner (January 07, 2003)
---
Joan and William vie for a senior partner position, and are shocked when the firm instead brings in an outsider, Sharon Upton Farley. They plan to demonstrate their outrage by walking out, but only one of them follows through with it. Meanwhile, Lynn and Maya help Toni deal with her fears after Todd asks her to take an HIV test.
---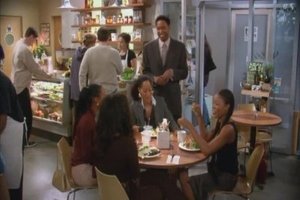 3x12 Take This Poem and Call Me in the Morning (January 06, 2003)
---
Lynn finds herself extremely attracted to a poet, and is stunned to learn that he has been celibate for five years. Ellis refuses to leave the house after fans on the Internet trash him and label him a sellout. William tries to win back the girls' trust following the Christmas Eve debacle.
---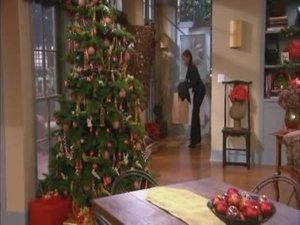 3x11 Santa v. Monica (December 16, 2002)
---
William agrees to dress as Santa Claus on Christmas Eve in the hopes of restoring Jabari's belief in Santa (something that seems to concern Joan just a little too much). However, Monica arranges for him to host the annual Christmas party for the senior partners and important clients on the same night, and pressures him to blow off Jabari and his friends. As they argue, Monica makes a startling revelation about the way the met. Meanwhile, Todd gives Toni a unique Christmas gift: a doll of herself, which has a bizarre effect on her.
---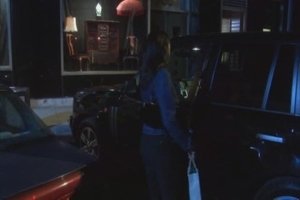 3x10 A Little Romance (November 25, 2002)
---
Toni realizes she has fallen for Todd after he protects her during an altercation with a man on the street, but is still reluctant to date him because of his size. Joan is appalled when Ellis rates her only a 5.5 on looks on a scale of one to ten.
---
3x09 The Mommy Returns (November 18, 2002)
---
Lynn meets her biological mother, Sandy, who suddenly appears at Joan's house. Although the two initially become friends, Lynn soon becomes embarrassed by some of Sandy's behavior. However, Lynn becomes intrigued by a documentary project about sexuality, and quits her job to help her work on it. Meanwhile, Joan and Maya drive each other crazy as Maya and Jabari stay with Joan while Maya looks for an affordable apartment.
---
3x08 Handling Baggage (November 11, 2002)
---
Maya's cousin Ronnie and his boyfriend, Peaches, tell Maya that they have spotted Darnell in a compromising position with a woman at the Red Lobster. It is the same woman that Joan once saw with Darnell years earlier. Maya confronts Cecily and learns that she is having an affair with Darnell. This leads the distraught Maya to declare that she and Darnell are now ""even"" and move back to the house, where she and Darnell make a decision about the future of their relationship. Meanwhile, William obsesses over the fate of a missing suitcase.
---
3x07 Blinded by the Lights (November 04, 2002)
---
Joan is excited when Ellis invites her to the premiere of his new movie, but he refuses to let her walk the red carpet with him (or sit with him at the film) because he wants to preserve his ""bachelor"" image. Ellis tries to make it up to her by doing a magazine interview with her. Meanwhile, Toni grows tired of client Laila Ali, who would rather hang out than do any house-hunting.
---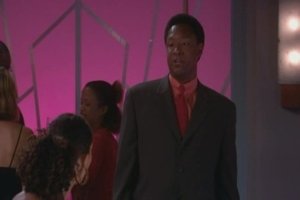 3x06 Invasion of the Gold Digger (October 28, 2002)
---
The girls instantly detest William's demanding girlfriend, Monica. Joan in particular is up in arms after Monica convinces William to renege on a promise to make her co-counsel for a big case because he would look better in the partners' eyes if he handled it himself. Joan seeks revenge on William, and the girls later confront Monica. Toni keeps running into plastic surgeon Dr. Todd Garrett. Although the two seem to have hit it off, Toni refuses to date him because of his lack of height.
---
3x05 Don't Leave Me a Loan (October 21, 2002)
---
After Lynn's unpaid loan has a negative effect on their credit, Lynn's parents pressure her to get a job and pay them back. Lynn's friends ""help"" her prepare for her interviews--by wrestling her to the ground and forcing her into a wardrobe change, as well as offering emotional support. Meanwhile, Maya hides the truth about her separation from Darnell from her mother.
---
3x04 Star Craving Mad (October 14, 2002)
---
Joan has several run-ins with an actor at the gym, but finds herself attracted to him. However, she re-considers her decision to date Ellis after discovering that he has lied to her. William's sister comes out to him, then asks him to become a sperm donor so that she and her partner can have a child.
---
3x03 Secrets and Eyes (October 07, 2002)
---
Toni objects when Joan plans a birthday party for her. In the midst of their argument, Toni inadvertently reveals that she has been lying about her age for years. Joan and company tease Toni relentlessly about being older, and she grows insecure about her looks. After a disastrous Botox session, Toni seeks the advice of a plastic surgeon--whose only suggestion is therapy. Meanwhile, William winds up falling for a woman who was only supposed to be a one-night stand.
---
3x02 Getting Our Act Together (September 30, 2002)
---
Maya and Darnell seek marriage counseling from their minister. They find the counseling pointless, but engage in an afternoon tryst that has an overly enthusiastic Maya convinced that they are going to reunite soon. Lynn finds work as a bartender, despite the fact that she has no idea what she's doing. William tries to prove to Swedelson that he has the toughness required to be a partner in the firm.
---
3x01 Coming to Terms (September 23, 2002)
---
Joan fears she has hit an all-time low after she holds a ""Bring Your Ex"" party, but doesn't get a single phone number. She eventually winds up swearing off men to train for a marathon. Maya still struggles to get Darnell to talk to her after a month apart. William threatens to throw Lynn out of his house unless she lands another job. Toni laments the lack of drama in her life.
---