Tales from the Crypt
Season 5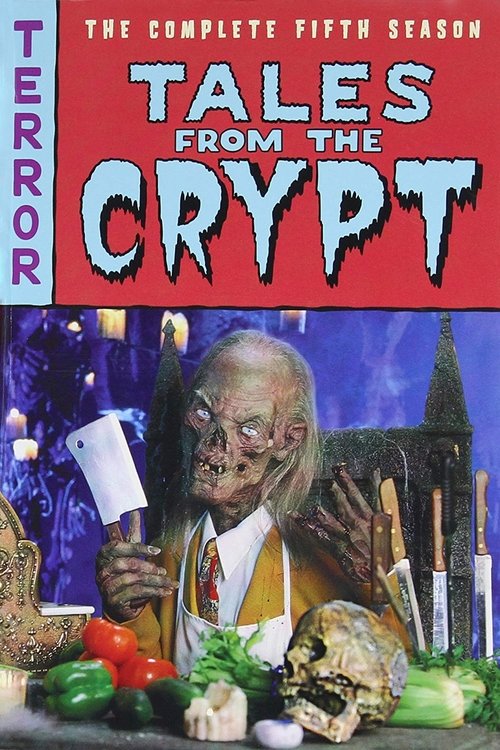 Tales from the Crypt
Season 5
First Air Date: October 02, 1993

| | | |
| --- | --- | --- |
| First Aired on | : | 1993 |
| Episodes | : | 13 episodes |
Episodes
5x13 Till Death Do We Part (December 08, 1993)
---
A male escort is engaged to an aging woman. One day she discovers him flirting with a younger woman. She forces him to kill her in front of her. Instead he kills off her bodyguards, but he is even more surprised when the young lady turns against him. It turns out he's been fantasizing the whole thing and bumps her off himself.
---
5x12 Half-Way Horrible (December 01, 1993)
---
Roger Lassen is a manufacturer who kills his friend by burying him alive in the South American jungle to finish the development of a chemical preservative. He's haunted by the memories of the incident. The earnings will make him rich but he can't get it past the FDA regulations. Soon his past returns and he starts seeing his dead friend everywhere he looks. A voodoo priestess offers to help exorcise his dark side. The spell works but at the most horrible cost.
---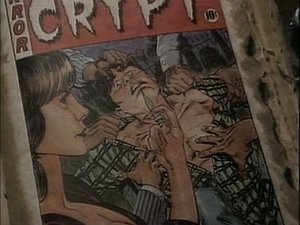 5x11 Oil's Well That Ends Well (November 24, 1993)
---
A con artist and his girlfriend plan their next caper by tricking some southern boys into thinking there is oil underneath a cemetery. Their plans work. She makes them think she has gotten jealous and killed her boyfriend, but when she goes to dig him up, she gets a big surprise. He and the boys have been partners all along. The last laugh is on her when it turns out that there really is oil and she blows them all to kingdom come.
---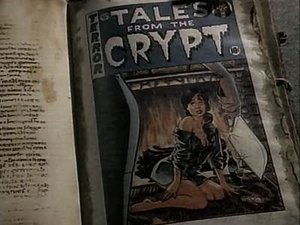 5x10 Came the Dawn (November 17, 1993)
---
In this version of Alfred Hitchcock's Psycho, a young woman who is also a thief is picked up by a man driving by. He takes her up to his place. There she hears a message from his wife, but also learns that there is a killer nearby. When she goes to his room she gets a big surprise.
---
5x09 Creep Course (November 10, 1993)
---
Reggie is a college jock who is trying to pass a history test. He asks the class bookworm Stella Bishop to help tutor him. She goes to Finely's house to to get the answer sheet, but when she gets there, Finely and Reggie lock her in a mummy's tomb. Finely double crosses Reggie by poisoning him. Finely goes back to check his work, and gets a big surprise. Stella is not dead. She has been charming the mummy by impersonating his dead girlfriend making the mummy jealous and Reggie and Finely really take the wraps.
---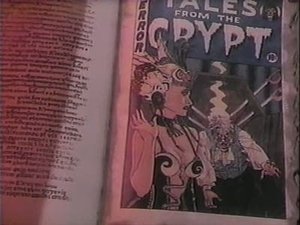 5x08 Well Cooked Hams (November 03, 1993)
---
A frustrated magician comes across a true genius. He decides to kill him and steal his magic, but he finds himself in big trouble and it's going to be the last magic trick he will ever perform.
---
5x07 House of Horror (October 27, 1993)
---
Les Whilton is the president of a college fraternity. He decides to scare three pledges by daring them to spend a night in a haunted house. He and some of his friends have set up the place to look like it's haunted. Along for the ride is a group of sorority sisters. When everyone else turns up missing, everyone turns to Whilton. Whilton goes into the house alone and he gets a big surprise.
---
5x06 Two for the Show (October 20, 1993)
---
A man slaughters his wife who he believes is having an affair. He drags her body and puts it in the bathtub. The police arrive and he refuses to let them near the bathtub. He chops up the corpse and hops a train with a trunk containing his wife's corpse. The detective follows him. The man switches trunks but when he opens the other one he gets a big surprise.
---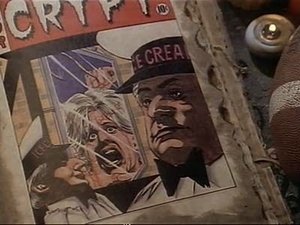 5x05 People Who Live in Brass Hearses (October 13, 1993)
---
Billy is a smalltime criminal who is bloody red for vengeance. Years ago, his boss at an icecream warehouse double crossed him by sending him to prison. Now he plans to frame his boss with the help of his disabled brother.
---
5x04 Food for Thought (October 06, 1993)
---
Zambini is a circus mind-controlling psychic who controls his beautiful helper with his telepathic powers. One day he learns that she has a crush on the fire eater. Zambini goes into a terrible rage and kills him. Connie flees in terror never to return. Zambini uses his powers to call her back but it contacts the pet gorilla instead.
---
5x03 Forever Ambergris (October 02, 1993)
---
Dalton is a seasoned combat photographer who finds himself falling for a beautiful women who just happens to be the wife of his friend. One day Ike sends Dalton into a disease warfare area. Dalton returns, but not the way he used to be. He soon writes a letter about how he was set up and his wife and friend also contract the same disease.
---
5x02 As Ye Sow (October 02, 1993)
---
A husband hires a detective to spy on his wife whom he believes is cheating on him with a priest. When he learns that he's been conned, he decides to kill him himself. That day he learns that they're was nothing going on between them and he is relieved. But he is mistaken for his wife's so called boyfriend and killed by the detective he hired.
---
5x01 Death of Some Salesmen (October 02, 1993)
---
A sneaky con man has a talent for killing people after he sells them phony tombstones. He soon learns that some for his new victims have a fortune buried in their cellar. He marries their daughter and kills the parents but when he goes down in the basement he gets a big surprise.
---