Tales from the Crypt
Season 2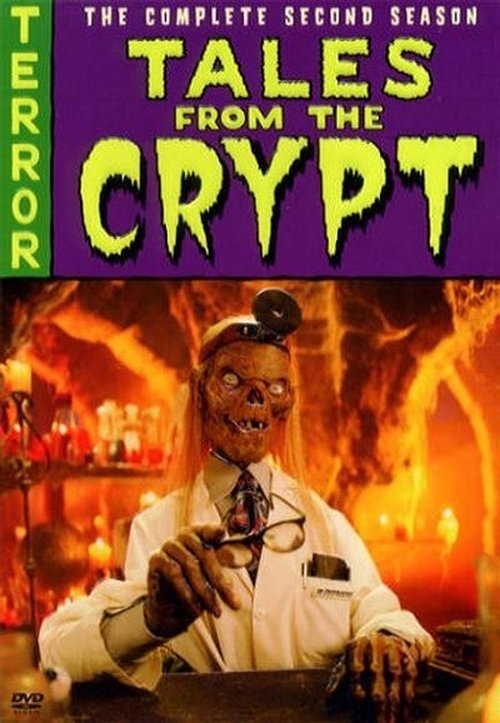 Tales from the Crypt
Season 2
First Air Date: April 21, 1990

| | | |
| --- | --- | --- |
| First Aired on | : | 1990 |
| Episodes | : | 18 episodes |
Episodes
2x18 The Secret (July 31, 1990)
---
Theodore is a 12 year old orphan who gets adopted by an unusual couple who lock him up in the attic. They are always working and he never gets to go and have some fun. Little does he know that his new parents harbor a dark secret. Little do they know he harbors a secret of his own.
---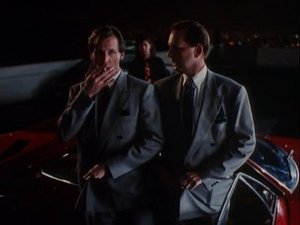 2x17 My Brother's Keeper (July 24, 1990)
---
Frank and his brother Eddie are Siamese twins. Frank refuses to sign a contract for an operation that will separate them, but Eddie doesn't want to be with Frank all the time. One day Frank falls in love with a gorgeous woman who then drops him. Eddie is happy that Frank will finally sign the contract, but then Marie realizes that she does love Eddie. Frank goes in a terrible rage and kills her knowing that he and Eddie will both go to prison. Frank finally signs the contract and has a great time as the cops put Eddie in the slammer.
---
2x16 Television Terror (July 17, 1990)
---
Horton Rivers is an arrogant television tabloid host. He is trying to get big ratings and decides to take his crew through a haunted house. The house is rumored to be haunted by an old woman who killed a number of men. Soon strange things start happening. Someone or something is stalking Horton and his camera crew. The ratings could take him to the top or to the bottom.
---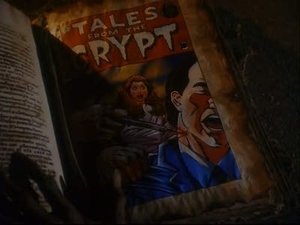 2x15 Mute Witness to Murder (July 10, 1990)
---
A woman witnesses a man slaughter his wife. The man lives across the street from her. When her husband calls their doctor, she's even more horrorfied to learn that the doctor is also the killer.
---
2x14 Lower Berth (July 03, 1990)
---
Enouch is a two-faced man at a sideshow carnival. One day a new attraction arrives - a 4 century old mummy. When the owner learns that the mummy is not only ripped off but cursed, he swipes the jewels off the mummy but soon he regrets it. This episode also features the birth of The Cryptkeeper.
---
2x13 Korman's Kalamity (June 26, 1990)
---
Jim Korman is a cartoonist for Tales From The Crypt. He has talent for creating horrible creatures - they are all inspired by his harassing wife. Little does he know that his creations are coming to life and creating havoc. A female detective pursues the creator and suddenly falls for him. Korman decides to finally take his wife out of the picture.
---
2x12 Fitting Punishment (June 19, 1990)
---
Bobby is an orphaned teenager who goes to live with his uncle Ezra. Ezra is a mortuary director who is very grumpy. One day he decides to fill his new casket by killing Bobby. Bobby is too tall to fit in it so he cuts off his feet but he soon regrets it.
---
2x11 Judy, You're Not Yourself Today (June 12, 1990)
---
Donald and Judy are a couple who find themselves in a game of witchcraft. When a mysterious woman convinces Judy to try on a magical necklace, the old woman switches their souls. Soon Donald realizes that something is wrong. He tricks the witch into thinking that Judy has cancer and they switch back. Then Donald kills the witch and buries her. Years later, she comes back and this time she's got a special surprise for him.
---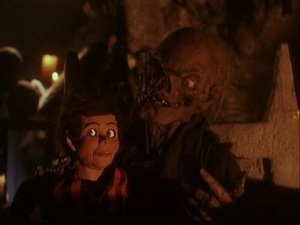 2x10 The Ventriloquist's Dummy (June 05, 1990)
---
A ventriloquist seeks out his old hero, Ingels, who he always admired. He soon meets up with his ventriloquist dummy Morty and discovers a shocking secret.
---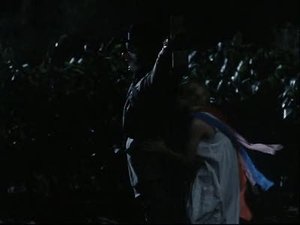 2x09 Four-Sided Triangle (May 29, 1990)
---
Mary Jo is a young slave girl on a farm. One day while escaping to the fields she has a vision that a scarecrow comes to save her from the cruel couple. When her master discovers the identity of her new boyfriend, he decides to disguise himself as the man in straw.
---
2x08 For Cryin' Out Loud (May 22, 1990)
---
A rock promoter has been hearing voices inside his head for the past years. His doctor explains it to be too much time in the music biz. But when he tries to steal money at an Iggy Pop concert he learns the voices to be none other than his conscience. His banker shows up one night trying to blackmail him but he bumps her off. His conscience gets on his back so much that he blurts out her murder and goes to the hot seat to shut his conscience up for good.
---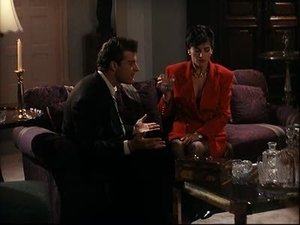 2x07 The Sacrifice (May 15, 1990)
---
Reed is a hotshot insurance agent who decides to kill his stubborn boss and marry his wife. The plan works until Reed's boss who happens to be Gloria's ex-husband arrives with pictures he has taken of the murder and blackmails Reed.
---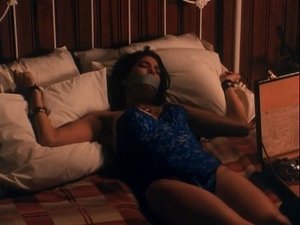 2x06 The Thing From The Grave (May 08, 1990)
---
A young photographer falls in love with a super model who is being mistreated by her boyfriend. When the lover finds out about them he kills the photographer and plans to kill her but he finds out that you can't destroy love even when it's dead.
---
2x05 Three's a Crowd (May 01, 1990)
---
For their tenth anniversary a couple heads down to a cabin owned by their friend. When she and her friend start sneaking around the husband gets jealous and assumes that they are having an affair.
---
2x04 'Til Death (April 24, 1990)
---
An unscrupulous plantation owner looks to raise some cash to develop a worthless plot of inherited land by wooing a beautiful heiress to an island and using voodoo to make her his wife.
---
2x03 Cutting Cards (April 21, 1990)
---
Two rival long time gamblers meet up in a small town to have one last duel.
---
2x02 The Switch (April 21, 1990)
---
An elderly millionaire asks a plastic surgeon to give him the body of a younger man to win the girl of his dreams.
---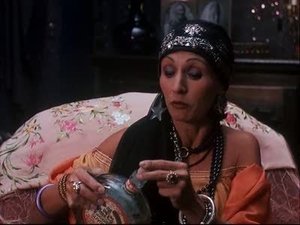 2x01 Dead Right (April 21, 1990)
---
A gold digging waitress goes to a fortune teller who predicts that by the end of the day her boss will fire her and she will land a new job. When the prediction becomes reality, she goes back for more. The fortune teller predicts that she will marry a man who will inherit a fortune then die. She gets the money first and when she tells her husband to kiss off, he stabs her to death and ends up in the hot seat.
---