South Park
Specials
South Park
Specials
First Air Date: December 08, 1992

| | | |
| --- | --- | --- |
| First Aired on | : | 1992 |
| Episodes | : | 34 episodes |
Episodes
0x36 South Park: Bigger Longer & Uncut (June 30, 1999)
---
When four boys in South Park Stan Marsh, Kyle and his stepbrother Ike Broflovski, Eric Cartman, and Kenny McCormick sees an R-rated movie featuring Canadians "Terrance & Phillip: Asses of Fire," they are pronounced "corrupted," and Kyle's mom Sheila with the rest of the parents pressure the United States to wage war against Canada for World War 3! It's all up to Stan, Kyle and Cartman to save Terrence and Phillip before Satan and his lover Saddam Hussein from Hell rules the world and it'll be the end of the whole world.
---
0x33 Six Days to Air: The Making of South Park (October 09, 2011)
---
Viewers will get a look at Parker and Stones thought process as they approach a new episode and the 24/7 grind they subject themselves to each time the show is in production. The documentary also includes in-depth interviews with Parker and Stone about their working partnership and reflections on highlights from their careers.
---
0x32 The Real South Park (April 01, 2010)
---
"The Real South Park" was a sketch featured on Comedy Central Amsterdam. The sketch features a live-action adaptation of what would be a typical day on the lives of the boys.
---
0x31 Behind The Scenes of Major Boobage (June 25, 2008)
---
A look behind the scenes of the episode "Major Boobage"
---
0x30 The Imaginationland Trilogy (March 12, 2008)
---
In this never-before-seen Director's Cut the doors of the world s imagination are thrown wide open and the boys of South Park are transported to a magical realm in their greatest odyssey ever. Stan Kyle and Butters find themselves in Imaginationland just as terrorists launch an attack that unleashes all of mankind s most evil characters imaginable. With the world s imaginations spinning out of control the government prepares to nuke Imaginationland to put an end to the chaos. Racing against time to prevent nuclear annihilation the citizens of Imaginationland realize their only hope of salvation lies in the mind of the unlikeliest hero: Butters. Ignoring the impending apocalypse Cartman goes all the way to the Supreme Court to get justice for his case of dry balls.
---
0x29 Lil' Rush (June 13, 2007)
---
Lil' Rush is an exclusive short animation created for the Canadian rock band Rush. The short was shown as the opening to the song "Tom Sawyer" on the band's Snakes & Arrows Tour in 2007. The concert DVD also features the clip. In the sketch, Cartman sings the song "Tom Sawyer" with incorrect lyrics, confusing Tom Saywer with Huckleberry Finn, leading to an argument with Kyle. As they restart the song, the real Rush takes over during the concert.
---
0x28 Cartman Gets An Anal Probe: The Unaired And Uncut Original Pilot (October 03, 2006)
---
While the boys are waiting for the school bus, Cartman explains the odd nightmare he had the previous night involving alien visitors abducting him from his bed. Meanwhile Kyle and Stan try to convince Cartman that the dream was in fact a reality. - Extened Version
---
0x27 The Aristocrats Sketch (August 12, 2005)
---
An absolutely filthy version of "The Aristocrat's Joke" as told by Cartman.
---
0x26 VH1 Goes Inside: South Park (October 17, 2003)
---
Butters is selling vape pens and all kinds of fruity-flavored vape accessories at school. Meanwhile, Randy decides he should move the family to the country and take up farming.
---
0x25 Going Down To South Park (June 03, 2003)
---
An interview/documentary with the creators of South Park that is included as bonus material in the DVD-collection of Season 2.
---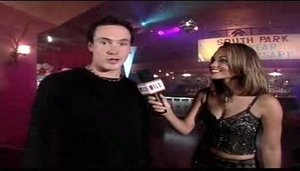 0x24 South Park 5th Anniversary Special (September 03, 2002)
---
This was a pay-per-view cable event that features Matt & Trey celebrating their 5th anniversary "with their favorite episodes, and a star studded party packed with celebrity guests."
---
0x23 Great Destinations (a.k.a. The Most Notorious Episode) (June 19, 2002)
---
In this special Matt & Trey stood in front of a waterfall and introduced "Cartman's Mom is a Dirty Slut" and "Cartman's Mom is Still a Dirty Slut" as being named by Comedy Central as the most "notorious" episodes of the series. Before part 2 began airing in the second half of this one hour event, they relate the story of their April Fool's joke of 1998, which didn't go over very well with the viewers, who took the need to know who Cartman's father was much too seriously.
---
0x22 MTV Movie Awards 2000 (June 08, 2000)
---
Mr. Mackey punishes the boys by making them fight in the Roman Coliseum.
---
0x21 The Gauntlet (June 03, 2000)
---
Trey Parker and Matt Stone created a short parody of Gladiator for the MTV Movie Awards. The cartoon included Stan, Kyle, Cartman, Kenny, and Timmy fighting Crowe and the other gladiators, only to be saved at the last minute by John Travolta and the Psychlos from Battlefield Earth.
---
0x20 Blame Canada Music Video (Academy Awards) (March 26, 2000)
---
Robin Williams performs "Blame Canada" at the 1999 Academy Awards.
---
0x19 Countdown to 2000 (December 31, 1999)
---
The South Park cast counts down the seconds to 2000.
---
0x18 Dead Friend Sketch (South Park's Tribute To Monty Python) (October 05, 1999)
---
Trey and Matt's salute to the Monty Python troupe.
---
0x17 Movie Trailer: German Dance (June 01, 1999)
---
Trailer for South Park: Bigger, Longer, & Uncut.
---
0x16 Movie Trailer: Disco (June 01, 1999)
---
Trailer for South Park: Bigger, Longer, & Uncut.
---
0x15 Movie Trailer: Beefcake (June 01, 1999)
---
Trailer for South Park: Bigger, Longer, & Uncut.
---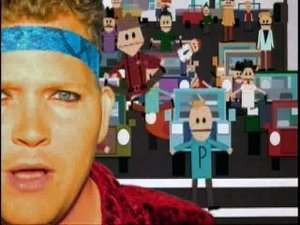 0x14 What Would Brian Boitano Do Music Video (February 13, 1999)
---
The kids sing "What Would Brian Boitano Do", as featured in South Park: Bigger, Longer, & Uncut
---
0x13 Countdown to 1999 (December 31, 1998)
---
Mr. Mackey counts down the seconds to 1999.
---
0x12 Chef Aid: Behind The Menu (December 08, 1998)
---
This special episode is a parody of VH1's Behind the Music about Chef Aid.
---
0x11 Chef's Chocolate Salty Balls Music Video (August 19, 1998)
---
Chef sings "Chef's Salty Chocolate Balls".
---
0x10 MADtv: South Parknuts (May 02, 1998)
---
From and episode of MADtv. Charilie Brown crossed with South Park.
---
0x09 Countdown to 1998 (December 31, 1997)
---
The South Park cast counts down the seconds to 1998.
---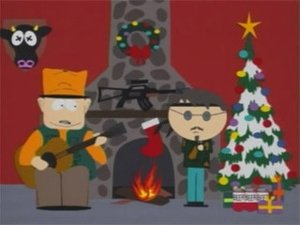 0x08 O Little Town Of Bethlehem Music Video (December 25, 1997)
---
Ned sings his rendition of "O Little Town Of Bethlehem".
---
0x07 O Holy Night Music Video (December 25, 1997)
---
Cartman sings his rendition of "O Holy Night".
---
0x06 Jay Leno Comes To South Park (November 20, 1997)
---
Jay Leno visits Mr. Garrison's class and discusses Thanksgiving with the kids.
---
0x05 The 1997 CableACE Awards (November 15, 1997)
---
Eric, Stan, Kyle and Kenny present the award for Best Talk Show Series.
---
0x04 Countdown to 1997 (December 31, 1996)
---
The South Park cast counts down the seconds till 1997.
---
0x03 The Spirit Of Christmas (Jesus vs. Santa) (December 01, 1995)
---
Used as a Christmas card by a Fox exec. and brought South Park to the attention of Comedy Central. Jesus arrives in South Park and at the local mall he accuses Santa of blasphemy. Santa challenges him to a fight and the violence between the two quickly escalates. Even Brian Boitano can't help the boys who have found themselves in the middle of this fight.
---
0x02 Your Studio and You (September 14, 1995)
---
Your Studio and You is a comedy short film created in 1995 by Matt Stone and Trey Parker and commissioned by comedic filmmaker David Zucker. It was to be played at a party Seagram threw for its employees acquired as a result of its Universal Studios take-over. It parodies the style of 1950s educational films such as Duck and Cover, while poking fun at Universal and its talent. It was shot in the Universal Studios backlot and it runs approximately fourteen minutes.
---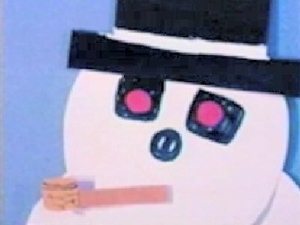 0x01 The Spirit Of Christmas (Jesus vs. Frosty) (December 08, 1992)
---
This is the first ever South Park installation, created in an university film class. The boys build a snowman, which comes to life when a magic hat is placed upon its head; however, this snowman is evil and begins a killing spree. The boys call upon Jesus to do battle with this menace.
---