The Outer Limits
Season 5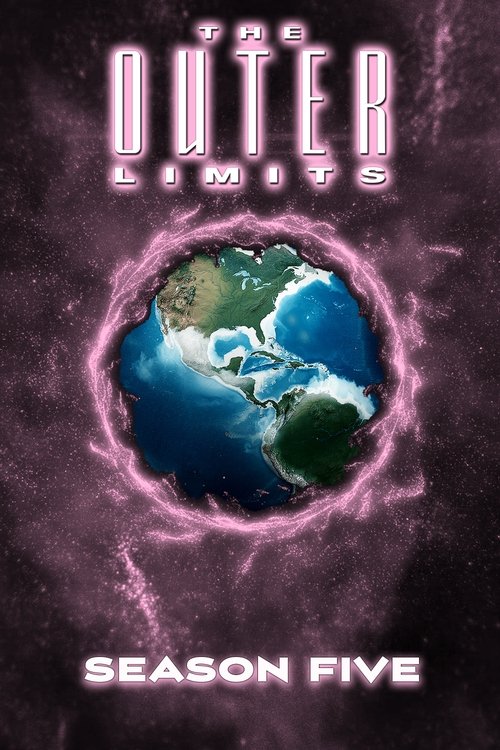 The Outer Limits
Season 5
First Air Date: January 22, 1999

| | | |
| --- | --- | --- |
| First Aired on | : | 1999 |
| Episodes | : | 22 episodes |
Episodes
5x22 Better Luck Next Time (August 20, 1999)
---
In a warehouse, two men are fighting for possession of a gun. During the struggle, they mention various connections to earlier struggles between them. One of the men is finally able to get the gun, declaring himself the winner, and then promptly shoots himself. While he is dying, a blue energy being comes out of his chest. Before the surviving man can escape, the police show up and arrest him.
---
5x21 Star Crossed (August 13, 1999)
---
It is 2056, six years after the Hing, a humanoid race, invaded Earth. While America fights on, Russia has reached an uneasy truce with the aliens, leaving some regions under their control and others declared neutral. In the neutral city of Archangel on the Barents Sea, cynical American expatriate Michael Ryan (Nathan Fillion) runs Heaven, a small coffee bar and music club, where shady Russians mingle with Hing soldiers and other dubious characters.
---
5x20 Fathers & Sons (August 06, 1999)
---
From the outside, the Golden Sunset looks like any other rest home, but Dr. Benton Adler's facility is different in a few unsettling ways. The residents seem to develop Alzheimer's almost overnight and after they do, they live - or are stored - in tiny chambers in a human warehouse.
---
5x19 Stranded (July 30, 1999)
---
Thirteen-year-old Kevin Buchannon (Adam Hann-Byrd) lives at the bottom of the high-school food chain, scorned by other geeks, picked on by the jocks. At home, he lives in the shadow of his older brother Josh, a football star whose every accomplishment is celebrated by the boys' father, Alex (Daniel Hugh Kelly). Then one day, Kevin sees a plane crash in the woods near his house. He rushes to the scene with his dog Cody to find a mysterious ship occupied by the severely injured Captain Turner (Chris Potter).
---
5x18 Essence Of Life (July 23, 1999)
---
Eleven years after a viral epidemic wiped out most of the world's people, the population is beginning to rebound. The world is ruled by The Code, which bans outward displays of emotion, particularly the mourning of lost loved ones.
---
5x17 The Inheritors (July 16, 1999)
---
Musician Jacob Hardy (Nicholas Lea) is strolling with his fiancee Kara Delaney (Stacy Grant) when a meteor explodes over the city. One of the tiny fireballs which rain down seems to chase Jacob, striking him down and penetrating his skull, instantly killing him. Medical Examiner Dr. Ian Michaels (Tom Irwin) conducts the autopsy with the help of his assistant, Ollie Gibb (Don MacKay). He finds an unusual bullet-like projectile lodged in the victim's brain.
---
5x16 Deja Vu (July 09, 1999)
---
Dr. Mark Crest (Kevin Nealon) has built a teleportation device that uses tactical nuclear weapons to open a wormhole in the space-time continuum. The device is intended to transport some animals eight miles across the desert, but during a test, the wormhole grows out of control and Mark finds himself hurled back in time, to the day before the test took place.
---
5x15 The Haven (July 02, 1999)
---
Caleb Vance lives on the 52nd floor of The Haven, a high-tech marvel of an apartment building that is driven by a supercomputer named Argus and filled with machines and appliances that respond to the orders of The Haven's residents. The building's design almost completely eliminates the need for human contact, a desirable feature in an age in which all communication is mediated by one form of technology or another and a strong selling point for the residents of The Haven. But things begin to go wrong...
---
5x14 Descent (June 25, 1999)
---
Dr. Arthur Zeller is the doormat of the anthropology department, a mild-mannered professor who is the butt of his colleague's jokes and who never gets the respect he deserves. After the department head, Prof. Martin Stansfield passes over his cutting-edge research into evolutionary psychology and funds the project of his rival, Dr. James Feind, Zeller takes matters into his own hands.
---
5x13 Summit (May 21, 1999)
---
Deep space. A small planetoid. The sight of an intergalactic summit between two warring worlds. Diplomats from both Earth and Dregocia, a distant planet, are dispatched to the neutral ground to work out a peace accord.
---
5x12 Tribunal (May 14, 1999)
---
In 1944, young Leon Zgierski (Roman Danylo), an inmate in the Birkenau concentration camp watches as First Lieutenant Karl Rademacher shoots his wife and sends his daughter to the gas chambers. The murder is witnessed by a mysterious figure, time-traveler Nicholas Prentice (Alex Daikun), who grabs Radermacher's SS jacket and, after eluding guards, pulls out an antique watch and vanishes into a glowing orange circle...
---
5x11 Ripper (May 07, 1999)
---
In Victorian London, someone is killing prostitutes, someone the police have dubbed "Jack the Ripper." On the face of it, John C.V. York (Cary Elwes) is a likely suspect. A once-respected doctor who sunk to absinthe and laudanum addiction after his misdiagnosis killed the young daughter of a Duke. He retains a connection to polite society thanks to the devotion of Lady Ellen Chamberlain (Clare Sims), who loves him and hopes to marry him. But, he is also a habitue of the seedy district where the killings have taken place and has the medical knowledge to make the precise, surgical cuts that are the Ripper's modus operandi...
---
5x10 The Shroud (April 30, 1999)
---
When Marie Wells (Samantha Mathis) and her husband Justin (Robert Wisden) can't have a child on their own, they turn to the fertility clinic at the Tilford Institute for help. There, Dr. Gail Cowlings (Sara Botsford) uses in-vitro fertilization to implant an embryo in Marie's uterus. What Marie doesn't know, but Justin does, is that the embryo was actually created from DNA lifted from the Shroud of Turin...
---
5x09 What Will The Neighbors Think? (April 23, 1999)
---
Mona Bailey (Jane Adams) lives with her husband Ned (Peter Outerbridge) in the Clackson Arms, an old apartment building that is being taken over, apartment by apartment, by a mysterious developer called KM Inc. Mona is a hypochondriac, an able-bodied woman who rides a wheelchair, who treats the Physician's Desk Reference like a personal bible and who has not left the building in six months for fear of catching a disease. One day she backs her wheelchair into an electrical box and gets a shock, leaving her hearing strange voices and seeing bodies dropping out of windows...
---
5x08 Blank Slate (April 02, 1999)
---
Hope Wilson (Robbie Chong) knows there's something different about the bruised and breathless man who stumbles into the homeless shelter she runs with her mentor, Jack Parsons (Larry Musser). He looks like a junkie, but his hands are soft and his fingernails manicured. Tom Cooper (Dale Midkiff) doesn't know who he is, where he is and why two well-dressed men, Vincent (Michael Tiernan) and Cole (Brian Jensen), are chasing him. He only knows that the small metal case that he defends so fiercely contains five vials that hold all his memories, reduced to crystal form, as well as a specially designed injector that can delete or restore those memories.
---
5x07 Human Operators (March 12, 1999)
---
For as long as Man (Jack Noseworthy) can remember, he has lived aboard Ship as it floats through space. And for just as long, Ship has been his master, instructing him to do the repairs that keep Ship working and torturing him whenever he shows any signs of free will. But when Ship orders him to repair the Artificial Intelligence module Man's Father (Noah Heney) smashed years earlier in a final, fatal act of defiance, Man learns Ship's secrets...
---
5x06 Joyride (February 26, 1999)
---
Theodore Harris (Cliff Robertson) first time in space, in 1963, didn't go quite as planned. Alone in his Mercury capsule, he panicked and aborted the mission when a mysterious violet light penetrated the cockpit and began to envelop his body. In the investigation that followed, no evidence could be found to support his story, leaving a blot on Harris NASA record and his life in ruins. Now at age 63, he knows he can never make amends with his estranged wife Madelaine (Pamela Parry), but he feels that he could clear his name if he could just get back to where he saw the light.
---
5x05 The Other Side (February 19, 1999)
---
Dr. Neal Eberhardt (Ralph Macchio), a former boy genius gone bitterly toseed, studies brain-damaged and comatose patients hoping to learn how the brain reroutes itself. Despite having a revolutionary new machine to work with - the Neural Intercortex Stimulation Array or NISA - Dr.Eberhardt is getting nowhere. To make matters worse, his valued assistant Vince Carter has just quit. But suddenly, Neal has a breakthrough.
---
5x04 The Grell (February 12, 1999)
---
The Grells were rescued from their dry and dying planet by humans, only to be turned into slaves on earth. Now the aliens are rebelling against their masters, fighting a guerilla war against a government lead by men like High Secretary Paul Kohler (Ted Shackleford).
---
5x03 Small Friends (February 05, 1999)
---
When he was young, Gene Morton killed a man who tried to steal the credit for his brilliant research. Now working on a prison assembly line fixing the busted tape decks of fellow inmates, his chances at parole have been sabotaged by his own honesty and sense of guilt. Although it's a lonely life, late at night, after lights-out, Gene brings out his small friends, a swarm of microscopic machines that he made from prison scrap and keeps in a matchbox.
---
5x02 The Donor (January 29, 1999)
---
Dr. Renee Stuyvesant and her protege Dr. Vance Ridout have perfected the full-body transplant in which a patient's entire disease-riddled body is replaced and Renee has convinced the hospital board to allow her to perform the first such procedure on Dr. Peter Halstead.
---
5x01 Alien Radio (January 22, 1999)
---
Stan Harbinger (Joe Pantoliano) is a top-rated talk show host with a flair for the outrageous and a reputation as a skeptic's skeptic. Assisted by his producer Trudy (Cynthia Nixon), Stan takes special delight in shooting down callers who claim to have alien encounters, especially people like Eldon DeVries (Alan Zinyk), who believes his body has been taken over by aliens. However, when Eldon commits suicide by setting himself on fire in front of Stan, things begin to go wrong for Stan. A plan to syndicate the show is threatened by protests from UFO believers, angry at Stan's role in Eldon's death.
---