The Outer Limits
Season 3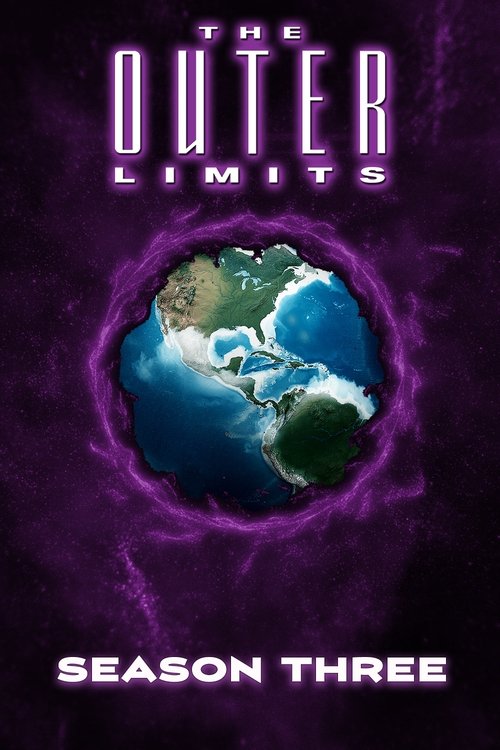 The Outer Limits
Season 3
First Air Date: January 19, 1997

| | | |
| --- | --- | --- |
| First Aired on | : | 1997 |
| Episodes | : | 18 episodes |
Episodes
3x18 A Special Edition (July 25, 1997)
---
Muckraking TV journalist Donald Rivers, host of 'The Whole Truth,' has the show of a lifetime: rock solid proof that the government and private defense contractors have been engaging in secret genetic cloning. But powerful forces are working to stop him, forces that will stop at nothing to keep their secrets. He goes on-air live, in a locked studio, accompanied only by a skeleton crew and Dr. Avery Strong, River's eyewitness to the history of deception and dark science. As he presents his evidence -- all gleaned from earlier episodes of The Outer Limits -- the powerful begin to interfere. First, they try to shut down his transmitter. Then, the network's parent company disavows the show. When thugs with guns knock down the studio door, Rivers continues the show on the fly, transmitting live from the back of a broadcast news van. But a van can only drive for so long. When it stops, will the truth, even The Whole Truth, be enough to protect Rivers, Strong and the crew?
---
3x17 Feasibility Study (July 11, 1997)
---
The residents of a suburban neighborhood have their lives turned upside down when a four block section of their subdivision is ripped from the earth by a mysterious force and transported to a distant planet. Thrown together in crisis, Joshua Hayward, his daughter Sarah and their neighbors try to understand what has happened to them -- why their neighborhood now ends abruptly in an invisible force-field. Sarah gains some insight when she comes across Adrielo, a horribly disfigured alien who tells her that they have been brought here by another group of aliens. Guiding Sarah through a gap in the force-field, Adrielo begs for her help in curing the disease that is turning him and his people to stone. Meanwhile, Joshua makes an even more startling discovery when he is pulled through the force-field and comes face to face with his captors, the Triunes. These big-brained, feeble-bodied creatures subject Joshua to strange and painful tests and explain without apology, that he and his neighbor
---
3x16 Bodies of Evidence (June 20, 1997)
---
He doesn't know what it is, but Captain William Clark can see that something terrible and strange is happening on the space station Meridian. Within a matter of minutes, three of the space stations crew - Commander Richard Gordon, Dr. Thomas Somerset and Commander Lara Nabakov - have been lured to their deaths by impossible visions of loved ones or enemies -- visions created by someone or something capable of reaching into the minds of human beings and recreating their darkest nightmares and fondest desires. Fearing for his safety and that of the one surviving crew member, Dr. Helene Dufour, Clark uses the escape pod and abandons ship. When he winds up on earth, however, nobody will believe his story. Instead, Clark is accused of committing the murders while suffering from space psychosis, and must turn to his ex-wife, Robyn Dysart to defend him. She manages to raise a reasonable doubt by suggesting that Soroxin, a chemical used in Somerset and Dufour's research, may have caused the sp
---
3x15 The Revelations of Becka Paulson (June 06, 1997)
---
In this adaptation of Stephen King's short story, Becka Paulson's humdrum trailer park life suddenly becomes very interesting after she accidentally shoots herself in the head while watching her favorite soap opera. The bullet lodges in her brain, leaving a small red dot in her forehead and turning her world upside down. Doc Fink, the town vet, can't find anything wrong -- but Becka notices changes. Suddenly, she's smarter than she's ever been and full of ideas for inventions. Plus, the Handsome Man photo that came with the picture frame is talking to her. He tells her about the town's dark secrets, including her husband Joe's lunch-hour affair with Nancy Voss down at the post office. The Handsome Man is the friend Becka never had -- and a better man than Joe, to be sure -- but is it really wise to count on the advice of a man who lives in an 8x10 frame?
---
3x14 Music of the Spheres (May 09, 1997)
---
Devon Taylor, a 20 year-old physics whiz, has heard a lot of strange sounds coming from space as part of his job assisting Dr. Evan Swift at the radio observatory -- but something tells him this signal, coming from the direction of Certus? (In the short story, it is the constellation Cetus), is special. Devon's suspicions are confirmed when he takes a tape of the signal home and his 17 year-old sister, Joyce, and her boyfriend, Vic, react as if they have heard the most beautiful music in the world. The sound, which seems comprehensible only to teenagers, has a disturbing side-effect. The skin of Joyce and Vic begins physically changing as does the skin of all the other teenagers they expose to the sound. When Devon's father, Dr. Emory Taylor, orders the "music" be taken away, the teenagers appear to go through a painful and possibly deadly withdrawal. Faced with the spread of this potentially deadly audio "virus", the government imposes martial law. Devon and his father try to figure out why the sound has the effect it does. Is this ...
---
3x13 Dead Man's Switch (April 04, 1997)
---
Ben Conklin has been a loner ever since his parents died when he was twelve years old. This is one reason why General James Eiger selected him to spend a year buried in a bunker 11,000 feet below the Artic tundra, manning the controls of a doomsday device set up by world leaders after the Hubble space telescope spotted 11 spaceships heading towards Earth. The device is designed as a last-line deterrent against alien invasion and Conklin's job, shared with four other loners in four other bunkers, is to hit a dead man's switch on the bunkers control panel that prevents the doomsday device from going off and destroying aliens and mankind alike. At first, the job is easy, but as the aliens draw closer to Earth, and as Conklin grows closer to his subterranean colleagues, he begins to doubt the reliability of the doomsday machine. News from General Eiger becomes scarce, then Conklin's fellow guardians begin to fall victim to assorted mishaps. Conklin realizes that he carries the weight of
---
3x12 Double Helix (March 28, 1997)
---
Since Dr. Martin Nodel is the most brilliant geneticist in the world, the students and staff at the university are willing to put up with a few eccentricities -- unlike his son Paul, who gets impatient with his father's behavior. However, Dr. Nodel's behavior goes beyond eccentric after he unveils his research into introns, mysterious genetic material which he believes hold the code for future evolution. After a successful animal test, Nodel secretly tries the formula on himself, with amazing and disturbing results. As his intelligence begins to grow, so do scales on his hands, strange markings on his body, and a mysterious hole in his back. And he seems to be getting instinctive messages telling him to bring 'subjects' to a remote wilderness location. When he arrives there, accompanied by six students including Paul and his girlfriend, he finds a group of heavily armed soldiers and the key to unlocking a mystery that goes far beyond human science.
---
3x11 New Lease (March 21, 1997)
---
After years of research, Dr. James Houghton and Dr. Charles McCamber have discovered how to bring the dead back to life with their new breakthrough invention, the Scanning Molecular Reorganizer. But, the process seems to be deeply flawed; the first revival, a middle-aged victim of a heart attack, lives only a day and suffers horribly before passing away again. They get a second chance when Houghton is killed by a mugger outside the lab and McCamber, using the SMR, brings him back to life. Houghton is torn between making amends with his long-neglected family and exacting revenge on his killer. He may, however, have more time than he knows and more trouble than he bargained for.
---
3x10 Awakening (March 14, 1997)
---
Beth Carter lives in black and white, unable to experience emotions because of a conditioncalled primary alexithymia. But when Dr. Steven Molstad implants a small device in her brain, Beth's world explodes into brilliant color. For the first time in her life, she can truly feel love, happiness and even fear. Beth is thrilled by the transformation, by her feelings of friendship for Molstad's assistant Joan Garrison and her attraction to Joan's landlord Kevin Flynn -- but there are some troubling signs. Beth begins to hear strange voices. She is abducted by aliens only to find herself back in the hospital. Is her brain rebelling at the sudden flow of emotions or is Molstad's implant defective? Or is something more sinister going on?
---
3x09 Tempests (March 07, 1997)
---
The Tempest, a rickety old spaceship piloted by space colonists John Virgil and Captain Parker, is on a mission of mercy. It is ferrying two bigwigs from Earth, Dr. Vasquez and Governor Mudry, along with a lifesaving vial of serum to the Tabloss Colony, where an epidemic of Ellysia C is devastating the population. But things go horribly wrong when the ship shifts down from lightspeed and crashes somewhere in space. As he attempts to repair the ship, Virgil is bitten by a strange spider-like creature and passes out. When he awakes, he finds himself sliding between two equally convincing realities. Is he battling for his life against the deadly Ellysia C having already delivered the serum and saved the colony, including his beloved wife and his young son, from certain death? Or is he alive, trapped in a spaceship in the middle of nowhere, with no way out? Or are both realities merely hallucinations, one man's desperate attempt to find hope and heroism in a situation too bleak to face?.
---
3x08 Heart's Desire (February 28, 1997)
---
A mysterious alien descends upon the town of Heart's Desire and offers to share his extraordinary powers with four outlaws - Jake Miller, his brother Ben and their partners in crime, Frank and J.D. Kelton. Taking on the human form of his first victim, a mild-mannered preacher, the alien follows the quartet to the Miller's hometown and gives both sets of brothers strange new powers that make them virtually invincible. As the Keltons kick off a crime spree by destroying all opposition with blasts of pure energy, Jake struggles with his divided loyalties, between love for his family and his childhood sweetheart Miriam -- and the terrible question: who is this mysterious stranger and why has he given the outlaws such deadly powers?
---
3x07 The Camp (February 21, 1997)
---
For Twelve generations, mankind has lived in concentration-type camps, imprisoned by the human collaborators of the alien New Masters. But when one woman dares to challenge the authority of her Commander, the desire to be free is pitted against this seemingly, unvanquishable foe. Or are they as powerful as they seem?
---
3x06 Dark Rain (February 14, 1997)
---
The value of the greatest of joys -- a healthy baby -- becomes evident after chemical warfare leaves humanity unable to produce normal offspring. Those rare couples like Sherry and Tim who do conceive a normal child become the focus of intense government attention as desperate officials seek a cure. Held captive in a secret maternity hospital run by Dr. Royce, Tim and Sherry realize the panic-stricken government plans to make their beautiful new-born daughter a permanent ward of the state.
---
3x05 Stream Of Consciousness (February 07, 1997)
---
In a world where neural implants allow everyone instant access to information, Ryan Unger is a throwback, a moron. Because of a brain injury he suffered as a child, he's unable to tap into the Stream -- an electronic collection of all human knowledge -- so he struggles in vain to keep up by reading books, a primitive and forgotten art. But, when a virus in the Stream starts killing people by overloading their brains with data, only Ryan has the skills and independence to stop it. Can a primitive human, relying only on books and his own brain, save a world of machine-made geniuses from self-destruction or will the Stream wash over all of them?
---
3x04 Last Supper (January 31, 1997)
---
Frank Martin can't believe his eyes when his son Danny brings home a beautiful new girlfriend from college. The girl, Jade, is a dead ringer for a woman Frank rescued from a top-secret military experiment when he was a private in the army 20 years earlier. Of course, she can't be the same woman. Or can she? The Martins' world is turned upside down as Frank's past catches up with him and they gain a deeper understanding of Jade's timeless beauty.
---
3x03 Re-Generation (January 24, 1997)
---
After their four-year-old son Justin dies in a household accident aspiring politician Graham Highfield and his wife Rebecca get a second chance at happiness. Dr. Lucy Cole clones a new embryo from Justin's brain and nerve cells and implants it in Rebecca's womb. As the pregnancy progresses, however, it becomes clear to Rebecca that this isn't just any fetus -- this is Justin himself, a fetus with the skills -- and the memories -- of a little boy. As he shares those memories with his mother, Justin reveals secrets that may destroy the whole family.
---
3x02 Second Thoughts (January 19, 1997)
---
Karl Durand (Howie Mandel) is in his 30's, but he has the mind of a child. That is, until he receives a unique gift from Dr. Jacob Valerian, a dying scientist who has been working on a secret project. As his last living act, Valerian uses his new invention to transfer his memories and experiences into Karl's brain. But Karl isn't content with just being a genius. In an effort to win the love of his social worker, Rose, he uses the doctor's invention to capture other minds. Leaving a trail of bodies in his wake and his own brain ever more crowded and confused, Karl soon discovers that sometimes the mind can be a minefield.
---
3x01 Bits of Love (January 19, 1997)
---
Aidan Hunter may be the last man on earth after a nuclear holocaust, but he's not lonely. In his subterranean bomb shelter, hes surrounded by his family, friends, lovers, anyone he wants ... Unfortunately, they're holograms -- computer generated people controlled by a beautiful holographic interface named Emma. But when curiosity turns to touch and Aidan makes love to Emma in a virtual reality pod, he quickly learns that trifling with a computers feelings can be dangerous ... and the morning after can be all too real.
---