The Outer Limits
Season 2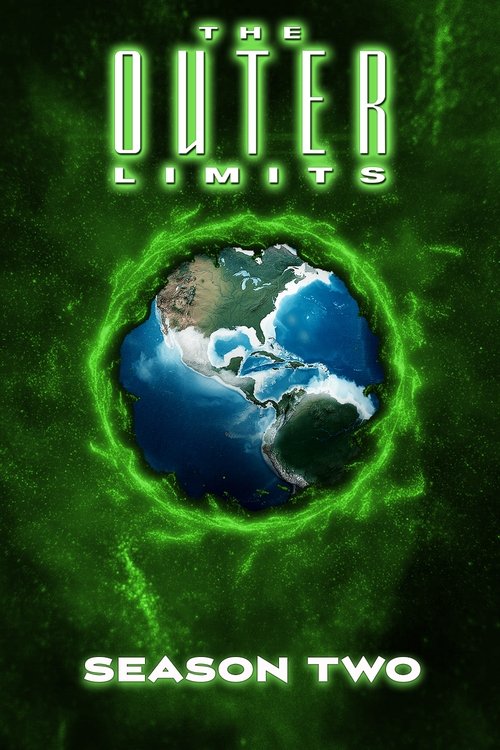 The Outer Limits
Season 2
First Air Date: January 14, 1996

| | | |
| --- | --- | --- |
| First Aired on | : | 1996 |
| Episodes | : | 22 episodes |
Episodes
2x22 The Sentence (August 04, 1996)
---
Let the punishment fit the crime: an ambitious inventor, Dr. Jack Henson, creates a "" virtual prison"" and wants the government to adopt it nation-wide. Using his invention, convicts serve a life sentence in just a few hours. Henson claims the harsh sentences will ensure that criminals never offend again while the short time required cuts prison costs. He seems to be making his point until they connect an innocent man to the apparatus and the demonstration goes sour. To save the young man's life, Henson must submit to his own invention -- and to a lesson in the true meaning of justice.
---
2x21 Vanishing Act (July 21, 1996)
---
THE OUTER LIMITS examines the classic domestic fable of a husband who leaves to go to the store and doesn't return for ten years. Where has he been? And why? It happens to Trevor McPhee and his return is more than a little distressing for his wife Theresa, especially since he insists he was in a car crash ... only hours ago. Then, just after they reconcile, he vanishes again ... for another decade. Trevor finds himself trapped between two worlds; one is a recurring nightmare of caves and predatory creatures; the other is the real world, ever-changing as civilization leaves him further and further behind. Is Trevor mad ... or just reaching The Outer Limits?
---
2x20 Out Of Body (July 14, 1996)
---
What really happens during an out-of body experience? Husband and wife scientists Rebecca Warfield and Ben McCormick are trying to find out by subjecting monkeys to electric impulses. They see it as pure science, but to religious groups like Family Foremost, it is sacrilege. Desperate for funding, Rebecca decides to run the experiment with a human subject -- herself. She asks her assistant, Amy, to help. Amy, a secret religious fanatic, alters the experiment. Rebecca escapes from her body, but, unless she finds a way to communicate, she will remain trapped in an other dimension.
---
2x19 Falling Star (June 30, 1996)
---
Pop singer Melissa McCammon is about to commit suicide. With her once meteoric career at a standstill and her husband cheating on her, she sees no hope. Then she encounters Rachael, an ardent fan from the future. Rachael is a time traveler -- and an uninvited tourist in Melissa's body. She persuades Melissa to give life a second chance, but in the process, she changes history. Now, authorities from the future want Melissa dead and will resort to anything -- including murder -- to preserve their version of the past.
---
2x18 The Light Brigade (June 23, 1996)
---
Actor Robert Patrick returns for this first-ever THE OUTER LIMITS sequel, a follow-up to last year's 'Quality of Mercy.' On a desperate mission, a young Cadet learns the difference between heroic ideals and the bitter realities of war. The only survivors on a crippled battle cruiser - Earth's last hope for victory and survivors - are the Cadet, the weapons Chief and Major John Skokes, a repatriated prisoner of war. Exposed to fatal doses of radiation when their fleet was wiped out by the aliens, they fight illness and death to launch a preemptive strike. As the awesome responsibility for success descends on him, the Cadet learns that fear is not his only enemy.
---
2x17 Paradise (June 16, 1996)
---
Dr. Christina Markham and Sheriff Grady Markham live in small town America. Alzheimer's disease is slowly robbing Christina of her mother Helen, who lives in a nursing home along with her long time friend Gerry. When three apparently healthy young women age and die within hours, the Markhams are baffled and frightened. Grady interviews stunned witnesses and Christina seeks medical explanations, hoping to prevent another tragedy. Only after Helen and Gerry vanish is the astonishing answer to the puzzle finally revealed.
---
2x16 The Deprogrammers (May 26, 1996)
---
With Earth under alien rule and millions dead, the human race has been programmed to slavery. A small band of rebels kidnaps Evan, alien leader Koltok's personal slave. Trent Davis, leader of the rebels, tries to return Evan to his former self through arduous deprogramming sessions. To aid in the process, Evan is reintroduced to his wife Jill. As his sessions progress, Evan learns of the death of his daughter. He agrees to join the rebels and assassinate his former master - with devastating results.
---
2x15 Afterlife (May 19, 1996)
---
Linden Stiles struggles to retain his humanity after heis convicted of a murder he didn't commit. When asked to make a frightful choice: accept execution or become the subject of a secret military experiment -- he chooses to live. As the experiment progresses, Stiles fights the dehumanizing influence of injected DNA from an alien lifeform. The attending doctor is troubled by a growing awareness of the inhumanity of the experiment itself, of the men in charge and of her own role. Using his super-human strength, Stiles escapes. Then, hunted by his former compatriots, he faces a decision even more difficult than the one that set him on such a tragic course.
---
2x14 The Heist (May 05, 1996)
---
Embittered after a friend's betrayal cost him his Army career, Lee Taylor helps a self-styled militia major hijack an Army shipment. He reaps a deadly reward. The militia, which includes Lee's brother Calvin, expected a missile shipment. Instead, they find a mysterious, sealed cargo and a lone Army Guard. Under threat of death, Captain Teri Washington refuses to reveal the nature of the cargo but warns it is deadly. The major thinks she is lying until an alien lifeform begins a chilling series of attacks. Discipline crumbles and loyalties are tested as the creature stalks its prey with impersonal efficiency.
---
2x13 From Within (April 28, 1996)
---
A mentally challenged boy named Howie is the last unaffected person in a small town overrun by a strange madness. Miners unearth ancient parasites, in the shape of worms, that attack the brains of their hosts. While the infected townsfolk lose all their inhibitions, Howie must save his sister Sheila, the only person who truly cares for him. Deprived of Sheila's guidance for the first time in his life, Howie struggles to evade his maddened neighbors and destroy the parasites. In the process, he becomes a hero to the whole town.
---
2x12 Inconstant Moon (April 12, 1996)
---
When a lonely physics professor realizes the sun is going to burn out, he knows that he and humanity have only a few hours to live. In that time, Stan resolves to make up for lost years. He courts and proposes to Leslie, a woman he has known for two years but never dated. Leslie, although puzzled, finds herself more and more entranced by Stan until she finds out the reason for Stan's sudden attention. Based on a short story by famed sci-fi writer Larry Niven, this episode brings its characters face to face with both death and their own visions of life - with surprising results.
---
2x11 The Refuge (April 05, 1996)
---
""What is reality?"" is the question before Raymond Bava after he collapses during a blizzard and awakens in a private refuge run by Sanford Valle. Valle's companions include his son and daughter-in-law, Thomas and Justine, and Gina Beaumont. Ray, drawn to the gentle Gina, recoils from the callous corruption displayed by the all-controlling Valle and the other inhabitants. Then, following a moment of violence, Ray begins to doubt reality when all the characters, including Gina, reverse roles and personalities. When he is suddenly freed from Valle's control, Ray finds he has been locked in a cryogenic-induced nightmare, but one he must return to fulfill his love for Gina.
---
2x10 Worlds Apart (March 22, 1996)
---
Space agency director Nancy MacDonald gets a lesson in the meaning of time and distance with an unexpected signal from astronaut Christopher Lindy. Lindy, the man MacDonald once loved, disappeared on a routine space mission 20 years ago. Oblivious to the time that has passed, Lindy must deal with his present situation; being alone on an unknown planet. MacDonald turns to her husband, marine biologist Greg Tilman, to help Lindy survive attacks by an alien lifeform while she and her staff look for a way to save Lindy before the window of opportunity to save him once again disappears.
---
2x09 Trial by Fire (March 01, 1996)
---
On the day of Charles Halsey's inauguration as President of the United States, scientists detect a large object heading towards Earth at half the speed of light. Halsey, a peace-loving liberal, is rushed to an underground bunker by the Presidential transition team, a group of aides and military men that share the hawkish bent of the previous administration. As the crisis unfolds, it becomes clear that the object came from an armada of alien ships, which are fast approaching Earth. Contact is made, but the aliens' message is unclear. As the U.S. and the other nuclear powers gear up to defend themselves, Halsey must decide: Are these invaders bent on conquering earth or benevolent explorers reaching out to another civilization?
---
2x08 Straight And Narrow (February 23, 1996)
---
Rusty Dobson has always been a problem child. His single mom decides to send him to the Milgram Academy, an ultra-strict private school that has produced some of the nation's top business and political leaders. What Rusty's mom doesn't know - and what Rusty finds out the hard way - is that Milgram doesn't just build the leaders of tomorrow, it controls them. The academy installs small computer chips in the student's brains, turning them into blindly loyal servants of the academy and The Committee, a shadowy body that controls the project. Thanks to a malfunctioning chip, Rusty has eluded their control so far, but can he escape from this prison of the mind?
---
2x07 First Anniversary (February 16, 1996)
---
As he celebrates his first wedding anniversary, Norman Glass thinks he's the luckiest man alive. His wife Ady, whom he met after the tragic death of her first husband, is stunningly beautiful and talented. She loves him more than anyone alive. They have two great friends, Dennis and Barbara, who were arried on the same day and are just as madly in love as Norman and Ady. But suddenly things start to change. First, Dennis leaves Barbara. Then, Norman must struggle with the strange, growing revulsion he feels when he touches, smells, tastes or sees his lovely wife. Norman thinks he's going crazy, but Barbara and Ady know better. Is love blind? Is beauty only skin-deep? Guess again.
---
2x06 Beyond The Veil (February 09, 1996)
---
After flashbacks of an alien abduction drives him to the brink of suicide, Eddie Wexler finds himself at a mental institute, where Dr. Sherrick is using a controversial technique to treat those who believe they have been abducted by extraterrestrials. Eddie and some of the other patients are suspicious of Sherrick and his methods, which forces patients to re-live their abductions in the memory chamber. Some even think that their abductors have infiltrated the institute. Is this just a paranoid delusion or is there an alien face behind the doctor's mask?
---
2x05 Mind Over Matter (February 02, 1996)
---
Dr. Sam Stein has always lived for his work. His dedication has paid off with the development of the Computer Aided Visual Environment system of CAVE, which allows doctors to jack-in directly to the brain of patients. When an accident puts his colleague Rachael Carter in a coma, Stein decides to use CAVE for his own purposes, reaching into Rachael's brain to tell her what he couldn't while she was conscious: that he loves her. Stein discovers, however, that love takes strange turns when it enters CAVE's virtual world and that the complexities of the human heart are not easily translated into bits and bytes.
---
2x04 I Hear You Calling (January 26, 1996)
---
Reporter Carter Jones is on her way to work when her cellular phone picks up a suspicious conversation about the ""removal"" of a controversial author. Her journalistic curiosity piqued, Carter investigates, despite the objections of her boss and the police. As a result, she finds herself in a deadly game of cat and mouse, involving a strange man with violet eyes, an ill-fated cruise and people who disappear leaving behind only a pile of purple ash. Can Carter get to the bottom of these mysterious disappearances? Or will she be the next to vanish?
---
2x03 Unnatural Selection (January 19, 1996)
---
Howard and Joanne Sharp are going to have a baby. Like many people in the near future, they are mulling over the possibility of black-market genetic enhancement. The upside is a perfect baby, able to compete with all those other perfect babies created by the popular, but illegal process. The downside is GRS - Genetic Rejection Syndrome - which turns one in every 10,000 genetically enhanced babies into a monster. The Sharps are willing to take the risk and go ahead with the procedure. Then they learn of the dark secret that their neighbors and best friends, Tony and Fran Blake, keep in the basement.
---
2x02 Resurrection (January 14, 1996)
---
Life on planet Earth has been wiped out by biological warfare, leaving behind only androids. Two of those androids, Martin and Alicia, have a secret project: Cain, a human being grown from the DNA of a single human hair. Martin and Alicia must keep Cain's existence hidden from the military androids, led by Moloch, a power-mad machine who is determined to stamp out any trace of the human race before it rises again.
---
2x01 Stitch in Time (January 14, 1996)
---
FBI agent Jamie Perrin has investigated some pretty strange cases in her time but this one may be the strangest of all. During the last fifty years, seventeen men throughout the country were all murdered with the same gun. This gun is traced to Dr. Theresa Givens, a scientist who recently left a top-secret government agency. This discovery deepens the mystery because Givens was only five years old at the time of the first murder. The gun itself hadn't even been made. While investigating further, Perrin discovers a secret that lies behind the locked door in Dr. Givens' office and learns first-hand of the temptations and dangers of undoing the evils of the past.
---