The Brady Bunch
Season 3
The Brady Bunch
Season 3
First Air Date: September 17, 1971

| | | |
| --- | --- | --- |
| First Aired on | : | 1971 |
| Episodes | : | 23 episodes |
Episodes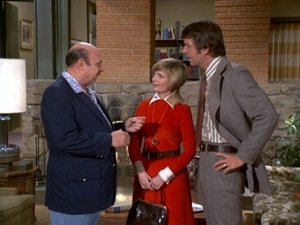 3x23 The Fender Benders (March 10, 1972)
---
Carol is in a car accident with a man who agrees to pay the damages. However, a short while later, he changes his mind and Carol finds herself summoned to court with Bobby and Cindy testifying against her.
---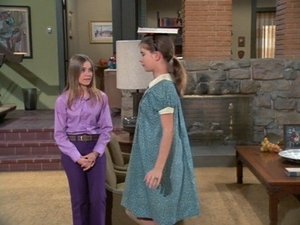 3x22 My Fair Opponent (March 03, 1972)
---
For a joke, Molly Webber, a plain Jane, is nominated for hostess on Banquet Night. This practical joke sends Marcia on a mission to transform Molly into a knockout and she succeeds but discovers she may have succeeded to much when she finds herself running against her.
---
3x21 Cindy Brady, Lady (February 18, 1972)
---
Feeling immature because she is the youngest, Cindy feels that she isn't appreciated until she gets a mysterious letter from a secret admirer.
---
3x20 Sergeant Emma (February 11, 1972)
---
Alice has decided to take a well deserved vacation, but feeling like she's deserting the Brady family, she calls in her cousin, Emma. The Bradys are in for a big surprise when she turns to household into an army barracks.
---
3x19 The Power of the Press (February 04, 1972)
---
Peter is popular with his classmates when they find their names in his newspaper column. When he starts getting a poor grade he decides to improve it by flattering his teacher.
---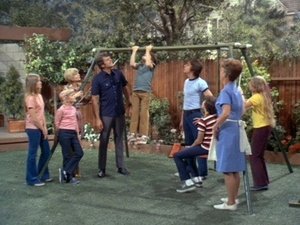 3x18 The Big Bet (January 28, 1972)
---
Bobby bets Greg that he can't do twice as many chin-ups as him. Greg, confident he'll win sits back while Bobby practices. However, Greg is totally unprepared when he looses and Bobby begins taking advantage of the terms of winning.
---
3x17 Jan's Aunt Jenny (January 21, 1972)
---
Jan discovers her Aunt Jenny looked exactly like her when she was young. Curious about how she looks now and thinking perhaps that is how she'll turn out to look, Jan asks her for a picture of her now. This causes Jan to become distressed since Jenny, now, doesn't look to attractive.
---
3x16 Dough Re Mi (January 14, 1972)
---
Greg, wanting to make a record, books a recording studio and plans on singing a song with his siblings. However, when Peter's voice begins to change, his hopes of recording his planned song are dashed.
---
3x15 Big Little Man (January 07, 1972)
---
Bobby becomes extremely self conscious about his height and tries different ways to make himself "big." First he tries stretching himself, and then he decides to improve his mind by memorizing a bunch of worthless facts.
---
3x14 The Teeter-Totter Caper (December 31, 1971)
---
When Bobby and Cindy are not invited to a wedding because they're too young, they set out to do something important. Their goal, break a teeter-totter record.
---
3x13 The Not-So-Rose-Colored Glasses (December 24, 1971)
---
After taking the wrong bike from school and when her grades begin to slip, Jan learns she may need glasses. Meanwhile, Mike's anniversary gift to Carol is a portrait of the six kids. The trick is getting the kids to the photographer without Carol finding out.
---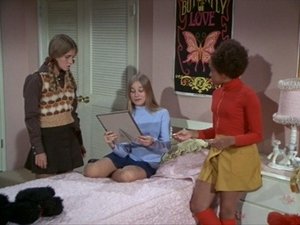 3x12 Getting Davy Jones (December 10, 1971)
---
Marcia makes a promise that she will get Davy Jones to perform at the prom. A promise she quickly learns is going to be very difficult to keep, since trying to get a hold of him is almost impossible.
---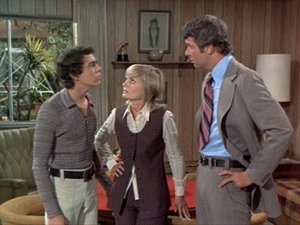 3x11 Click (November 26, 1971)
---
Greg wants to be on the football team, but Carol is against it, fearing that he's going to get hurt. Carol's fears come true when Greg fractures a rib. Meanwhile, Bobby gets a camera.
---
3x10 Her Sister's Shadow (November 19, 1971)
---
Tired of being in Marcia's shadow, Jan is determined to do something that Marcia never did. However, Jan becomes more depressed when she fails to make the pom-pom team and her friend makes the squad. Then she wins first prize in the essay contest and finds out her teacher made a mistake in scoring.
---
3x09 The Private Ear (November 12, 1971)
---
Peter begins to secretly eavesdrop in on his siblings private conversations with the help of Mike's tape recorder. This cause sibling rivalry and discord between his brothers and sisters.
---
3x08 And Now, A Word From Our Sponsor (November 05, 1971)
---
A commercial producer discovers the Brady family while they are grocery shopping, one afternoon. He quickly wants them to be in a laundry soap commercial and soon the problem is whether or not to do the commercial since they don't use the product.
---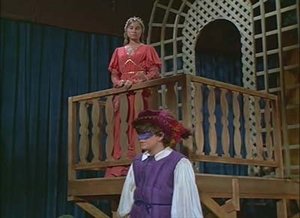 3x07 Juliet is the Sun (October 29, 1971)
---
When Marcia gets the lead as Juliet in the school play, she lets it go to her head, which causes her to become unbearable at home and at school and plays as the major reason why she is replaced by her understudy.
---
3x06 The Personality Kid (October 22, 1971)
---
Convinced he doesn't have personality, Peter goes all out to try to get one. After imitating celebrities, Peter decides to try a funny personality in which he stocks up on jokes and plans to show his new personality off at a party.
---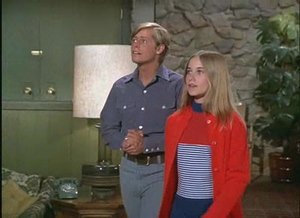 3x05 My Sister, Benedict Arnold (October 15, 1971)
---
Greg is furious when he discovers Marcia is dating Warren Mulaney, his arch rival who beat him out in a basketball rank. To get revenge, Greg begins dating the woman who beat Marcia out in cheerleading.
---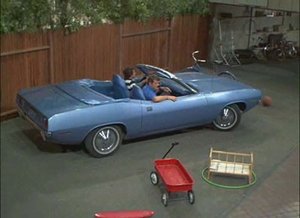 3x04 The Wheeler-Dealer (October 08, 1971)
---
Greg buys his first car for $100 from his friend Eddie who made the car into something it's not. Finding that he has been stuck, Greg attempts to do the same thing Eddie did, when he tries to sell the car.
---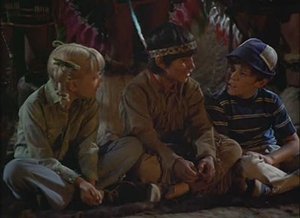 3x03 The Brady Braves (October 01, 1971)
---
Bobby and Cindy find their way back to camp bringing relief to a worried Mike and Carol. However, Bobby and Cindy's wanting to help the Indian boy, Jimmy, in his quest of running away to become an astronaut gets them into more trouble.
---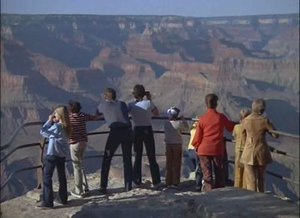 3x02 Grand Canyon or Bust (September 24, 1971)
---
After escaping the jail cell, the Brady finally arrive in the Grand Canyon and set up camp. Later, the family is thrown into a panic, when Bobby and Cindy get lost in the canyon while chasing and Indian boy.
---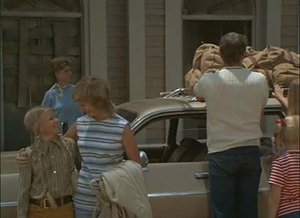 3x01 Ghost Town, U.S.A. (September 17, 1971)
---
The Bradys set out for a family vacation to the Grand Canyon. However, en route, the family stops in an old ghost town where and old prospector locks them in a jail cell.
---