The Brady Bunch
Season 2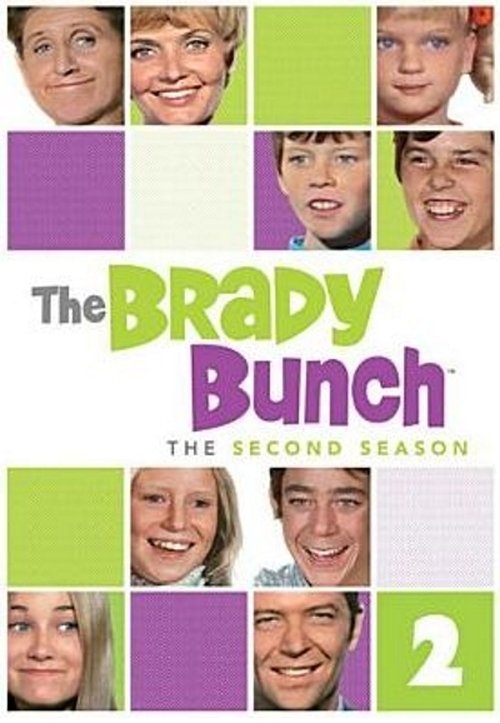 The Brady Bunch
Season 2
First Air Date: September 25, 1970

| | | |
| --- | --- | --- |
| First Aired on | : | 1970 |
| Episodes | : | 24 episodes |
Episodes
2x24 Tell it Like It Is (March 26, 1971)
---
Carol is secretly writing an article about life with the Brady Bunch for Tomorrow's Woman Magazine. But soon after sending the article in, she gets a rejection letter.
---
2x23 Alice's September Song (March 12, 1971)
---
An old boyfriend of Alice's, Mark Millard, comes to town and begins to wine and dine her, unknown to her he has other intentions in mind.
---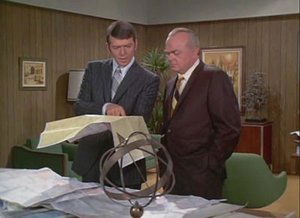 2x22 Double Parked (March 05, 1971)
---
The Brady family goes all out to try to save a neighborhood park from being built on. This puts Mike's job in jeopardy since his company is the firm in charge of the construction.
---
2x21 The Winner (February 26, 1971)
---
After discovering he is the only Brady without a trophy, Bobby enters numerous contests in order to win one. Including, selling magazines and a televised ice cream eating contest.
---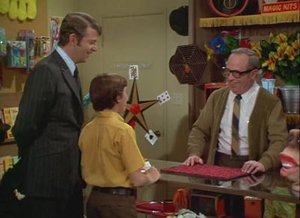 2x20 Lights Out (February 19, 1971)
---
After witnessing a magician performing a disappearing act, Cindy refuses to sleep with the lights off. Meanwhile, Peter begins to develop a magic act and a reluctant Cindy agrees to be his assistant.
---
2x19 The Liberation of Marcia Brady (February 12, 1971)
---
A reporter interviews Marcia and asks her about her views on Women's Lib. This leads to her joining Greg's Frontier Scouts to try to prove a woman can do anything a man can do.
---
2x18 Our Son, the Man (February 05, 1971)
---
Greg, tired of the antics of his younger siblings, thinks he should have his own room. Mike allows Greg to turn his den into his own room. This also leads to Greg dressing a whole new way and talking a whole new way, including calling his parents by their first names.
---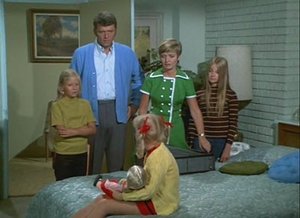 2x17 Coming-Out Party (January 29, 1971)
---
Mike's boss, Mr. Phillips, invites him and his family on a fishing trip on his boat. However when Cindy comes down with tonsillitis, the trip is postponed. Tonsillitis quickly claims another, when Carol also must have her tonsils taken out.
---
2x16 The Drummer Boy (January 22, 1971)
---
When Bobby gets a set of drums he drives the family up the wall. Meanwhile, Peter is made fun of for being in the glee club by his football teammates.
---
2x15 Will the Real Jan Brady Please Stand Up? (January 15, 1971)
---
Tired of being the middle blond girl of the family, Jan tries to alter her appearance by buying a black wig, which she intends to wear to a friend's upcoming birthday party.
---
2x14 Where There's Smoke (January 08, 1971)
---
Jan and Cindy catch Greg smoking with some friends. This leads to them telling Marcia who in turn tells Mike and Carol.
---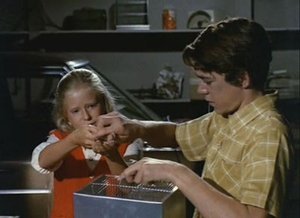 2x13 The Impractical Joker (January 01, 1971)
---
Jan's practical joking puts Greg's science project, a mouse named Myron, in mortal danger when he gets loose allowing Alice to catch a glimpse of him which leads to her calling the exterminator.
---
2x12 Confessions, Confessions (December 18, 1970)
---
Peter breaks Carol's favorite vase on the eve of a camping trip that he's looking forward to. So in order for him to go on the trip, the other Brady siblings unknowingly each confess.
---
2x11 What Goes Up... (December 11, 1970)
---
When Bobby falls from a tree and sprains his ankle, he devolops a fear of heights. This prompts the Brady family to try to cure his fear.
---
2x10 The Tattle-Tale (December 04, 1970)
---
Cindy has become somewhat of a tattletale leading Alice to get in a fight with Sam and the other siblings leaving her out of their activities.
---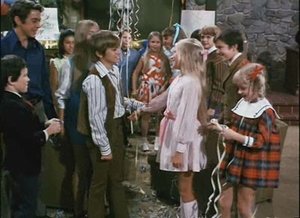 2x09 The Not-So-Ugly Duckling (November 20, 1970)
---
Clark Tyson, a boy that Jan has a crush on, likes older girls, especially Marcia. This leads Jan to make up an imaginary boyfriend, George Glass.
---
2x08 A Fistful of Reasons (November 13, 1970)
---
A bully named Buddy Hinton has been making fun of Cindy's lisp. So in order to defend her, Peter tries to learn how to defend himself.
---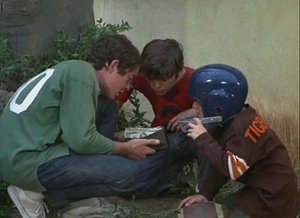 2x07 The Treasure of Sierra Avenue (November 06, 1970)
---
While playing football in a vacant lot with Greg and Peter, Bobby discovers a wallet containing $1,100. When the girls learn about the boys' coup, they decide they want a cut of the money; this leads to yet another fight in the Brady household.
---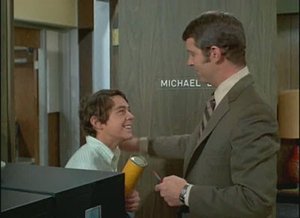 2x06 Call Me Irresponsible (October 30, 1970)
---
Greg gets his first job as an office boy at Mike's architectural firm. However, he places his job in jeopardy when he carelessly loses some important designs.
---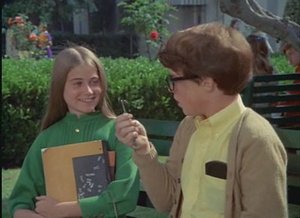 2x05 Going, Going...Steady (October 23, 1970)
---
Marcia has a crush on a boy who doesn't even know she's alive, at least not until she studies up on his favorite hobby, insect collecting.
---
2x04 The Un-Underground Movie (October 16, 1970)
---
Greg's history project is a home movie about the pilgrims with the rest of the Bradys clan as the cast. However, soon the other Bradys take over and pretty soon Greg loses control of his project.
---
2x03 The Slumber Caper (October 09, 1970)
---
Mike and Carol agree to allow Marcia to have a slumber party and the boys are thrilled because then they'll be able to play tricks on everyone. Then when Marcia gets into trouble at school, the slumber party is canceled.
---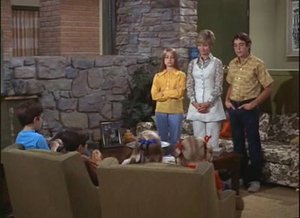 2x02 The Babysitters (October 02, 1970)
---
Mike and Carol decide to allow Greg and Marcia babysit for the younger Bradys one evening when they go out for the evening and Alice is out with Sam.
---
2x01 The Dropout (September 25, 1970)
---
Don Drysdale's tips for Greg on his baseball playing go to his head. Which leads to Greg deciding to not go to college and he even starts to think about dropping out of high school.
---