The Brady Bunch
Season 1
The Brady Bunch
Season 1
First Air Date: September 26, 1969

| | | |
| --- | --- | --- |
| First Aired on | : | 1969 |
| Episodes | : | 25 episodes |
Episodes
1x25 Lost Locket, Found Locket (March 20, 1970)
---
Jan receives a mysterious locket in the mail with no indication of who sent it. While the Bradys are trying to figure out who sent it, the locket mysteriously vanishes.
---
1x24 The Grass is Always Greener (March 13, 1970)
---
Mike and Carol switch roles for a day in order to prove a day with the opposite sex involves much less work. Their duties: Carol must help the boys with baseball practice and Mike must help Marcia with a cooking badge.
---
1x23 To Move or Not to Move (March 06, 1970)
---
With constant complaints about the size of the house bombarding Mike and Carol, Mike puts the house up for sale and looks into buying a new one. Immediately after this, the Brady house seems to be haunted.
---
1x22 The Possible Dream (February 27, 1970)
---
Marcia's sense of security is shattered when Cindy inadvertently gives away her diary to a book collection. Marcia is especially concerned since in it, she confessed a secret desire for Desi Arnaz, Jr.
---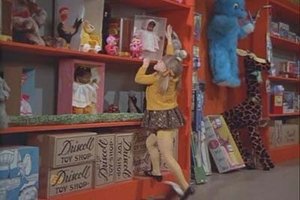 1x21 The Hero (February 20, 1970)
---
While shopping at Driscoll's Toy Store, Peter looks up to see a wall about to fall on a little girl. He quickly pushes her out of the way. This leads to immediate media attention and Peter is named a hero. However, Peter lets all the attention go to his head, annoying his friends and his brothers and sisters.
---
1x20 Brace Yourself (February 13, 1970)
---
Marcia is distraught after getting braces and becomes convinced she's ugly. This compounds when her boyfriend Alan breaks their upcoming date, thinking it's due to her braces. Meanwhile, the Brady kids try their best to make Marcia not feel so self-conscious but with little success.
---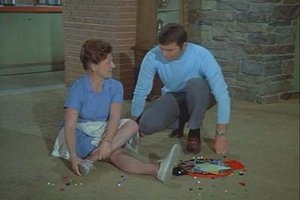 1x19 The Big Sprain (February 06, 1970)
---
Carol is out of town visiting her sick Aunt Mary and Alice is all prepared to take care of the Brady home. However, she sprains her ankle, after tripping on Chinese checkers, putting Mike and the kids in charge of the household duties. Meanwhile, her boyfriend Sam finds himself in a dilemma over whether or not to take someone else to the upcoming Meatcutters Ball.
---
1x18 Tiger, Tiger! (January 30, 1970)
---
One afternoon, Bobby briefly leaves Tiger unattended and returns to find him missing. Soon a city wide search is on. Meanwhile, a string of burglaries in the neighborhood has Alice paranoid. Could the robbers have lured Tiger away in order to rob the Brady house?
---
1x17 The Undergraduate (January 23, 1970)
---
When Greg begins constant daydreaming and his grades start to drop the Brady's quickly think something is wrong. They soon deduce he has puppy love, for a certain girl named Linda. However, they are having an incredibly hard time finding the right Linda but soon the Bradys quickly learn just who this Linda is.
---
1x16 Mike's Horror-Scope (January 16, 1970)
---
The day after Carol reads Mike's horoscope, which states "a strange woman will enter your life tomorrow," Beebe Gallini enters Mike's office and proves to be a most difficult client. Soon, Mike finds himself spending more time at the office than at home with Carol and the kids.
---
1x15 54-40 and Fight (January 09, 1970)
---
The Brady family learns that a trading stamp company is going out of business. A fight breaks out over who should get all of the saved stamps, the boys or the girls. If the girls get them, they'll buy a sewing machine and if the boys get them, they'll by a rowboat.
---
1x14 Father of the Year (January 02, 1970)
---
Marcia enters Mike in a "Father of the Year" contest through the newspaper. However, in order to do this she's had to sneak around. When Mike catches her and she's unable to explain, he grounds her from the family ski trip.
---
1x13 Is There a Doctor in the House? (December 26, 1969)
---
Peter comes home from school with the measles, so naturally, Carol calls the doctor, her doctor, who happens to be a woman. Meanwhile, Mike calls his doctor, a man. Soon all the kids come down with the measles and the household is in an uproar in yet another battle of the sexes, as the girls want a female doctor and the boys want a male doctor.
---
1x12 The Voice of Christmas (December 19, 1969)
---
Carol is to sing in church on Christmas, but days before the event, she loses her voice. Later at the mall, a hopeful Cindy asks a Santa Claus to bring Carol's voice back by Christmas. Meanwhile, Alice and the kids find it a difficult task hiding Christmas gifts in the house.
---
1x11 Vote for Brady (December 12, 1969)
---
Both Greg and Marcia rush home after school with the news that they're both running for student body president. May the best candidate win, as the boys and girls each take sides and soon each one of them is accusing the other of sabotage.
---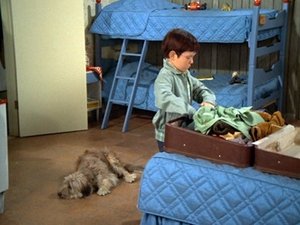 1x10 Every Boy Does It Once (December 05, 1969)
---
After watching "Cinderella" on TV, Bobby becomes concerned about stepmothers—especially since Carol asks him to sweep out the fireplace. Soon after, feeling worthless, Bobby decides to run away.
---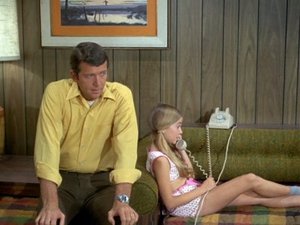 1x09 Sorry, Right Number (November 21, 1969)
---
With nine people in the house, Mike gets frustrated when he can never get any time on the phone for himself. He decides to install a second phone line, but that only makes the problem worse. Thanks to one of Alice's ideas, Mike decides to install a pay phone in the family room.
---
1x08 A-Camping We Will Go (November 14, 1969)
---
Mike and Carol prepare for a family camping trip. However, the boys are not thrilled that the girls will be coming along. Meanwhile, the girls aren't exactly thrilled about sleeping in the wilderness. Later on the trip, things go awry when the girls mess up the boys fishing plans and freak out when they hear owl hoots.
---
1x07 Kitty Karry-All is Missing (November 07, 1969)
---
When Cindy's doll, Kitty Karry-All turns up missing, she accuses Bobby. This leads to a mock trial with Alice as the judge to determine Bobby's guilt or innocence. Then later Bobby's kazoo turns up missing and he blames Cindy.
---
1x06 A Clubhouse Is Not a Home (October 31, 1969)
---
With more and more of the girls belongings being moved over from storage, the boys become fed up and take to their 'No Girls Allowed' clubhouse in the backyard which sparks the first of many battles between the sexes. This leads the girls to try to build their own clubhouse.
---
1x05 Katchoo (October 24, 1969)
---
Jan comes down with a mysterious allergy and Carol and Alice try to determine just what is causing it. They deduce that the cause is Tiger, the family dog. Or is it?
---
1x04 Alice Doesn't Live Here Anymore (October 17, 1969)
---
No longer feeling needed around the Brady household, Alice makes up a story about an ailing aunt in Seattle in order to leave. Later the family finds out the truth and put "Operation Alice" in effect in an attempt to make her stay.
---
1x03 Eenie, Meenie, Mommy, Daddy (October 10, 1969)
---
Cindy has been cast as the fairy princess in the school play. She's excited that her mom and new dad will be able to see her in the production until she learns she can only invite one parent. Torn between who she should choose, Cindy fakes an injury to get out of being in the play.
---
1x02 Dear Libby (October 03, 1969)
---
An article in an advice column, Dear Libby, draws Marcia's attention. In the article, an anonymous person is in the same situation as Mike and Carol is in and this particular person is unhappy. This leads Marcia to draw the conclusion that Mike or Carol wrote the letter. She later shows the article to the other kids and they devise a plot to keep their newly formed family together.
---
1x01 The Honeymoon (September 26, 1969)
---
In the series opener, Mike Brady, a widower with three boys, marries Carol Martin, a widow with three girls. Just as the minister says "I do" the boy's dog, Tiger gets loose and chases the girl's cat through the wedding party. Chaos breaks loose which prompts Carol and Mike to yell at their kids to control their pets. Guilt over yelling at their kids comes into play later during Mike and Carol's honeymoon.
---