Drake & Josh
Season 4
Drake & Josh
Season 4
First Air Date: September 24, 2006

| | | |
| --- | --- | --- |
| First Aired on | : | 2006 |
| Episodes | : | 19 episodes |
Episodes
4x19 Dance Contest (September 16, 2007)
---
Josh decides to enter a local dance contest, but when Drake realizes he's going to fail gym, he has to enter in order to receive high school credit. So he steals Josh's dance partner, and that's when things start to go wrong.
---
4x18 Helicopter (August 05, 2007)
---
Drake wins a free skydive off a helicopter and sets off to do it despite his parents' wishes. Josh, being the good brother he is, tries to stop him, but ends up going along for the ride. This fun time in the sky becomes a true downer when they accidentally lose their pilot and things start spinning out of control.
---
4x17 The Really Big Shrimp (August 03, 2007)
---
It's the end of an era. After Josh ruins Drake's chances at having a hit song in the Superbowl, the boys must find a way to make things right.
---
4x16 The Battle of Panthatar (April 15, 2007)
---
Drake and Josh get invited to Thorton's sixteenth birthday party, which will be taped by MTV and be made into an episode of, "Dude, I'm Sixteen". Later, Drake gets an autographed album of "Abbey Road" from his british neighbor, Mr. Pompette. Moments later, Drake meets this cute girl, Maria, and starts making out with her. Josh realizes that she's actually Thorton's girlfriend and Thorton realizes the truth. Thorton breaks up with Maria and bans Drake and Josh from his birthday party. Knowing that Thorton is a huge Beatles fan, Josh compels Drake to give Thorton the album. When they show up at the party and give Thorton the album, he walks away and still won't let Drake and Josh into their party! So Drake and Josh must now sneak into the party and get the album back. They dress up as two skynauts from the hit movie, "Galaxy Wars". When they sneak in to retrieve the Beatles, they wind up in the re-enactment of the Battle of Panthatar. Then everyone finds out that the skynauts are Drake and Josh and they run away. Thinking they failed to retrieve the album, Drake reveals that he, in fact, got the album since he was not going to leave without it.
---
4x15 Megan's First Kiss (April 07, 2007)
---
Drake and Josh find that Megan is being more secretive than usual. So they start to investigate her to see what she's up to. They think that she is meeting with someone who has weapons so she can torture Drake and Josh with them. They follow her while she's out seeing a movie. They discover that she actually has a new boyfriend named, "Corey." Discovering he is about to kiss Megan, Drake and Josh ruin their date and Corey no longer wishes to date Megan. So Drake and Josh talk with him and he agrees to get back with Megan. But that same day, Josh finds out that Corey is actually dating another girl behind Megan's back. So Drake and Josh show up on another one of Megan's dates with Corey to exploit the truth. Then Megan breaks up with Corey and Drake and Josh teach Corey a little lesson about cheating. But they lose. Then Megan kisses the boys and tells them she loves them.
---
4x14 Steered Straight (March 11, 2007)
---
After the boys get in trouble for using Fake ID's Audrey and Walter fear they will fall to a life of crime and sign them up for a "Steered Straight" program, but things start skidding out-of-control when a real criminal befriends them.
---
4x13 Megan's Revenge (March 04, 2007)
---
Drake and Josh accidentally kill Megan's hamster and they think she is planning revenge.
---
4x12 Eric Punches Drake (February 18, 2007)
---
After accidentally punching Drake in school, Eric becomes very popular. Meanwhile, Josh thinks that Mindy has a new boyfriend.
---
4x11 Josh is Done (February 11, 2007)
---
Drake has taken advantage of Josh for the last time and Josh decides that he is done dealing with Drake. Drake says he's fine with this, but when Josh's life improves and Drake's goes down the drain this rocker begins crooning a different tune.
---
4x10 Treehouse (January 21, 2007)
---
Drake, Josh, and Megan must rebuild a tree house that they accidentally destroyed
---
4x09 My Dinner With Bobo (January 14, 2007)
---
The boys are tired of sharing a ride and get money to buy a car, but all goes bananas when Drake buys an orangutan named Bobo instead. Soon they think they can make some money off their new friend, but things get hairy when they find out the man who purchased him may be an evil Doctor with unique.
---
4x08 The Storm (January 07, 2007)
---
The whole gang has gathered at Drake and Josh's house before Drake's big concert, but thanks to Walter's poor weather predictions they end up stuck in the house due to severe rain. Sure, it's raining outside, but the real storm for Drake to weather is when his new girlfriend meets his exes.
---
4x07 I Love Sushi (November 26, 2006)
---
Drake and Josh enter a "Pump My Room" contest to try and redecorate the living room as an anniversary gift for their parents. When they come back to the house they realize that everything is gone. To get the furniture and everything else back, Drake and Josh get a job at a sushi factory, but come home to see that everything is back.
---
4x06 The Great Doheny (November 12, 2006)
---
Drake and Josh meet, "The Great Doheny", and find out that he relies on his new friends a little too much because he has lost everything including his career. In an attempt to get his career back for him, Drake and Josh find themselves in a tough situation.
---
4x05 Who's Got Game (November 05, 2006)
---
Drake teases Josh that he can't get girls. So, Drake and Josh make a bet to see how many girls each of them can date in just one week. The rules are, every date must last at least one hour, you can't date someone you already know, and you can't date the same person twice.
---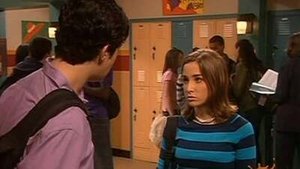 4x04 Mindy Loves Josh (October 15, 2006)
---
Mindy tells Josh that she loves him and Josh slams the door in her face and runs to Drake, but Drake tells Josh that she is just trying to distract him so she can win the Science Fair.
---
4x03 The Wedding (October 22, 2006)
---
Drake and Josh are on their way to a family wedding in their car. Unexpectedly and in the middle of nowhere, the car breaks down. This wouldn't be much of a problem, if it weren't for the fact that they're the ones bringing the cake to the reception.
---
4x02 Vicious Tiberius (October 01, 2006)
---
Mrs. Hayfer needs a house sitter for the weekend and it's the boys to the rescue, but all doesn't go according to plan when they meet Tiberius, a vicious dog with an appetite for… Drake and Josh?! Walter is exercising for the mile run against another weather man.
---
4x01 Josh Runs Into Oprah (September 24, 2006)
---
Josh is jazzed at the prospect of meeting his TV idol when Drake gets tickets to "Oprah" for his birthday, but delight turns to dismay in the studio parking lot.
---