Clerks: The Animated Series
Season 1
Clerks: The Animated Series
Season 1
First Air Date: February 20, 2001

| | | |
| --- | --- | --- |
| First Aired on | : | 2001 |
| Episodes | : | 6 episodes |
Episodes
1x06 The Last Episode Ever (February 20, 2001)
---
Randal and Dante visit a comic con, where people encourage them to be more true to the movie. Back at the store, Dante prepares for a date with Caitlin Bree. A fair springs up across the street and Jay and Silent Bob can't keep themselves from rushing in every 2 minutes to bring news while Randal and Dante must man the Quick Stop all night.
---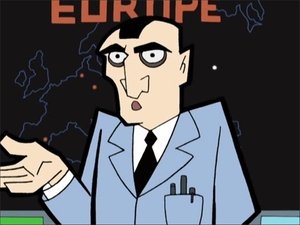 1x05 Dante and Randal and Jay and Silent Bob and a Bunch of New Characters and Lando, Take Part in a Whole Bunch of Movie Parodies... (February 20, 2001)
---
...Including But Not Exclusive to, The Bad News Bears, The Last Starfighter, Indiana Jones and the Temple of Doom, Plus a High School Reunion
---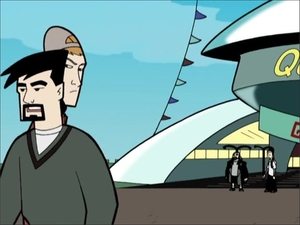 1x04 A Dissertation on the American Justice System by People Who Have Never Been Inside a Courtroom... (May 31, 2000)
---
..., Let Alone Know Anything About the Law, but Have Seen Way Too Many Legal Thrillers
---
1x03 Leonardo Is Caught in the Grip of an Outbreak of Randal's Imagination... (May 31, 2000)
---
...and Patrick Swayze Either Does or Doesn't Work in the New Pet Store
---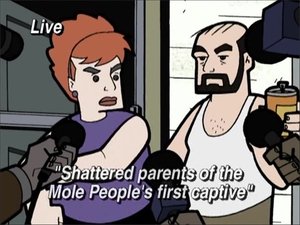 1x02 The Clip show Wherein Dante and Randal are Locked in the Freezer and Remember Some of the Great Moments in Their Lives (June 07, 2000)
---
Randal and Dante are accidentally locked in the freezer at Qwik Stop while testing the locks. They spend the day reminiscing about such things as the opening of a new convenience store across the street, the last time they got locked in the freezer, Randal's mail order husband, celebrities that have stopped by, their time on The Real World and Happy Days. Silent Bob and Jay try to help but get locked in also. After escaping from that, Randal and Dante get trapped in the video store.
---
1x01 Leonardo Leonardo Returns and Dante Has an Important Decision to Make (February 20, 2001)
---
Dante and Randal read fan mail and introduce a new black character, Lando. Randal neglects a shipment of frozen burritos. A new pet store opens next door, and Patrick Swayze works there. Randal fears an outbreak after Leonardo Leonardo is bitten by a monkey and gets food poisoning from the burritos. After Jay and Silent Bob steal the monkey to teach it to smoke, Randal and Dante must track it down, as it is the key to stop the town from being liquidated.
---