The Beverly Hillbillies
Season 3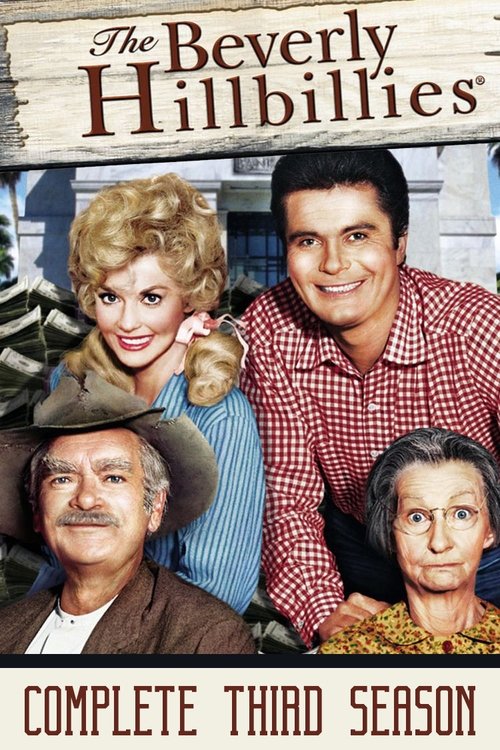 The Beverly Hillbillies
Season 3
First Air Date: September 23, 1964

| | | |
| --- | --- | --- |
| First Aired on | : | 1964 |
| Episodes | : | 34 episodes |
Episodes
3x34 The Art Center (June 16, 1965)
---
The Clampetts create art work for a new art gallery.
---
3x33 Jed, the Bachelor (June 09, 1965)
---
Granny puts her things in a wheelbarrow and heads back to the hills.
---
3x32 The Brewsters Return (June 02, 1965)
---
An oilman tries to avoid hillbilly hospitality.
---
3x31 Luke's Boy (May 26, 1965)
---
Luke Short's son Beau comes from back home.Granny wants him to marry Elly May,but Elly wants none of it.At first Miss Hathaway dresses her as a Hollywood siren to scare him-but he quits being scared after Elly gives him a strong kiss.Then she dresses like a dirty scrubwoman to discourage him-but Beau is glad that she can look like she does chores,too.Then Miss Hathaway convinces Beau that he should be a man of the world-and Jethro tries to show Beau how to be a playboy.it turns out that the reason Beau had come to California was to enlist in the army.
---
3x30 The Clampetts vs. Automation (May 12, 1965)
---
The Clampetts help a bookkeeper, by being replaced by a computer.
---
3x29 The Big Bank Battle (May 05, 1965)
---
Jethro goes job-hunting.
---
3x28 Cool School is Out (April 28, 1965)
---
Granny invades a coffeehouse to bring home beatniks Elly and Jethro.
---
3x27 Big Daddy, Jed (April 21, 1965)
---
Beatnik Sheldon Epps returns with his other beatnik pals from the Parthanon West Coffee House.Jethro is taught how to be a beatnik-and Elly may joins up with them too.Mr.Drysdale sees that the Clampetts are friends of the beatniks!
---
3x26 Jed and the Countess (April 14, 1965)
---
A jet-setter drops in on her old boy friend Jed.
---
3x25 Flatt, Clampett, and Scruggs (March 31, 1965)
---
Musicians Lester Flatt and Earl Scruggs visit the Clampetts.
---
3x24 Brewster's Honeymoon (March 24, 1965)
---
More oil is discovered on the old Clampett place.
---
3x23 Drysdale's Dog Days (March 17, 1965)
---
Drysdale's task is to persuade Granny not to withdraw her money.
---
3x22 Clampett's Millions (March 10, 1965)
---
A rival banker tries to lure Jed and his money from Drysdale's bank.
---
3x21 Double Naught Jethro (March 03, 1965)
---
Inspired by the movie Goldfinger,Jethro wants to be a spy.He tries to spy on Drysdale's rival banker John Cushing and his new secretary.In the meantime,Mr.Drysdale hires Elly May as a secretary-long enough for her to win the Queen of the Banker's Ball beauty contest.Jethro rigged up the truck as a,""spy-car,""and even got a hat made of solid iron.He tried to carry a secret-radio in his shoe-but it kept playing when he stepped on it.He also had an ejector-seat,which Granny made the mistake of getting on.She ended up in the trees.
---
3x20 Jed's Temptation (February 24, 1965)
---
Granny is convinced that Jed's girl friend is a bad influence.
---
3x19 Granny's Romance (February 17, 1965)
---
Drysdale asks an aging playboy to make a play for Granny.
---
3x18 Clampett A-Go-Go (February 03, 1965)
---
An uninjured car-crash victim is the target of Granny's doctoring.
---
3x17 Dash Riprock, You Cad (January 27, 1965)
---
Elly is heartbroken when Dash Riprock dates Jane Hathaway.
---
3x16 Elly in the Movies (January 20, 1965)
---
Elly May goes to the movie studio and meets movie star Dash Riprock.Dash and Elly fall for each other and he starts teaching her to do love scenes-but he is unaware that she is the new leading lady for his movie.Through a series of plot-twists,he thinks Miss Hathaway is his new leading lady.This eventualy ends Elly May's movie career.
---
3x15 The Movie Starlet (January 13, 1965)
---
Jethro's latest love: starlet Kitty Devine (Sharon Farrell).
---
3x14 Clampett General Hospital (January 06, 1965)
---
Granny works her mountain medicine on Mrs. Drysdale.
---
3x13 Start the New Year Right (December 30, 1964)
---
Mrs. Drysdale refuses to leave the hospital until the Clampetts leave Beverly Hills.
---
3x12 The Boarder Stays (December 16, 1964)
---
The Clampetts still don't realize that Mr. Pinckney is their butler instead of their boarder. When he tries to leave them Granny thinks he trying to skip without paying his rent.
---
3x11 The Boarder (December 09, 1964)
---
Arthur Treacher plays the Clampetts' butler.
---
3x10 The Ballet (November 25, 1964)
---
Mrs. Drysdale schemes to get Jed to back a ballet company.
---
3x09 The Widow Poke Arrives (November 18, 1964)
---
Granny aims to make the widow Poke Jed's wife.
---
3x08 Teenage Idol (November 11, 1964)
---
Rock n roll singing idol, ""Johnny Poke"" visits the Clampetts while in town playing the Hollywood Bowl. Granny's not too happy about it—she's worried Jethro will pick up his bad habits! Ten thousand teenagers are waiting at the station! Johnny plays a cool lookin' white Fender Jaguar ee-lectric gee-tar! Lots of twangy rock n roll music in soundtrack. Jesse Pearson as Johnny Poke. (Jesse played teen idol Conrad Birdie in ""Bye Bye Birdie""). Alan Reed (voice of Fred Flinstone) as Johnny's manager. Must see TV!
---
3x07 Back to Marineland (November 04, 1964)
---
Jethro applies for a job as an intelligence agent.
---
3x06 Jed the Heartbreaker (October 28, 1964)
---
Jed tries to patch things up between Granny and Mrs. Drysdale.
---
3x05 Doctor Jed Clampett (October 21, 1964)
---
Jed gets an honorary doctorate when he donates money to a college.
---
3x04 Hedda Hopper's Hollywood (October 14, 1964)
---
Hedda Hopper asks Jed not to tear down his studio.
---
3x03 Clampett City General Store (October 07, 1964)
---
Jed opens a general store on the movie set at his new studio.
---
3x02 Clampett City (September 30, 1964)
---
Drysdale aims to make Jed's movie studio into Clampett City.
---
3x01 Jed Becomes a Movie Mogul (September 23, 1964)
---
When Jed buys a struggling movie studio, the family tries to help by working there.
---