The Beverly Hillbillies
Season 1
The Beverly Hillbillies
Season 1
First Air Date: September 26, 1962

| | | |
| --- | --- | --- |
| First Aired on | : | 1962 |
| Episodes | : | 36 episodes |
Episodes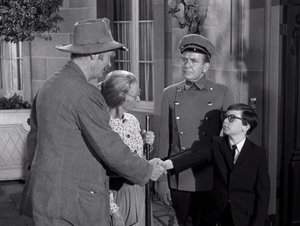 1x36 Jethro's Friend (May 29, 1963)
---
---
1x35 Elly Becomes a Secretary (May 22, 1963)
---
The Clampetts offer to help out at Drysdale's bank.
---
1x34 The Psychiatrist Gets Clampetted (May 15, 1963)
---
A psychiatrist shows interest in Granny's mountain remedies.
---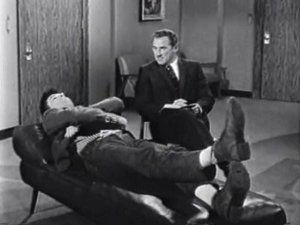 1x33 The Clampetts Get Psychoanalyzed (May 08, 1963)
---
Herbert Rudley appears as a psychiatrist who somehow winds up with Jethro as a patient.
---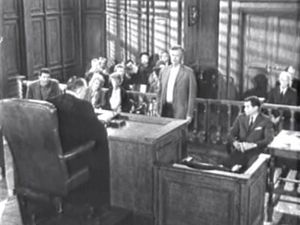 1x32 The Clampetts in Court (May 01, 1963)
---
The Clampett clan appears in court on a traffic violation.
---
1x31 The Clampetts Entertain (April 24, 1963)
---
Drysdale comes up for a raise when he lands the Clampett account.
---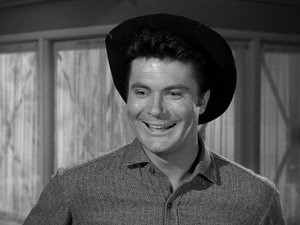 1x30 Duke Becomes a Father (April 17, 1963)
---
Jed falls for a beautiful Beverly Hills matron (Narda Onyx).
---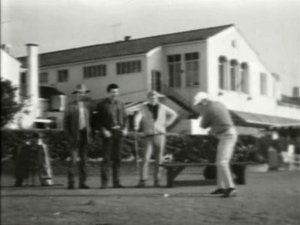 1x29 The Clampetts and the Dodgers (April 10, 1963)
---
Jed & Jethro play golf with a famous baseball coach who witnesses Jethro's pitching arm & wants to sign him up for his team.
---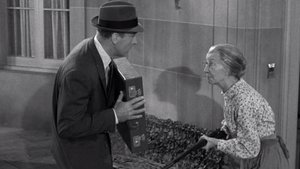 1x28 Jed Pays His Income Tax (April 03, 1963)
---
Granny thinks a man from the I.R.S. is a revenuer & chases him off with her gun.!
---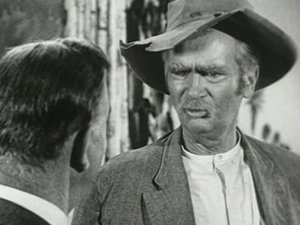 1x27 Granny's Spring Tonic (March 27, 1963)
---
A fortune hunter sets her sights on Jed.
---
1x26 Jed Cuts the Family Tree (March 20, 1963)
---
Pearl wants the family to be in High Society now that their forebears were one of the first families to come to America.(on the Mayflower) Pearl goes to a ""Beauty Saloon "" & comes home speaking French.! She buys outfits for the family & they reluctantly try them on. (Jethro wears a Tou-Tou !) Jed has the chance to meet the President,all he has to do is confirm that his Great Gran Pappy's name is Ezekiel. He tells them his name was Jeremiah & the First Settlers people say they must have the wrong family. Later Granny says to him that she knows he fibbed,but Jed likes the simple life & things get back to normal.
---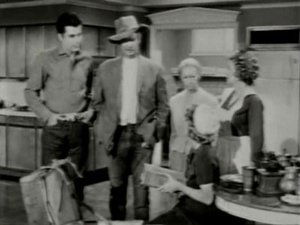 1x25 The Family Tree (March 13, 1963)
---
An authority on American history finds evidence that Jed's ancestors preceded the Mayflower to America.
---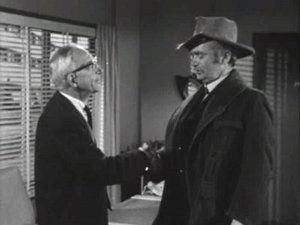 1x24 Jed Becomes a Banker (March 06, 1963)
---
Jed is made a bank vice president so he can compete in an interbank skeet shoot.
---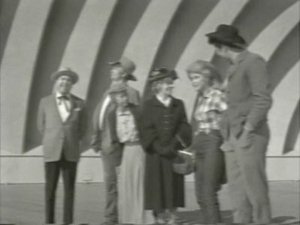 1x23 Jed Buys the Freeway (February 27, 1963)
---
A confidence man tries to sell Jed the Hollywood Bowl, Griffith Park and the Hollywood Freeway.
---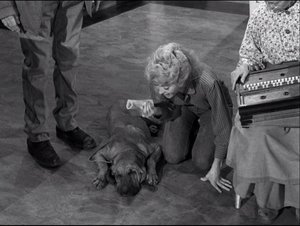 1x22 Duke Steals a Wife (February 20, 1963)
---
Duke, Jed's bloodhound, becomes matchmaker for his master and Mlle. Denise, a glamourous Frenchwoman.
---
1x21 Jed Plays Solomon (February 13, 1963)
---
Granny's plan to stop Pearl's yodeling backfires when the police she called find her illegal still.
---
1x20 Jed Throws a Wingding (February 06, 1963)
---
Two of Cousin Pearl's most ardent former suitors come to visit her in Beverly Hills.
---
1x19 Elly's Animals (January 30, 1963)
---
Police and Elly's animals converge on the Clampett estate when Pearl starts giving yodeling lessons.
---
1x18 Jed Saves Drysdale's Marriage (January 23, 1963)
---
Drysdale's marriage is threatened when he looks to the Clampetts for a housekeeper while his wife is away.
---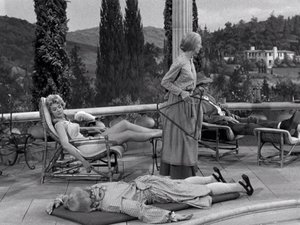 1x17 Jed's Dilemma (January 16, 1963)
---
Trying to cool a feud between Granny and Pearl, Jed takes his family on a sightseeing tour of Beverly Hills.
---
1x16 Back to Californy (January 09, 1963)
---
Jed is confronted with too many cooks and not enough vittles when he invites Pearl and Jethrine to Beverly Hills.
---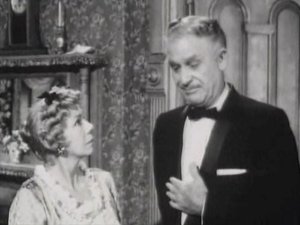 1x15 Jed Rescues Pearl (January 02, 1963)
---
Pearl's efforts to snag Mr. Brewster seem doomed until he makes a ridiculous public proposal.
---
1x14 No Place Like Home (December 26, 1962)
---
The Clampetts, home for Christmas, help Cousin Pearl woo Mr. Brewster, the big oil company executive.
---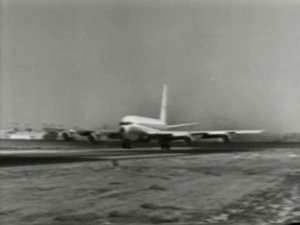 1x13 Home for Christmas (December 19, 1962)
---
The Clampetts take their first plane ride for a Christmas visit back home with Cousin Pearl.
---
1x12 The Great Feud (December 12, 1962)
---
The Clampetts load their shootin' irons for a match with the Drysdales when Sonny jilts Elly May.
---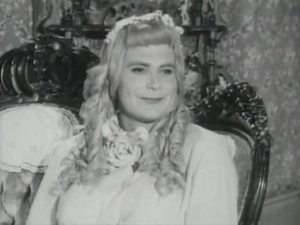 1x11 Elly Races Jethrine (December 05, 1962)
---
The Clampetts try to get Sonny to propose to Elly before Cousin Pearl can get her daughter Jethrine married to him.
---
1x10 Pygmalion and Elly (November 28, 1962)
---
Sonny Drysdale playes Pygmalion and Julius Caesar as he resumes his courtship of Elly May.
---
1x09 Elly's First Date (November 21, 1962)
---
Elly May's first date in Beverly Hills ends in a riot of confusion before it even starts.
---
1x08 Jethro Goes to School (November 14, 1962)
---
A private school teacher is shocked to learn that her new 5th-grade student is Jethro.
---
1x07 The Servants (November 07, 1962)
---
Drysdale attempts another step in social renovation of the Clampetts by lending them his servants.
---
1x06 Trick or Treat (October 31, 1962)
---
The homesick Clampetts, unaware that it's Halloween, decide to go calling on their new Beverly Hills neighbors.
---
1x05 Jed Buys Stock (October 24, 1962)
---
When Drysdale suggest buying good stock, Jed quickly buys some cows, pigs and chickens.
---
1x04 The Clampetts Meet Mrs. Drysdale (October 17, 1962)
---
When Mr. Drysdale describes Mrs. Drysdale as being a hypochondriac, the Clampets assume she must be a drunk.
---
1x03 Meanwhile, Back at the Cabin (October 10, 1962)
---
The Clampets find that the comforts of the mansion do not always compare to the comforts of their former mountian shack.
---
1x02 Getting Settled (October 03, 1962)
---
When they arrive at their new Mansion, the Clampetts are mistaken by miss Hathaway for a staff of bumbling, insubordinate, backwoods servants.
---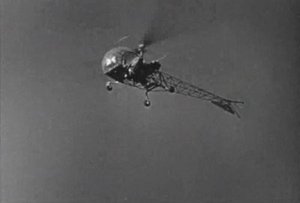 1x01 The Clampetts Strike Oil (September 26, 1962)
---
In this episode we find out how the Hillbillies got to Beverly Hills. Jed Clampett's swamp, we find out, is loaded with oil. When a wildcatter discovers the huge pool, Jed sells his land to the O.K. Oil Company and, at the urging of cousin Pearl, moves his family to a 35 room mansion in Beverly Hills, California.
---