Friday Night with Jonathan Ross
Season 13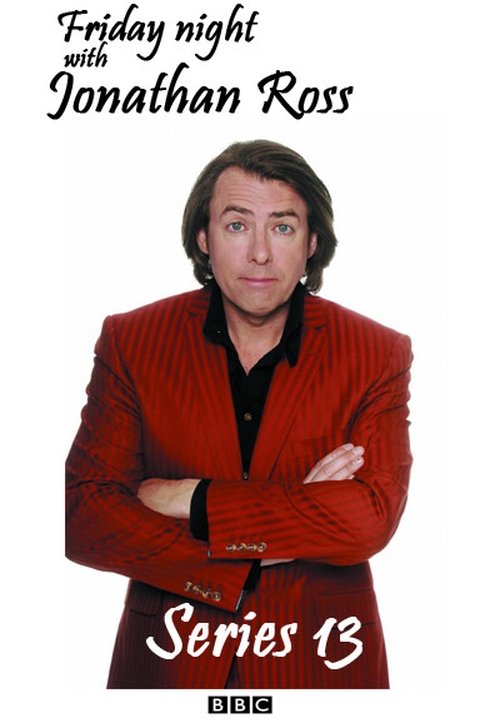 Friday Night with Jonathan Ross
Season 13
First Air Date: September 07, 2007

| | | |
| --- | --- | --- |
| First Aired on | : | 2007 |
| Episodes | : | 16 episodes |
Episodes
13x16 Andrew Flintoff, Stephen Merchant, Janice Dickinson, Mark Ronson, Ricky Wilson (December 21, 2007)
---
---
13x15 Andrew Flintoff, Stephen Merchant, Christopher Biggins, Janice Dickinson, Mark Ronson, Ricky Wilson. (December 21, 2007)
---
---
13x14 Will Smith, Len Goodman, Arlene Phillips, Bruno Tonioli, Craig Revel Horwood, Kerry Katona, Editors. (December 14, 2007)
---
Never have so many people I have never heard of appeared in the same episode. Will Smith should save the day and Kerry Katona could make it a very long day if she is 'tired and emotional'. Music from Editors, which some viewers might find entertaining.
---
13x13 Jeremy Clarkson, Renée Zellweger, Jerry Seinfeld, Matt Lucas, David Walliams, Adele. (December 07, 2007)
---
Quite a line-up this week: Actress Renée Zellweger who made big knickers the talk of England; Jerry Seinfeld who made some people on TV.com unhappy (see the Soup Nazi debates in the forums) and Jeremy Clarkson who makes many people unhappy all over England - particularly Wales, the United States and Bill Oddie.
---
13x12 Hugh Fearnley-Whittingstall, The Mighty Boosh, Boyzone, Kate Nash. (November 30, 2007)
---
"Fighting in the Dojo, Miso Miso Oriental Prince in the land of soup". Fans of the Boosh will understand that, other people might just be greatly disturbed. Hugh Fearnley-Whittingstall, a man who has cooked pretty much everything on television from Cephalopoda to placenta makes a welcome début appearance on the show. The music comes from Kate Nash with her mockney stylings and 'cor blimey Mary Poppins, ain't it foggy in Larndon'?
---
13x11 Daniel Craig, Jack Dee, Russell Brand, Hard Fi. (November 23, 2007)
---
Daniel Craig – the blond Bond; Russell Brand – the pseudo-Dickensian Cockney urchin and Jack Dee – the grumpy one who is second only to Ricky Gervais in appearances on the show.
---
13x10 Sir Anthony Hopkins, Jimmy Carr, Katy Brand, Foo Fighters. (November 09, 2007)
---
Proud Welshman Sir Anthony Hopkins - who is now an American citizen - makes his first appearance on the show. Jimmy Carr, who just seems to be very proud of himself in general, makes what seems to be his 400th appearance.
---
13x09 Gordon Ramsay, Ruth Jones, James Corden, Girls Aloud, Alicia Keys. (November 02, 2007)
---
Gordon Ramsay has more Michelin stars than any other chef, most of which have to be used to censor the swear words he uses. ****, for example.
---
13x08 Heston Blumenthal, Penny Lancaster, Kelly Brook, Cate Blanchett, Duran Duran. (October 26, 2007)
---
Heston Blumenthal has been described as a "culinary alchemist". This is a rather grand way of saying he makes porridge from snails. Kelly Brook is the latest celebrity to put her name to a perfume, sadly, the name 'Smelly Brook' was discarded pretty early on. Actress, Cate Blanchett and 'famous for being married to Rod Stewart' Penny Lancaster also appear. Duran Duran - who will perform their new song, will probably be wearing more make-up than Kelly, Cate and Penny - specifically Nick Rhodes.
---
13x07 Peter Serafinowicz, Terry Wogan, Kelly Smith, Take That. (October 19, 2007)
---
Kelly Smith, who is brilliant and will probably be the next Queen of England, appears tonight in all her shimmering glory. She will be talking about Women's Football which is absolutely excellent entertainment.
---
13x06 Jools Holland, Jake Gyllenhaal, Katie and Peter, Richard Hawley. (October 12, 2007)
---
If Katie Price's self-importance was flammable and caught fire, it would be the Great Fire of London all over again. If her talent was flammable and caught fire, it would be like a damp banger going off. Peter Andre appears tonight - he's married to the damp banger.
---
13x05 Michelle Pfeiffer, Ewan McGregor, Charlie Boorman, Chris Moyles, Roisin Murphy. (October 05, 2007)
---
Mother Nature is either very creative, or she's got a blinding sense of humour. How else could you explain the effortless beauty of Michelle Pfeiffer and the unconstrained ugliness of Chris Moyles? Maybe she created him with the left-overs from elephants ar**s.
---
13x04 Michael Ball, Jamie Foxx, Beth Ditto, Peter Björn & John. (September 28, 2007)
---
Four weeks into the new series and the guest list shows signs of strain, and that's not just down to Beth Ditto's bulk. Peter Björn & John are described as "Swedish folk rockers" - is it just me, or does that sound like a cue to stuff your ears with broken glass?
---
13x03 Dame Helen Mirren, Richard Hammond Christian Slater, The Hives. (September 21, 2007)
---
There's a 'Hair Off' this week: Richard Hammond - the indestructible one from Top Gear, brings his new, flowing locks to compete with Jonathan's luscious mane. Dame Helen Mirren's naturally girly hair might not be enough to secure victory, but Christian Slater is in with a chance. If it's decided by facial hair, Dr. Matt Destruction from The Hives will walk it, even though he's bald. Bring it on!
---
13x02 Trinny & Susannah, Samuel L. Jackson, Quentin Tarantino, KT Tunstall. (September 14, 2007)
---
This week's guests: a director who's films I don't really like; an actor who's films I don't watch; two women who make television programmes for badly dressed frumpy lasses and some Scottish warbler who's music gives me the staggers. Apart from that, I am really looking forward to it.
---
13x01 Keira Knightley, Simon Pegg, Adam Sandler, The Polyphonic Spree. (September 07, 2007)
---
It seems like just 63 days since Jonathan was talking to J.K. Rowling. Either that, or I can't count. However long it was, the wait is over - he's back. To kick things off, there is a rare interview with Keira Knightley who, incidentally, weighs less than Jonathan's hair. Funny man Simon Pegg and man Adam Sandler also appear on the first show. Music comes from Dallas-based twenty-three-piece band The Polyphonic Spree, who, incidentally, weigh less than Jonathan's hair.
---