The Big Bang Theory
Season 3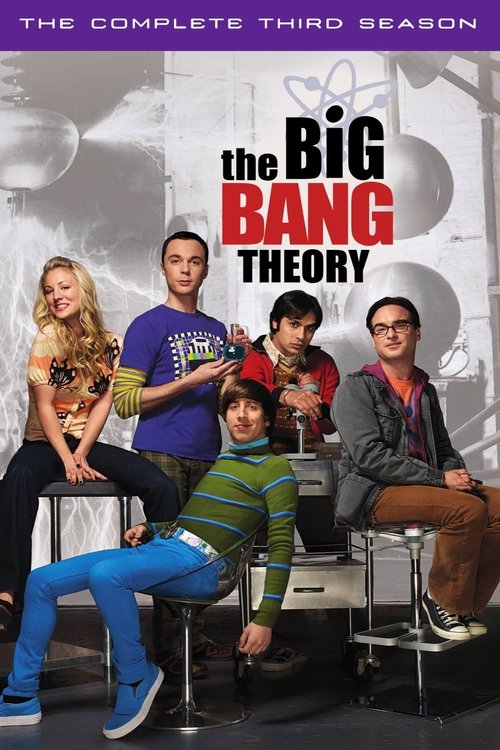 The Big Bang Theory
Season 3
First Air Date: September 21, 2009

| | | |
| --- | --- | --- |
| First Aired on | : | 2009 |
| Episodes | : | 23 episodes |
Worlds collide in Season 3! A love affair with Penny has opened a big, wide, wonderful world of romance for Leonard. But Sheldon likes the world just the way it was, thank you. All of which makes for a zany comic triangle with brainy, clueless Sheldon and practical, grounded Penny hilariously vying for the role of hypotenuse.
Want to see ?
Trailer: The Big Bang Theory: Season 3 (2009) TV Show Trailer
Episodes
3x23 The Lunar Excitation (May 24, 2010)
---
While Penny worries that dating Leonard has ruined her for normal guys, Wolowitz and Koothrappali search for Sheldon's perfect match online.
---
3x22 The Staircase Implementation (May 17, 2010)
---
Leonard tells Penny about how he met Sheldon for the first time...and what happened to the elevator.
---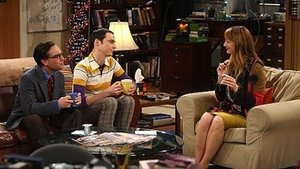 3x21 The Plimpton Stimulation (May 10, 2010)
---
Leonard and Sheldon compete for the attention of a famous female physicist.
---
3x20 The Spaghetti Catalyst (May 03, 2010)
---
When Leonard and Penny aren't speaking, Sheldon goes to extremes to keep them both happy.
---
3x19 The Wheaton Recurrence (April 12, 2010)
---
A fight between Leonard and Penny threatens their relationship, while Sheldon battles Wil Wheaton in bowling.
---
3x18 The Pants Alternative (March 22, 2010)
---
Sheldon's friends come to his aid when his fear of public speaking stands between him and a coveted award.
---
3x17 The Precious Fragmentation (March 08, 2010)
---
When the guys find a ring from "The Lord of the Rings" at a garage sale, it threatens to tear them apart.
---
3x16 The Excelsior Acquisition (March 01, 2010)
---
Sheldon winds up in traffic court when he gets a ticket because of Penny.
---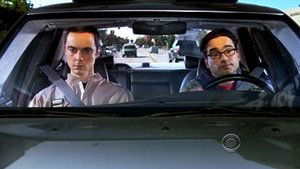 3x15 The Large Hadron Collision (February 08, 2010)
---
Leonard can only bring one guest on a trip to see CERN's Large Hadron Collider (the world's largest and highest energy particle accelerator) in Switzerland on Valentine's Day.
---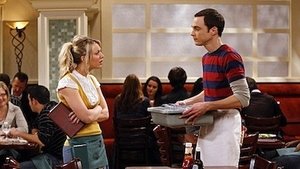 3x14 The Einstein Approximation (February 01, 2010)
---
Sheldon's search for the answer to a physics problem leads him to work at the Cheesecake Factory with Penny.
---
3x13 The Bozeman Reaction (January 18, 2010)
---
When their apartment is robbed, Leonard and Sheldon turn to their friends to create a state-of-the-art security system.
---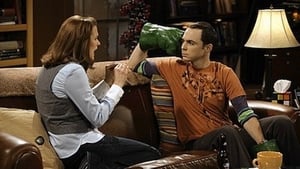 3x12 The Psychic Vortex (January 11, 2010)
---
Leonard is aghast to find out a secret of Penny's: she believes in psychics. Meanwhile, Sheldon tries to assist Koothrappali in picking up a girl at a university mixer.
---
3x11 The Maternal Congruence (December 14, 2009)
---
A Christmas visit from his mother has Leonard discovering she's kept a lot of news from him that she shares with Sheldon and worrying if she'll approve of his romance with Penny.
---
3x10 The Gorilla Experiment (December 07, 2009)
---
Penny gets help from Sheldon in order to understand what Leonard's work is, while Wolowitz develops a jealousy when Leonard starts hanging out with his new girlfriend.
---
3x09 The Vengeance Formulation (November 23, 2009)
---
After he's humiliated on National Public Radio, Sheldon vows to destroy Kripke, while Wolowitz tries not to destroy his new relationship with Bernadette.
---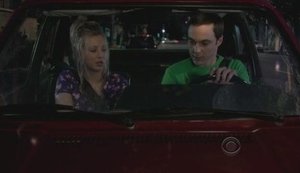 3x08 The Adhesive Duck Deficiency (November 16, 2009)
---
With Leonard, Howard and Raj away camping in the desert, an injured Penny has only Sheldon to rely on.
---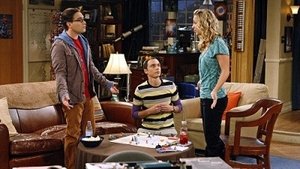 3x07 The Guitarist Amplification (November 09, 2009)
---
A squabble between Leonard and Penny sees Sheldon playing mediator, though out of his own incovenience from the sitiation rather than altruism.
---
3x06 The Cornhusker Vortex (November 02, 2009)
---
Sheldon becomes Leonard's teacher in order to understand football, while an incident with flying a kite threatens Howard and Raj's friendship.
---
3x05 The Creepy Candy Coating Corollary (October 19, 2009)
---
After overhearing that Wil Wheaton is entering a trading-card competition, Sheldon decides to enter it himself. Meanwhile, Penny sets up one of her friends on a date with Wolowitz.
---
3x04 The Pirate Solution (October 12, 2009)
---
Raj must find a new job or be sent back to India, but Sheldon has a solution, which leaves Leonard and Penny dealing with Howard as a third wheel.
---
3x03 The Gothowitz Deviation (October 05, 2009)
---
Howard and Raj visit a Goth nightclub to pick up women while Sheldon attempts to build a better Penny using chocolate-based behavior modification.
---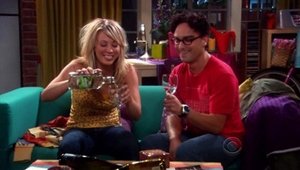 3x02 The Jiminy Conjecture (September 28, 2009)
---
Leonard and Penny struggle to recover from an awkward first hookup while Sheldon and Howard stake their best comic books on a bet to determine the species of a cricket.
---
3x01 The Electric Can Opener Fluctuation (September 21, 2009)
---
When Sheldon learns the guys tampered with his expedition data he got from the arctic, he leaves to Texas in disgrace. This results in the guys following him, which threatens Leonard's hope for some romantic time with Penny and the guys' friendship with Sheldon.
---