Cheers
Season 9
Cheers
Season 9
First Air Date: September 20, 1990

| | | |
| --- | --- | --- |
| First Aired on | : | 1990 |
| Episodes | : | 27 episodes |
The ninth season of Cheers, an award-winning American television sitcom, originally aired on NBC in the United States between September 20, 1990 and May 2, 1991. The show was created by director James Burrows and writers Glen and Les Charles under production team Charles Burrows Charles Productions, in association with Paramount Television.
Episodes
9x27 Episode 27 (May 02, 1991)
---
---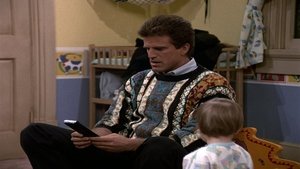 9x26 Uncle Sam Wants You. (April 25, 1991)
---
When Sam finds it difficult to back away from Frasier's son, he decides to have one of his own—if only he can find the right mommy.
---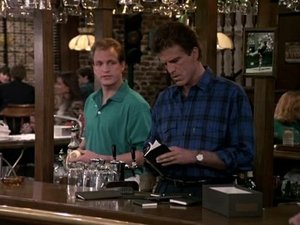 9x25 Home Malone (April 04, 1991)
---
Sam enters a whole new world when he babysits for Frasier and Lilith, and Woody worries about Kelly when she goes to work at Cheers as part of a school project.
---
9x24 Rat Girl (February 28, 1991)
---
Lilith grieves over the death of her favorite lab rat while bar support Paul proves an unlikely target for a sexy seduction.
---
9x23 Pitch It Again, Sam (March 21, 1991)
---
Sam's old baseball rival shows up to goad Sam into a final round on the mound, but Sam isn't too sure he wants to go.
---
9x22 Carla Loves Clavin (March 14, 1991)
---
Carla faces the hardest task of her life when she tries to be nice to Cliff after learning he's one of the judges for the Miss Boston Barmaid competition.
---
9x21 Cheers Has Chili (February 28, 1991)
---
Rebecca wants to serve Woody's chili in the poolroom despite Sam's heartfelt objections.
---
9x20 It's a Wonderful Wife (February 21, 1991)
---
Norm develops a rich paranoia and decides to look for another bar when wife Vera gets a job upstairs at Melville's, and Lilith helps the gang celebrate Frasier's birthday.
---
9x19 Crash of the Titans (February 14, 1991)
---
Rebecca decides on a new goal in life and begins by flattering John Hill in an effort to get his lease for the bar.
---
9x18 Sam Time Next Year (February 07, 1991)
---
On Valentine's Day, Sam winds up laid out due to back trouble on the 20th anniversary of his annual tryst with Lauren.
---
9x17 I'm Getting My Act Together and Sticking It in Your Face (January 31, 1991)
---
Rebecca has trouble accepting the fact that she cancelled her wedding with Robin and Frasier translates Dickens' classic prose into Boston vernacular.
---
9x16 Wedding Bell Blues (January 24, 1991)
---
Rebecca awakens on her wedding morning raring to go, and seems determined to ignore Sam's attempts to remind her of her doubts, and Righteous Brother Bobby Hatfield upstages Frasier.
---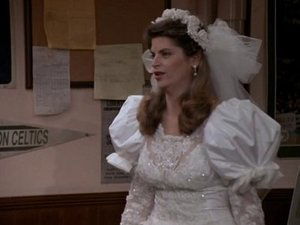 9x15 The Days of Wine and Neuroses (January 10, 1991)
---
The bar's jukebox is going in for repairs, and for the week while it's away, Cheers gets a karaoke machine in it's place.
---
9x14 Achilles Hill (January 03, 1991)
---
Sam decides to settle his feud with John Hill by dating the man's daughter and Carla fears that the foosball table is possessed.
---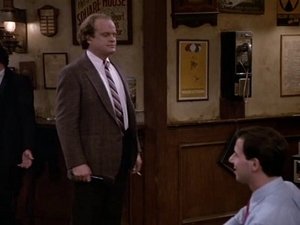 9x13 Honor Thy Mother (December 12, 1990)
---
Carla's formidable mother demands on her deathbed that Carla name one of her children "Benito Mussolini."
---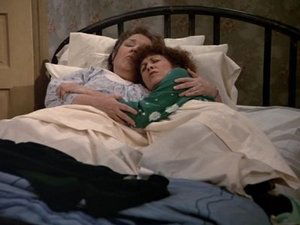 9x12 Woody Interruptus (December 06, 1990)
---
Kelly returns from Europe with a new French boyfriend and Cliff decides to have his head cryogenically frozen before he dies.
---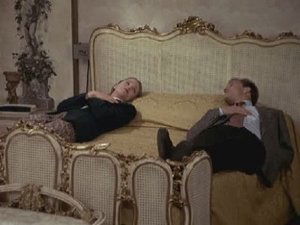 9x11 Norm and Cliff's Excellent Adventure (November 22, 1990)
---
Woody has developed a disease: Home-Shopping-Channel-itis. He has just discovered the channel's existence, and can't stop buying stuff from it. He realizes the stuff he is buying is crap, but just can't help himself.
---
9x10 Veggie-Boyd (November 15, 1990)
---
Woody has a starring role in a television commercial for a new health drink called Veggie-Boy. Woody is excited before the commercial shoot, during the commercial shoot and after the commercial shoot. It isn't until the commercial starts to air that Woody's excitement turns to horror. In the commercial, Woody explicitly states that he likes it, referring to Veggie-Boy, but he finally tastes it afterward and hates it. This endorsement is a lie from a man who doesn't lie.
---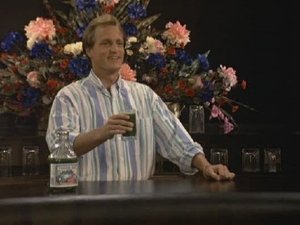 9x09 Bad Neighbor Sam (November 08, 1990)
---
John Allen Hill, a famous Manhattan restaurateur, has bought Melville's, which Rebecca thinks is going to boost business for Cheers. Hill and Sam's relationship starts off slowly and gets worse and worse. The first spoken threat from Hill is the fact that he actually owns the property of the bar's pool room and wash rooms, implying that he wants Sam to meet all his demands or else.
---
9x08 Cheers 200th Anniversary Special (November 08, 1990)
---
A panel discussion with the cast of Cheers after their 200th show hosted by John McLaughlin.
---
9x07 Breaking in is Hard to Do (November 01, 1990)
---
Lilith and Frasier try to cope with the fact that their son needs more care from them while Rebecca and Carla try to figure out how Rebecca can pay Robin a conjugal visit in jail.
---
9x06 Grease (October 25, 1990)
---
Norm nearly has a cow when he hears that the Hungry Heifer is closing down, and mounts an all-out campaign to keep it going, while Rebecca frets over seeing Robin as he works in the street nearby as part of a road gang.
---
9x05 Ma Always Liked You Best (October 18, 1990)
---
Cliff gets very hurt and upset when his mother decides that Woody is the son she never had, and Norm gets caught in a window.
---
9x04 Where Nobody Knows Your Name (October 11, 1990)
---
Rebecca is secretly very upset when one of Robin's previous lovers goes public claiming to be his current affair.
---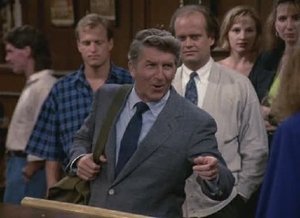 9x03 Rebecca Redux (October 04, 1990)
---
Sam hires a new bar manager that everyone seems to like, then learns how low Rebecca has sunk in her pursuit of new employment.
---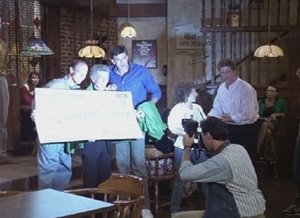 9x02 Cheers Fouls Out (September 27, 1990)
---
Sam tries to beat Gary at his own game in a grudge basketball game by recruiting Boston Celtics' star Kevin McHale as a substitute bartender at Cheers.
---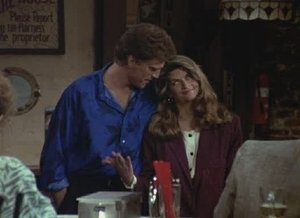 9x01 Love is a Really, Really, Perfectly Okay Thing (September 20, 1990)
---
In the afterglow of their intimate encounter, Rebecca becomes determined to deny that it ever happened, to the gang at the bar, to Robin and to herself.
---