Cheers
Season 4
Cheers
Season 4
First Air Date: September 26, 1985

| | | |
| --- | --- | --- |
| First Aired on | : | 1985 |
| Episodes | : | 26 episodes |
The fourth season of Cheers, an award-winning American television sitcom, originally aired on NBC in the United States between September 26, 1985, and May 15, 1986, as part of the network's Must See TV Thursday lineup. This season marks Woody Harrelson's television debut as Woody Boyd, replacing Coach Ernie Pantusso when actor Nicholas Colasanto died during filming of the prior season. The show was created by director James Burrows and writers Glen and Les Charles, under production team Charles Burrows Charles Productions, in association with Paramount Television.
Episodes
4x26 Strange Bedfellows, Part 3 (May 15, 1986)
---
Janet has won the election and is hosting her press conference at Cheers. Diane turns up to apologize to Sam but ends up asking Janet some personal questions which causes Sam to throw her out of the bar. Later Sam and Janet talk and realize their relationship won't work, so break it off. Sam then picks up the telephone, rings someone and then asks them to marry him..... Meanwhile Vera has been called away, so Donna is left alone with Norm, much to his horror.
---
4x25 Strange Bedfellows, Part 2 (May 08, 1986)
---
Sam and Janet's relationship is getting stronger and stronger whilst Diane gets more jealous. Janet suggests that Sam fire iane to sever all ties with his past, but Diane overhears and quits before he can fire her. Vera's sister Donna is visiting the Petersons and Norm is worried that Donna will flirt with him like she did on her last visit.
---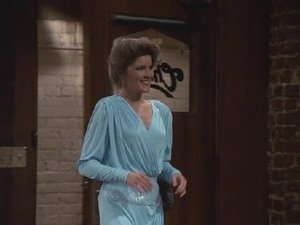 4x24 Strange Bedfellows, Part 1 (May 01, 1986)
---
Local councilwoman Janet Eldridge comes to Cheers as part of her re-election campaign, and Sam finds hismelf smitten with her. Janet and Sam become a couple, but a jealous Diane joins the opposition campaign fearing that if Janet wins the election, she will win Sam's heart as well. Meanwhile Frasier also joins the opposition campaign hoping to win Diane back.
---
4x23 Relief Bartender (March 27, 1986)
---
Woody fears for his job when Sam hires a second bartender.
---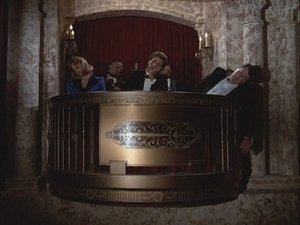 4x22 Diane Chambers Day (March 20, 1986)
---
Diane feels depressed and left out of the gang's activities so Frasier organizes a day just for her-at the opera.
---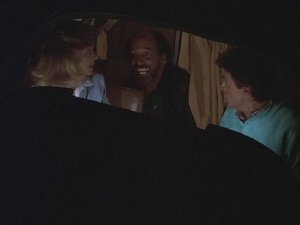 4x21 Fear Is My Co-Pilot (March 13, 1986)
---
A flying daredevil that Diane barnstormed with across Europe takes her and Sam for a ride and dies at 20,000 feet up.
---
4x20 Save the Last Dance for Me (February 27, 1986)
---
Carla asks Sam to partner her in a dance contest where their main competition is Nick and Loretta.
---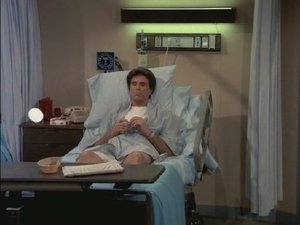 4x19 Dark Imaginings (February 20, 1986)
---
After trying (and failing) to hit on a pretty female customer, Sam feels like he is over the hill and challenges Woody to a racquetball game. Unfortunately Sam ends up hurting himself and has to take a trip to the hospital.
---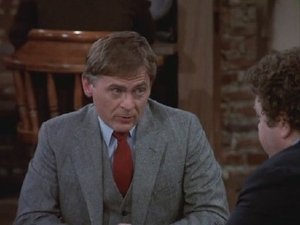 4x18 The Peterson Principle (February 13, 1986)
---
Norm gets some dirt on his main competitor for a promotion but hesitates to use it.
---
4x17 Second Time Around (February 06, 1986)
---
Frasier has been out on a date with a fellow psychiatrist, Dr Lilith Sternin, but things didn't go too well. Frasier feels depressed, so feeling sorry for him, Sam arranges a date between Frasier and a woman he knows named Candy. But Sam and Diane get a surprise when Frasier proposes to Candy after just one date.
---
4x16 Cliffie's Big Score (January 30, 1986)
---
Cliff has two dates for the postman's ball-with Carla and Diane.
---
4x15 The Triangle (January 23, 1986)
---
Diane and Sam try to rebuild Frasier's shattered ego when he starts drinking too much.
---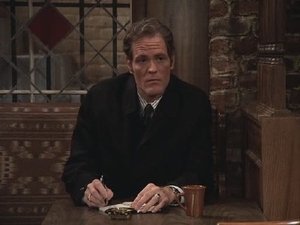 4x14 Suspicion (January 16, 1986)
---
Diane arranges for a stranger to come into Cheers as part of an experiment in paranoid behavior, but then she provides an even better example as she waits for the gang to get back at her.
---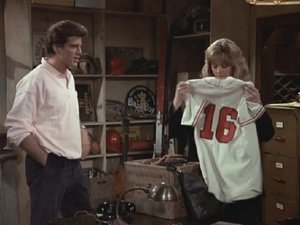 4x13 Take My Shirt...Please? (January 09, 1986)
---
Sam's ego is crushed when no one bids on his old baseball jersey during a public television auction.
---
4x12 Fools and Their Money (December 12, 1985)
---
Sam thinks he's doing Woody a favor by not placing a bet for the young man, but the long shot comes in and Sam has to pay off.
---
4x11 Don Juan Is Hell (December 12, 1985)
---
Sam is happy to be the subject of Diane's psychology term paper until he learns just exactly what the Don Juan syndrome is.
---
4x10 The Bar Stoolie (December 05, 1985)
---
Cliff refuses to identify himself to his estranged father when the man comes to Cheers with an important message for his son.
---
4x09 From Beer to Eternity (November 28, 1985)
---
Sam has to convince Woody to help Cheers win a bowling match with Gary's Old Towne Tavern at a rival bar.
---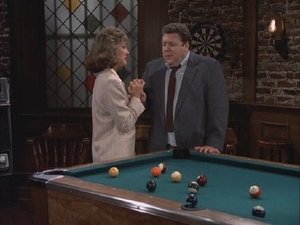 4x08 Love Thy Neighbor (November 21, 1985)
---
Norm fears Vera may be having an affair with his neighbor and Sam wastes his time as a radio sports commentator apologizing to Diane.
---
4x07 2 Good to Be 4 Real (November 14, 1985)
---
Sam and the gang make up an answer to Carla's ad in the personal column to lift her spirits.
---
4x06 I Will Gladly Pay You Tuesday (November 07, 1985)
---
Sam has a weak moment and lends Diane $500 to buy a book reputedly signed by Ernest Hemingway.
---
4x05 Diane's Nightmare (October 31, 1985)
---
Diane spends a dark and stormy night worrying that Andy Schroeder has escaped and is out to kill her.
---
4x04 The Groom Wore Clearasil (October 24, 1985)
---
Carla asks Sam to tell her teenage son about the joys of bachelorhood and to discourage his urge to get married.
---
4x03 Someday My Prince Will Come (October 17, 1985)
---
Diane fantasizes over an expensive coat left behind by a patron and agrees to go out with whoever claims it.
---
4x02 Woody Goes Belly Up (October 03, 1985)
---
The gang brings Woody's old girl friend to Boston to visit him and Frasier, still not yet confident about returning to psychiatry, decides to pay his bar bill by working as a janitor.
---
4x01 Birth, Death, Love and Rice (September 26, 1985)
---
After the sad passing away of Coach, Sam hires a new bartender in Woody Boyd, Coach's pen pal who has moved to Boston. Frasier arrives back from Europe with the news that Diane left him at the altar for six months of decadent living across Europe and is now seeking renewal in a Boston monastery.
---