House
Season 8
House
Season 8
First Air Date: October 03, 2011

| | | |
| --- | --- | --- |
| First Aired on | : | 2011 |
| Episodes | : | 22 episodes |
Last season, House and Cuddy finally decided to take their relationship to the next level, but struggled to find a balance between their professional and personal lives, and ultimately, Cuddy made the very emotional decision to end their relationship. As each of them dealt with the aftermath of the break-up, House got married to an immigrant in need of a Green Card. In the series' milestone 150th episode, Thirteen was released from prison after euthanizing her brother who was suffering from the late stages of Huntington's Disease, the same disease with which she is afflicted. As the season comes to a close, when House's attempts to mend his relationship with Cuddy fall short, he's compelled to take drastic and possibly irrevocable measures that could forever change the course of their relationship.
Want to see ?
Trailer: House M.D. Season 8 - Official Trailer for the New Season
Episodes
8x22 Everybody Dies (May 21, 2012)
---
Facing a 6-month jail term, and the realization that he won't be there for Wilson at the end, House finds himself examining his entire life while contemplating a dismal future without his best friend.
---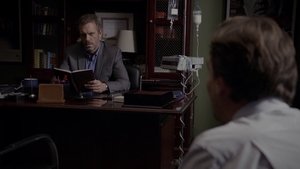 8x21 Holding On (May 14, 2012)
---
The team takes on the case of Derrick, a 19-year-old college student who had a mysterious nose bleed during cheerleading practice, and discovers that his health issues are likely both physiological and psychological. Possibly suffering from schizophrenia, Derrick claims to hear his deceased brother's voice in his head. Meanwhile, Foreman tries a different approach with House.
---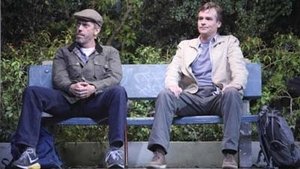 8x20 Post Mortem (May 07, 2012)
---
Over the years, during the course of performing autopsies at Princeton-Plainsboro, Dr. Peter Treiber has often identified mistakes made by physicians that caused the patient's death. These observations have left him questioning the skills of nearly all the doctors on staff... all, that is, except House. When he falls ill, he demands that only House make medical decisions concerning his care. Unfortunately, House and Wilson have taken off on an impromptu road trip without telling anyone, leaving the team to fend alone and lie to their patient to make him believe that House is the guy calling all the shots.
---
8x19 The C-Word (April 30, 2012)
---
When House and Wilson disappear off the grid for several days, without explanation, the team is left to deal with a complicated case of a 6-year old with numerous problems and complications, including an overbearing mother who also happens to be her physician.
---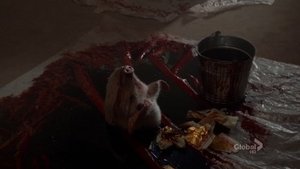 8x18 Body and Soul (April 23, 2012)
---
House and the team take on the case of a young boy who has violent dreams of being choked, and then wakes up but still can't take in air. Meanwhile, Park is having intimate dreams involving co-workers, which causes the team to question whether or not there's significance to what each of them dreams. Dominika discovers House has been keeping a secret from her and Wilson drops a bombshell on him.
---
8x17 We Need the Eggs (April 16, 2012)
---
House and the team take on the case of a man who starts tearing blood. Meanwhile, House is interviewing for a new favorite hooker, since his current favorite, Emily, has decided to get married and leave the business. Desperate for Emily "companionship," House teams up with his "wife" Dominika to sabotage Emily's budding relationship.
---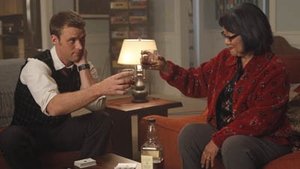 8x16 Gut Check (April 09, 2012)
---
House and the team take on the case of a 22-year-old minor league hockey player who collapsed while coughing up blood after a fight on the ice. Meanwhile, House drops a bomb on Wilson, and Chase offers to help Park change her living arrangement.
---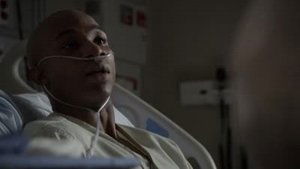 8x15 Blowing the Whistle (April 02, 2012)
---
The team treats an Army veteran charged with treason after he leaked classified information. But the patient's life is put at risk when he refuses treatment unless he and his brother are given information about their late father, a war veteran, which raises questions about loyalty to one's family and country. Meanwhile, Adams suspects House may be sick, so she recruits Wilson and the other team members to plan an intervention and investigate his illness.
---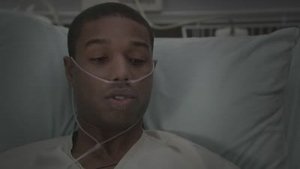 8x14 Love Is Blind (March 19, 2012)
---
"Love Is Blind" is the fourteenth episode of the season eight of House and the 169th overall. The episode debuted in Canada on Global on February 27, 2012, and aired three weeks later in the United States on Fox on March 19, 2012. The unusual three-week delay was a byproduct of the 2012 Daytona 500 rain delay of 30 hours.
---
8x13 Man of the House (February 20, 2012)
---
House's green-card wife, Dominika, will return in order to prove to the proper authorities that she and House are actually married. This in turn will lead to a crash course in which both will learn a little something about love and marriage.
---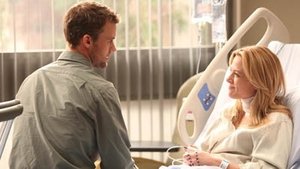 8x12 Chase (February 13, 2012)
---
Chase's religious faith bubbles to the surface when he treats a young nun. In addition, he and House reach a fundamental disagreement about the patient that may finally end Chase's reputation as House's "yes man" but also bring's House's methods, reputation and objectivity are given more serious scrutiny.
---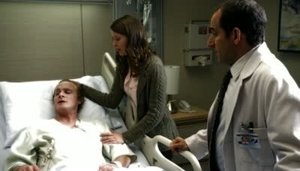 8x11 Nobody's Fault (February 06, 2012)
---
House and his team are placed under review after a staff member gets hurt.
---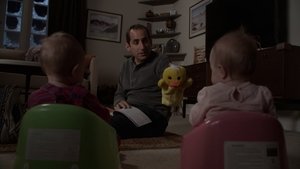 8x10 Runaways (January 30, 2012)
---
When a runaway teen requires hospitalization, Adams butts heads with House when she insists they contact Social Services. Meanwhile, Taub has trouble forming a personal connection with his baby daughters and Foreman's relationship with a married woman comes out.
---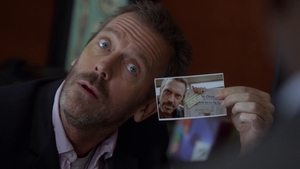 8x09 Better Half (January 23, 2012)
---
House and his team treat an Alzheimer's patient who vomits blood and flies into violent rages. Meanwhile, when Wilson tells House about a patient who has never had sex with her husband of 10 years, claiming A-sexuality, House makes a wager with him that there has to be an underlying cause.
---
8x08 Perils of Paranoia (November 28, 2011)
---
A prosecutor suffers from what he believes to be cardiac arrest during an interrogation at the witness stand. The team's preliminary diagnosis is hyper-anxiety, but when Adams and Park investigate the patient's home and find a hidden arsenal of firearms, they uncover a more alarming and deep-seated psychological disorder.
---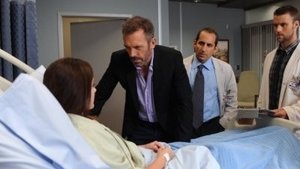 8x07 Dead & Buried (November 21, 2011)
---
The team learns that their 14-year-old patient is suffering from more than teen angst when her physical symptoms worsen. Despite Foreman's firm opposition, House becomes obsessed with solving a peculiar case of a deceased four-year-old patient, which gets him into serious trouble. Meanwhile, Park tries to get Chase (Jesse Spencer) to admit the reason behind his recent obsession with grooming.
---
8x06 Parents (November 14, 2011)
---
A teenage boy attempting to follow in his late father's footsteps as an entertainer is admitted to Princeton Plainsboro with partial paralysis. As the team searches for a bone marrow match, they uncover a disturbing family secret. Meanwhile, House looks for creative ways to remove his ankle monitor so that he can attend a boxing match in Atlantic City, and he treats a patient who is convinced he is suffering from diabetes. Also, Taub faces a tough decision when his ex-wife Rachel tells him that she wants to move across the country with their infant daughter.
---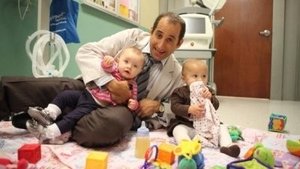 8x05 The Confession (November 07, 2011)
---
A man well-respected in his community suddenly collapses, and in the process of diagnosing his symptoms, the team discovers that the patient has been hiding dark and dishonest secrets about his personal and professional life. But when the patient openly confesses his wrongdoings to his family and community, he compromises his chances of receiving the proper medical treatment. Meanwhile, House will stop at nothing to manipulate Taub into taking a DNA test to prove he is the father of his two six-month-old daughters.
---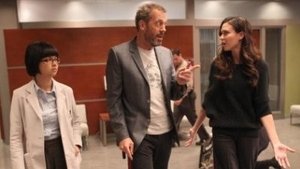 8x04 Risky Business (October 31, 2011)
---
A CEO falls mysteriously ill just days before he signs a contract that would relocate his company's entire labor force to China. House attempts to make an underhanded business transaction with his wealthy patient, but when the patient's condition worsens, the team must work around the clock to save his life. Meanwhile, Park prepares for her hearing with the Princeton Plainsboro Disciplinary Committee chaired by Foreman, and Adams' outlook on her patient's business venture reveals her deeper feelings about loyalty.
---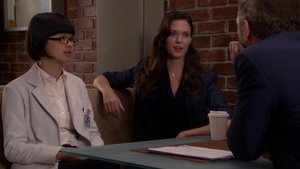 8x03 Charity Case (October 17, 2011)
---
House and Park treat a patient, Benjamin, who collapsed after making a surprisingly large charity donation, and come to suspect that the altruistic behavior is a symptom of a deeper disorder. When the patient offers to donate an organ for another patient, the doctors must convince Dr. Adams to help them confirm whether Benjamin is in his right mind or not.
---
8x02 Transplant (October 10, 2011)
---
A surprising visitor makes House an offer he can't refuse by giving him the opportunity to help the Princeton Plainsboro team treat a unique patient in order to save the life of an organ recipient being treated by Wilson. Although House finds himself back on familiar ground, he quickly realizes that much has changed since he left, and he is forced to work on the case with smart yet timid resident Dr. Chi Park. After several inconclusive treatments and with time running out, House and Dr. Park are left with one last option to examine the patient's medical history that could compromise House's conditional agreement with the hospital. Meanwhile, House makes an effort to reconnect with Wilson despite a cold reception.
---
8x01 Twenty Vicodin (October 03, 2011)
---
House is serving out a lengthy prison sentence for his various misdeeds, including his trip outside the country in an attempt to escape responsibility. Entirely cut off from his old life, House determines his current problems are the result of his inability to deal with people. Feeling he will never be able to practice medicine again, he plans instead to go back to university to earn a doctorate in physics - a field that will all but assure his isolation from other human beings.
---