Boston Public
Season 3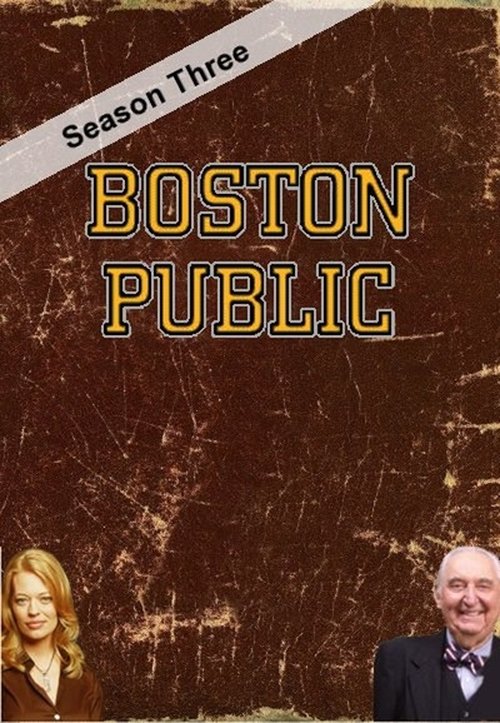 Boston Public
Season 3
First Air Date: October 21, 2002

| | | |
| --- | --- | --- |
| First Aired on | : | 2002 |
| Episodes | : | 22 episodes |
Episodes
3x22 Chapter Sixty-Six (May 12, 2003)
---
When a student writes a letter to Whitney Houston asking her to attend the prom with him, faculty and students are amazed that she accepts. Houston's attendance at the prom causes Aisha, who is set to perfrom, to get stage fright. Meanwhile, Harper presents a radical way to prevent the firing of teachers for budget reasons; and Danny asks Claire's father's permission to marry her.
---
3x21 Chapter Sixty-Five (May 05, 2003)
---
Hanson, looking for a way to increase his chances in adopting his niece, makes a sudden proposal to Claire (Missy Yager). Meanwhile, Guber challenges a student (rap star GQ guest stars) who wants to use rap music to show why Shakespeare ""sucks""; and Marilyn doesn't trust a record producer (hip-hop star/actor Method Man guest stars) who's pushing to sign Aisha to a recording deal. Also of note for this episode, the band Lifehouse (""Hanging by a Moment"") will perform at Doyle's Bar.
---
3x20 Chapter Sixty-Four (April 28, 2003)
---
Aisha (Gray) is shocked when her father, a one-time famous musician but now an alcoholic, makes a surprise visit to Winslow High. He is seriously ill and leaves Aisha a tattered song manuscript. She puts words to the melody, which becomes her rendition of ""Dance With My Father"" (Luther Vandross' biographical song to be released in June). Meanwhile, motherhood troubles Marcie, who's taking a parental-training course, and fears for his niece's welfare preoccupy Danny, whose sister is still using drugs.
---
3x19 Chapter Sixty-Three (April 07, 2003)
---
Sudden fame heartens Ronnie, credited for high exam scores posted at Winslow, yet she's also facing a romantic crisis with Zach; a student-council election tests a shy, awkward teen.
---
3x18 Chapter Sixty-Two (March 31, 2003)
---
Courtroom drama energizes Ronnie, who's defending two teens in a murder arraignment; high test scores by poor students prompt Guber's undercover investigation.
---
3x17 Chapter Sixty-One (March 24, 2003)
---
Tensions surface over Ronnie's new post; Aisha's participation in the school musical and her relationship with J.T.; Harvey's required recertification; and Danny's care for his niece.
---
3x16 Chapter Sixty (March 17, 2003)
---
Emotional Marla imperils a promotion; rattled Hanson tends to a 4-year-old niece; conflicted Aisha (Tamyra Gray), recast in the school musical, confronts her jealous boyfriend.
---
3x15 Chapter Fifty-Nine (March 10, 2003)
---
Anxiety besets Winslow staffers, scrutinized by the mayor's spy; a teacher's sex scandal is grist for the mill of student TV-journalists; boyfriend-related tensions affect school-musical star Aisha.
---
3x14 Chapter Fifty-Eight (February 24, 2003)
---
American Idol songbird Tamyra Gray, who lost the competition but won the hearts of TV audiences, makes her TV dramatic debut. Gray plays a shy Winslow student named Aisha, whose solo in an empty study hall overwhelms Marylin. So she persuades Aisha to audition for the upcoming school musical. The tryout's a disaster, but, thanks to Marylin's confidence-building, Aisha gets another shot. In other storylines, the battering of a gay teen prompts Guber to take a stand for tolerance; and a quickening crush on a fellow student ruffles a schoolgirl genius---who's 12.
---
3x13 Chapter Fifty-Seven (February 10, 2003)
---
Valentine's Day marks the arrival of Guber's watchful mother; awakens a troubled coed's feelings for Kimberly; and trifles with romances among Winslow faculty members.
---
3x12 Chapter Fifty-Six (February 03, 2003)
---
Guber's speech team star has an issue, Russell decides on a college, while mixed signals rattle Colin as his affair comes to a close.
---
3x11 Chapter Fifty-Five (January 20, 2003)
---
Moral and ethical dilemmas surround Flynn's adulterous affair; the college recruitment of Winslow's basketball star; and the plight of a pregnant teen.
---
3x10 Chapter Fifty-Four (January 13, 2003)
---
Anne Archer plays willful and sultry Patricia Emerson, whose daughter Becky is a student in an English class taught by Colin Flynn. At a home-tutoring session for Becky, Mrs. Emerson comes on to Flynn. It's an attempted seduction that really heats up when Emerson---who says she's related to the poet-essayist Ralph Waldo Emerson---begins interpreting Emily Dickinson's ""The Sea"" for him as a poem rich in sexual metaphors. Elsewhere, Winslow's basketball coach denies charges that he illegally recruited a star player---who's enamored of Harper's daughter.
---
3x09 Chapter Fifty-Three (January 06, 2003)
---
A teen's pregnancy sensitizes Guber; a gang slaying deeply affects Kimberly and her prize student; romantic liaisons have differing impacts on Ronnie and Hanson.
---
3x08 Chapter Fifty-Two (December 16, 2002)
---
This holiday episode is enriched by dramatic confrontations, romantic complications and poignant reconciliations. For openers, the tense situation in a previous installment involving a parish priest and an altar boy yields a startling revelation from Hanson. In other storylines, Guber and Marylin are partnered in an off-campus dance class; Ronnie and Zach are increasingly frustrated in their zealous search for a secret trysting place; and Lipschultz is predictably discomforted---especially by an invitation to attend his black son's family gathering on Christmas Day.
---
3x07 Chapter Fifty-One (December 02, 2002)
---
A jailed Harper faces a manslaughter charge in the death of a student's father; a rebellious teen receives unsolicited help from Hanson, who uncovers the youth's dark secret.
---
3x06 Chapter Fifty (November 25, 2002)
---
Violence and compassion commingle in this insightful episode. In the main plot, a rebellious, Irish-American teen squares off against an offended, African-American classmate in a racially incited brawl that distresses their caring teacher and leads to a more contentious fray with principal Harper. In other storylines, Winslow teachers undergo peer evaluations where Ronnie reluctantly grades Zach, with whom she has a somewhat romantic involvement; and Marla seeks to arrange medical help for a hearing-impaired student, whose parents aren't receptive.
---
3x05 Chapter Forty-Nine (November 18, 2002)
---
Senate's erratic behavior rattles Ronnie and prompts a telling showdown with Harper; pupil misconduct provokes a new teacher, whose youth belies grit.
---
3x04 Chapter Forty-Eight (November 11, 2002)
---
A sex scandal among teens rocks Winslow and prompts a mock trial of the accused instigator, a clean-cut senior who's defended, prosecuted and judged by his peers.
---
3x03 Chapter Forty-Seven (November 04, 2002)
---
Temporary synopsis from TV Guide: Misconduct charges target Guber, who's up against a new superintendent; race issues fester between Marla and Danny; reckless student driving sparks reproach.
---
3x02 Chapter Forty-Six (October 28, 2002)
---
Temporary synopsis from TV Guide: Harsh echoes resound from the student riot; the Danny-Marla confrontations lead to racist allegations against her; a drug deal entraps one of Guber's prized pupils.
---
3x01 Chapter Forty-Five (October 21, 2002)
---
A new year arrives at Winslow High and new tensions immediately arise. Brooke is caught in the middle when a group of students plan a walkout because the administration has been unable to handle crucial issues such as toxic mold in the bathrooms and overcrowded classrooms. Harper and Guber try to talk to the students, but the students see it as another weak attempt to appease them. And when the students stage the walkout, a riot quickly ensues. Meanwhile, Marla finds a newborn baby in the toilet and discovers that her student Amy had just given birth and left the baby in the bathroom. Amy insists that she wanted her baby and was coming back to get her. Marla rationalizes that Amy was in shock and was coming back immediately. To protect Amy, Marla tells the police that her baby was on the floor. This prompts Danny, who is highly suspicious, to tell Harper and Guber, who are then forced to notify the authorities that evening. Senate runs into his student, Trina, while taking a drive in R
---