The Abbott and Costello Show
Season 2
The Abbott and Costello Show
Season 2
First Air Date: November 07, 1953

| | | |
| --- | --- | --- |
| First Aired on | : | 1953 |
| Episodes | : | 26 episodes |
Episodes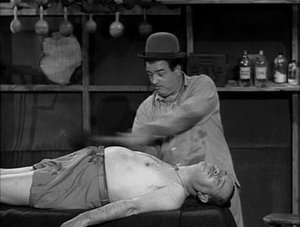 2x26 Barber Lou (May 01, 1954)
---
Lou trys to give Bud a rubdown following instructions from a radio show, but he's tuned into a program explainig how to paint a car at home.
---
2x25 Fall Guy (April 24, 1954)
---
Bud and Lou want to take two sisters on a date but thier father convinces the boys to put an antenna on his roof.
---
2x24 Beauty Contest Story (April 17, 1954)
---
Bud and Lou judge a beauty contest and pressure is applied to sway their votes.
---
2x23 Fencing Master (April 10, 1954)
---
Bud involves Lou in an experiment of a mad scientist who convinces Lou that he is indestructible.
---
2x22 Honeymoon House (April 03, 1954)
---
Bud and Mr. Fields help Lou put together a prefab house in order to impress his fiancé and her parents. A jealous former boyfriend sabotages their work.
---
2x21 The Pigeon (March 27, 1954)
---
Bud and Lou's beautiful next door neighbour uses Lou as a decoy to help break up with her mobster boyfriend.
---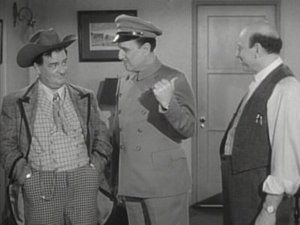 2x20 Well Oiled (March 20, 1954)
---
Bud and Lou help Mr. Fields , who is being threatened by a lawsuit. Lou poses as a Texas millionaire to help discredit the woman.
---
2x19 Bank Holdup (March 13, 1954)
---
Bud and Lou take jobs as armed bodyguards for a couple of hoodlums and assist in a bank robbery. They use their share of money to pay their rent ,then later try to get it back from Mr.Field's safe.
---
2x18 Public Enemies (March 06, 1954)
---
Lou is mistaken for a crook named Dapper Dan and is forced to take part in a robbery.
---
2x17 The Tax Return (February 27, 1954)
---
Lou receives a tax refund check for one million dollars. He takes the check to a bank and demands cash. He is subsequently followed by home by crooks.
---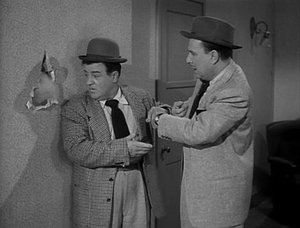 2x16 Private Eye (February 20, 1954)
---
Lou receives his diploma from the Watchdog Correspondence School and helps a friend locate some valuable bonds in a haunted house.
---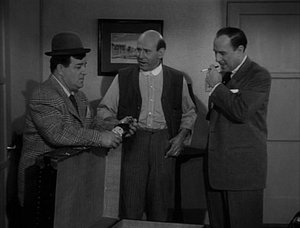 2x15 Uncle from New Jersey (February 13, 1954)
---
Mr. Fields is about to evict the boys. Bud convinces Mr. Fields that Lou's Uncle Ruppert is a millionaire and Lou is the sole heir. Mike the Cop begins to believe that the visiting uncle (impersonated by Lou) has been murdered.
---
2x14 Wife Wanted (February 06, 1954)
---
Lou will inherit ten thousand dollars if he is married. Lou wants to marry a former girlfriend -who is dating named Bonebender Brodsky.
---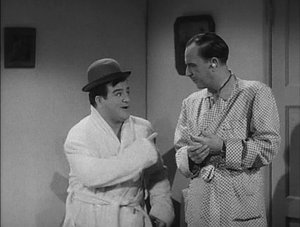 2x13 Car Trouble (January 30, 1954)
---
Lou wins a car but Bud sells it to buy a cheaper one. Using the profits Bud tries to go on a holiday in Flint, Michigan
---
2x12 Efficiency Experts (January 23, 1954)
---
Bud and Lou are hired to restrain their clients' daughter from spending money. The girls then turn the tables on Bud and Lou.
---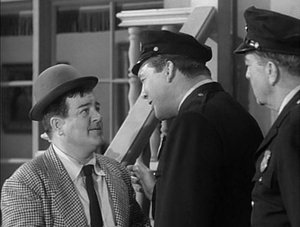 2x11 Amnesia (January 16, 1954)
---
Lou is in love with a girl he has only corresponded with. As a gag , Bud and his friends convince him that he has already married the girl. The woman who poses as his wife then makes his existence miserable.
---
2x10 $1,000 TV Prize (January 09, 1954)
---
Lou wins a 1000 dollar prize pretending to be Mr. Fields, then has to get Mr. Fields out of the way so he can collect it.
---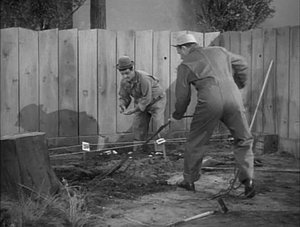 2x09 From Bed to Worse (January 02, 1954)
---
Bud and Lu attempt to plant a backyard garden so they can win a cash prize offered by a civic group.
---
2x08 South of Dixie (December 26, 1953)
---
Lou accidentally lands himself and Bud roles in a civil war melodrama.
---
2x07 Cheap Skates (December 19, 1953)
---
Bud and Lou accidentally buy a crate of roller-skates , not knowing that they have stolen diamonds hidden inside.
---
2x06 Killer's Wife (December 12, 1953)
---
A heavyweight prize fighter named Killer thinks that Lou is having an affair with his wife. Bud attempts to get Lou trained and fit in a gym.
---
2x05 Pest Exterminators (December 05, 1953)
---
Bud and Lou are pest exterminators who are mistaken for psychiatrists when they attend to Mrs. Featherton's ""aunts"".
---
2x04 Life Insurance (November 28, 1953)
---
Mr Fields takes out an insurance policy on Lou. Later, when Bud takes Lou on a hunting trip so he can get some rest, he suspects Bud and Mr. Fields want to kill him for the insurance money.
---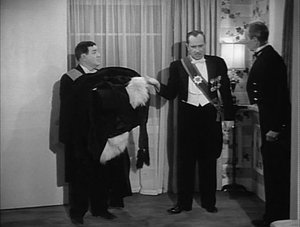 2x03 In Society (November 21, 1953)
---
A wealthy society matron pays Bud to attend a formal reception and impersonate the Duke of Gluten. Lou comes along pretending to be his cousin, the Earl of Waldo.
---
2x02 Uncle Bozzo's Visit (November 14, 1953)
---
Lou's eccentric opera singing uncle comes to stay with the boys for a couple of months.
---
2x01 The Paper Hangers (November 07, 1953)
---
To pay back rent, Bud and Lou wallpaper an apartment. Later as waiters in a restaurant, they brawl with hoodlums.
---