Blue's Clues
Season 6
Blue's Clues
Season 6
First Air Date: February 08, 2004

| | | |
| --- | --- | --- |
| First Aired on | : | 2004 |
| Episodes | : | 9 episodes |
Episodes
6x09 Bluestock (May 10, 2004)
---
It's a big musical event when Joe and Blue have the Bluestock concert in the Blue's Clues backyard. Famous artists are on hand, as are many old, familiar songs. We explore a variety of musical styles, from reggae to jazz. We also pay a visit to Blue's Room for a little Mozart, in the form of ""Twinkle Twinkle, Little Star."" There, we learn quite literally just what the little star is.
---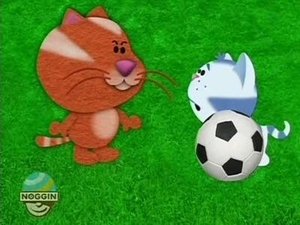 6x08 Soccer Practice (April 26, 2004)
---
In this episode, the characters and us have a soccer practice and play Blue's Clues in a unique way. Joe is the coach and provides practical soccer tips about things such as how to avoid bumping into each other and not giving up. We also learn the importance of stretching and of sharing with our teammates. In ""Blue's Room,"" we talk about soccer and have some fun playing a game with Doodle Board.
---
6x07 The Fairy Tale Ball (April 05, 2004)
---
When Blue and Joe receive an invitation to the fabulous Fairy Tale Ball, we skidoo right along with them into Fairy Tale Land. There, we meet up with and help many well-known fairy tale characters such as Cinderella and Jack. We get everyone on their way and then check out the ball. Later, in ""Blue's Room,"" we pretend that we're putting on our own Fairy Tale Ball and sing a number of songs.
---
6x06 Playdates (March 22, 2004)
---
This episode features ""playdates,"" special time playing with some of the characters in the Blue's Clues house. We blow on the ""Wheel of Playdates,"" having fun Joe, Blue, Mailbox and Periwinkle (but not necessarily in that order!) In a special skidoo segment, Joe performs a musical number about our friendship with him. Later, viewers play pretend with Blue and her playroom friends in ""Blue's Room.""
---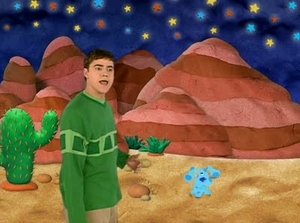 6x05 Skidoo Adventure (March 15, 2004)
---
Joe, Blue and the rest of the Blue's Clues charaters have been working on a project called Wacky Wild World. It's a craft complete with all sorts of worlds, from a clay desert to a world filled with soap bubbles. Blue skidoos into the project and we're on a grand adventure. After a stiff wind blows away the picture of home we need to return to the Blue's Clues house, we end up on a treasure hunt, searching for magic letters that will help us form a magic word that we can use to get the picture back.
---
6x04 Joe's Clues (February 23, 2004)
---
In this episode, Joe has something very special for us. He's created his version of Blue's Clues known as ""Joe's Clues,"" in which he leaves orange handprints on the clues and he wants us and Blue to play along. We have fun searching for Joe's Clues, solving riddles and turning many of the program's customs upside-down along the way. Later, in ""Blue's Room,"" we play Polka Dot's Puzzles with Polka Dots.
---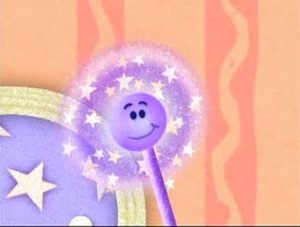 6x03 Blue's Wishes (February 16, 2004)
---
Blue and Joe are visited by a magical fairy called ""Wish"" who for a day will grant them any wish they like. They make some fun wishes, getting small to ride a train, making clues appear and helping out friends in the process. We help to make Pail, Tickety and Mr. Salt's wishes come true, paying a visit to a fairy-tale castle in the process. Later, Blue visits her special playroom. There, Fred is engaging in her favorite pastime: pretending for it to be her birthday. Today, she wishes for it to be her birthday and we, Moona, Blue and a mixing bowl help to make the wish come true.
---
6x02 Love Day (February 16, 2004)
---
Joe receives a mysterious ""Love Day"" card from a secret admirer and wonders who it could be. The characters explore the meaning of love and learn some important things: such as that someone can love more than one person and that you can get mad at someone and still love them. The Blue Skidoo segment features a story that emphasizes the value of true love. In ""Blue's Room,"" Blue talks with Cinderella (special guest star Mary Stuart Masterson) and gets the answers to some unresolved questions, such as whether or not Cinderella married her prince.
---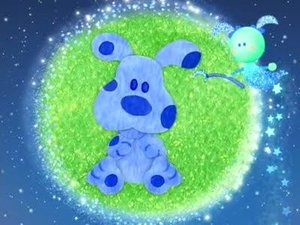 6x01 The Legend of the Blue Puppy (February 08, 2004)
---
On a night with a blue moon filling the sky, a moon fairy named Moona appears outside the Blue's Clues house and tells Blue a story about her birth under a blue moon, with a key that will unlock her greatest gift. We follow Moona to find this key and once we have it, a great hunt all over the Blue's Clues house begins to find the lock that it fits. Once that's found, the key unlocks ""Blue's Room,"" a special playroom where she is transformed into a puppet. Here, Blue can meet lots of new friends, but the most important thing about it is that she can talk. We take part in games such as ""Boogie Woogie"" (a freeze-dance style game) and ""Dress-Up"" and then a clock chimes and Blue returns to Joe, who is excited to hear about her greatest gift.
---