Spawn
Season 1
Spawn
Season 1
First Air Date: May 16, 1997

| | | |
| --- | --- | --- |
| First Aired on | : | 1997 |
| Episodes | : | 6 episodes |
Episodes
1x06 End Games (June 20, 1997)
---
After torturing a stool-pigeon, Spawn learns that it was Antonio Twistelli who kidnapped Cyan while at the safe house. But Tony's boys have lost the girl to the deadly hands of Billy Kincaid. News of the screw-up travels fast and Jason Wynn confronts Senator McMillian about Billy's actions. McMillian denies any knowledge of his killer son's doings, and both men are left wondering who could be behind it. Wynn believes the senator has nothing to do with the interference and is convinced that there are other players in the mix who are screwing with his plans. He sends Chapel off to track down the weapon thief, while he concocts his next move. Meanwhile, Antonio Twistelli prepares to leave town knowing that losing the child will cause him a great deal of trouble. But before he can leave, Spawn descends out of the darkness and makes the fat mob boss talk. All Spawn gets out of him is a physical description of Billy and that he drives an ice-cream truck. Downtown, Twitch has uncovered the
---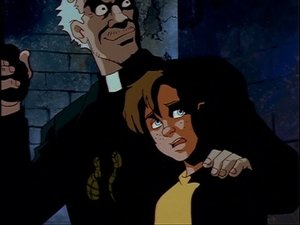 1x05 Souls in the Balance (June 13, 1997)
---
Warriors can feel forces massing against them. The agonizing wait for battle becomes a way of life, turning and twisting their dark souls. Feeding tense rage that boils deep within every Hellspawn. They rage at the unfairness of their plight. Rat City. A crazed STREET PREACHER holds a boy against his will. His weapons are his madness and his body wrapped in grenades. Several cops are blown to shreds helplessly trying to free the boy from the preachers grasp. An angry cop takes out his frustration on Gareb. Spawn is forced to intercede, and violently attacks the rampaging officer. Angered by the cops abuse of power, he leaves the cop pinned to a wall as a message to others. Meanwhile, Jason Wynn's political puppet, Senator McMillian is hard on the campaign trail. Wynn is unhappy with several of the Senator's political moves and suggests that he follow his directions more closely. Wynn has a strangle hold on the senator and the senator must obey. To make matters worse Wynn has caught w
---
1x04 Dominoes (June 06, 1997)
---
While Spawn waits for the next event in the battle between Heaven and Hell, Antonio Twistelli tries to make amends with the big man after the destruction of Overkill.
---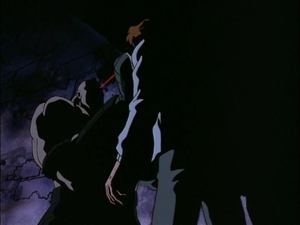 1x03 No Rest, No Peace (May 30, 1997)
---
Spawn meets Cogliostro and demands to know what the old man knows about who he is and why he is here.
---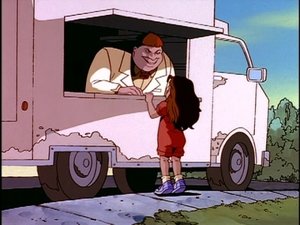 1x02 Evil Intent (May 23, 1997)
---
Child killer, and demon in training Bill Kincaid, murders again and dumps the body in the alley where Spawn has found a home among the homeless.
---
1x01 Burning Visions (May 16, 1997)
---
His name is Spawn. Spawn knows death. He is a dead man returned to the living by the forces of Hell. What he doesn't know is who or what he is now.
---