Doc
Season 3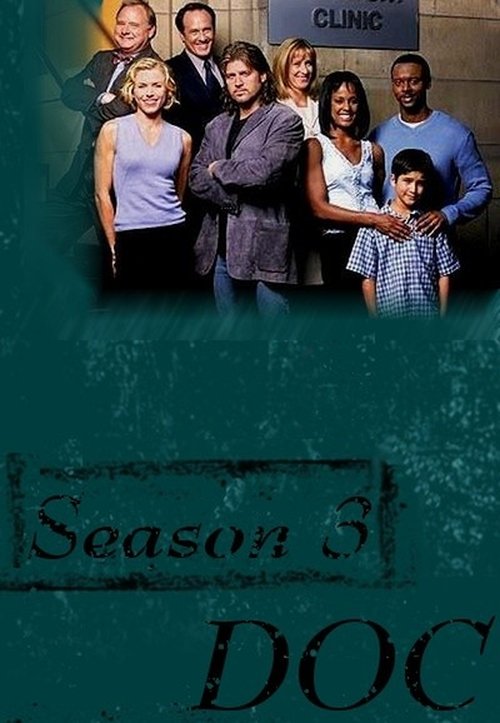 Doc
Season 3
First Air Date: September 15, 2002

| | | |
| --- | --- | --- |
| First Aired on | : | 2002 |
| Episodes | : | 22 episodes |
Episodes
3x22 And Baby Makes Four (May 18, 2003)
---
Nate wonders if Beverly's food cravings are common. Richard Black tells everyone at Westbury that going corporate is good idea, but problems are about to happen. Richard Black continues his big lie only Clint smells a rat, while trying to get his friends to at both sides. Clint gets himself in trouble, Donna gives everybody with Richard's company a tour of Westbury. Nancy wonders if Clint is reading Richard wrong. Clint speaks with doctor who was bought by Richard's company, The meeting Clint requests back fires as the doctor he spoke with is drunk at the meeting. Clint arrives to find Westbury bought out by Richard and is fired for miss using his passion (for the clinic) against Richard. Nancy sees Richards true colors after Donny was picked on. Clint is asked to stay at the clinic to get ready for a big battle.
---
3x21 While You Were Snoring (May 11, 2003)
---
Nate is have trouble sleeping because Beverly is snoring, So Nate asks Dr. Crane for help! Dr. Crane helps Nate by telling him to sew a tennis ball in a sock and then sew the sock to her nightgown! One problem they both lose sleep! Nicole's heath gets worse and Clint can't find out what is wrong with her. Nate still can't sleep because Dr. Crane's advice works. Clint has bad feeling about Richard Black when a Biopsy is requested for Nicole. Clint thinks Richard Black said no to the request. Later the test is proven that Nicole was telling the truth.
---
3x20 Evaluate This (May 04, 2003)
---
Richard Black wants to make Westbury Clinic apart of his management team, but doing so Donna DeWitt agrees to performace evaluations. Richard Black asks Dr. Crane to handle the cross evaluation of the nurses which instead of turning out right turn wrong! Clint attends a middle school open house to meet Tracy. Soon Clint find out Tracy has Aplastic Anemia. Clint runs tests on the parents only to find the parents don't match,Clint is about to find out that Tracy is adopted at the request of Shelia (the adoptvie mom's sister who died giving birth). Clint sets out to find Danny Taylor who he thinks is he is Tracy's dad, and tries to get Danny to give blood. Danny quickly says no because he wants more money. Danny then wants full custody (because blood tests prove he is Tracy's dad.) Since Tracy has no idea she is adopted, Danny leaves things as they are because he isn't ready to be a dad.
---
3x19 The Checkered Flag (April 27, 2003)
---
Racers Scotty Redfield and his father Bud come to town shortly before the beginning of the racing season, and both father and son are devastated to learn that Scotty has a subdural hematoma that could end not only his career, but his life as well. Nancy offers comfort to Bud as she also waits for news on Scotty, whom she has gotten romantically involved with.
---
3x18 Safety First (April 13, 2003)
---
Clint is shocked when a patient he prescribed medication for ends up in ER moments after seeing her. Did he give her the wrong medication? Can Diane help save the patient's life?
---
3x17 Smoke Gets in Your Eyes (March 09, 2003)
---
Martin Derek's Father-In Law is ready to quit smoking but he may more problems. Raul & Justin think their idea was stolen by a publisher.
---
3x16 Welcome to New York (2) (February 23, 2003)
---
Clint and Doc Johanson must find a paient before someone else is sick. Poor Tippy has a big problem the IRS! Can She pay $90,000 to them before she loses everything?
---
3x15 Welcome to New York (1) (February 16, 2003)
---
Friends visit Clint from Montana as well as Sara who brings back memories for Clint.
---
3x14 Lost and Found (February 09, 2003)
---
Sometimes it is better to let romance take it's course as Raul and Evan try to match Evan's mom with Clint but what happens when an old love returns and new information is found out?
---
3x13 Angels in Wating (February 02, 2003)
---
Tammy Cochran tries to comfort a teen who has Cystic Fibrosis.
---
3x12 Don't Ask, Don't Tell (January 12, 2003)
---
Clint is caught in bind when he cares for Mom and son who are friends of Nancy.
---
3x11 A Clear and Present Danger (January 05, 2003)
---
Nate and Gunny may be put in danger after Clint learns the secret Gunny is keeping.
---
3x10 Man's Best Friend (December 08, 2002)
---
Clint helps a friend get a job at the clinic only to find that he turns down the job offer.
---
3x09 The Producers (November 24, 2002)
---
Clint & Kate Weston reconnect; Dr. Crane is asked to write for a magazine about his most unusual medical case, but may have a lot of trouble finding one.
---
3x08 Second Time Around (November 10, 2002)
---
Dr. Derk runs into an old friend, who has a new fiancee. Dr Derek thinks the man wants his money. The Fiancee's life threatening condition makes the doctor change his thoughts.
---
3x07 The Price of a Miracle (November 03, 2002)
---
Can you buy a miracle? A 7 year old girl gives Clint all her life savings to save her dying brother. There Mom has lost faith.
---
3x06 Full Moon Rising (October 20, 2002)
---
Derek wants a taste of the wild side of life and joins Clint on a ride with a Paramedic wildman. Tippy and Nancy start a book club.
---
3x05 Nobody (October 13, 2002)
---
A baby is left on the clinic's doorstep now Clint tries to find the mom as he fights to save the baby.
---
3x04 Sea No Evil (October 06, 2002)
---
Clint must help a yong boy decide wether to go and talk to the DA after the boy saw a murder. Nurse DeWitt has no date for gala.
---
3x03 Stroke of Luck (September 29, 2002)
---
Clint treats a dad who wants to sell the family business, the son may get his wish as dad's health gets worse. Rual and Justin get jobs,they like the money but not hard work.
---
3x02 On Pins and Needles (September 22, 2002)
---
Clint Gets in hot water with a new new nurse over a medical mishap. Raul is chosen for advanced math class.
---
3x01 Full Disclosure (September 15, 2002)
---
Clint mentors a new intern, Nancy learns her beau had an ex-wife.
---